Fotolia
4 SIP trunking benefits for cloud migration
SIP adoption continues to grow, even as more organizations migrate their communications to the cloud. Learn the benefits that come from bringing SIP trunking to UCaaS.
Unified communications as a service (UCaaS) is on the rise, with one-third of organizations already in the cloud, according to Nemertes' 2019-20 Workplace Collaboration research study. Organizations not yet in the cloud are also ramping up migration plans, with 43% of organizations with on-premises phone systems and 63% with custom-built hosted services planning to transition to the cloud in the next year.
Yet, despite this rapid shift toward the cloud, Session Initiation Protocol trunking adoption continues to grow, with more than half of organizations using or planning to adopt SIP trunking by the end of 2020. This seems odd given that most UCaaS providers offer public switched telephone network (PSTN) connectivity as part of their service, which eliminates the need for customers to provision, pay for and manage separate SIP trunking services. But IT leaders are embracing the bring your own carrier (BYOC) model for SIP trunking for a variety of reasons, including the following:
Flexibility and ease of migration. BYOC enables customers to use multiple cloud service providers and maintain control over their phone numbers. Continuing to maintain control over phone numbers means it's easier to move from one cloud provider to another or to use multiple cloud providers for services like calling and contact center.

Maintaining existing SIP trunking services and control over phone numbers can also speed up and simplify a migration to the cloud.

Cost. It's often cheaper for enterprises to maintain their own SIP trunking services than it is to buy PSTN access from a UCaaS provider, especially for large, multinational companies.
Contracts. Larger organizations may be committed to multiyear SIP trunking contracts with end dates that don't align with cloud migration time frames. As a result, they may not be able to move to UCaaS without maintaining their existing SIP trunking services.
Access to new services. Many SIP trunking providers are adding communications platform-as-a-service (CPaaS) support to their services. CPaaS provides APIs that customers can use for a variety of digital transformation initiatives, such as provisioning new numbers, establishing virtual presence in remote locations, controlling routing of inbound calls, adding features like interactive voice response to inbound calls and enabling text messaging support for landline numbers.

These features may not be available from UCaaS providers, which creates incentive for organizations to buy SIP trunking services from those that offer richer feature sets. Additionally, some SIP trunking providers offer richer Enhanced 911 location management and routing services than what is natively available from UCaaS providers.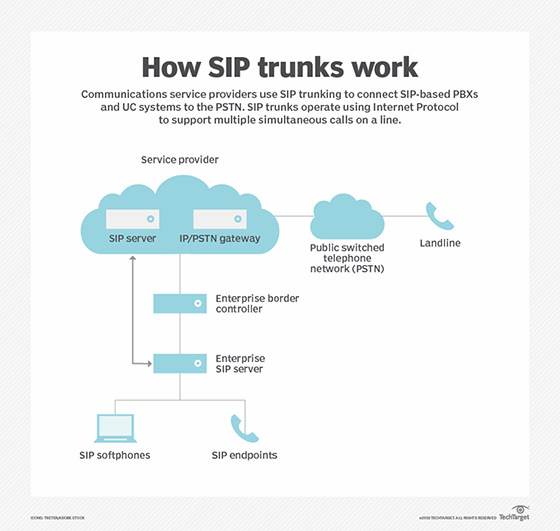 Cloud migration strategies with SIP services
Once an organization has made the decision to maintain or independently buy its own SIP services as it moves to cloud, it must decide how to approach a migration. Nemertes found several migration approaches that correlate with success:
Software-defined WAN. SD-WAN enables enterprises to virtualize the network services that connect their offices to their SIP trunking providers. For example, an organization may have multiple internet service providers, MPLS or other private connection services. SD-WAN creates a virtual network that bundles the various connectivity options and optimizes path selection based on performance. SD-WAN adoption typically reduces network spend by enabling organizations to use cheaper connectivity options, like broadband internet, for nonlatency-sensitive and real-time traffic, according to Nemertes.
Use session border controllers. SBCs sit at the network edge and enable enterprises to implement policy, security and call routing controls to manage call flows between the cloud provider and the PSTN.
Explore emerging services. Moving to UCaaS represents an inflection point that enables organizations to investigate emerging SIP trunking service providers that offer CPaaS capabilities to support digital transformation efforts.
Ultimately, successful implementations require IT leaders to view SIP trunking and UCaaS services as partners. Consider the opportunities that BYOC offers in terms of flexibility, cost savings and control, and ensure that your chosen UCaaS provider can support your ideal service delivery model.