buchachon - Fotolia
Top ways unified communications in the cloud affects you
Rapid developments in cloud-based unified communications means there is no time to lose when it comes to planning the strategic and tactical reorganization of your IT team.
IT organizations are rapidly evolving as they move from supporting on-premises applications hosted in corporate data centers, to unified communications in the cloud. Nemertes Research Group Inc.'s "Unified Communications and Collaboration: 2018-19 Research Study" found that a dramatic shift is underway, both in the strategic way organizations manage collaboration applications and in the tactical way they are structured to operations.
Today, approximately 64% have converged their various collaboration and communications groups into a single, unified collaboration planning and operations structure. Typically, this structure includes subteams responsible for individual technology platforms including calling, meeting and messaging platforms and services. Additional teams support mail and calendaring, as well as file management. Larger organizations may have further functions responsible for portal; AV, including room systems, streaming video and broadcast platforms; and social platforms. The key feature of this converged structure is integration of strategy to ensure that different teams are aligned and are able to take advantage of rapidly converging products that combine collaboration technologies. Those who have a unified collaboration team are 17% more successful in their ability to meet identified collaboration requirements.
The remaining 36% are still disjointed, with communications teams often living within network groups or with file and portal teams operating completely separately from those responsible for real-time communications. Seventeen percent of these organizations plan to change their structure, largely driven by the need to ensure that collaboration teams are aligned with vendor strategies or to improve efficiency of delivering new collaboration capabilities to their organization.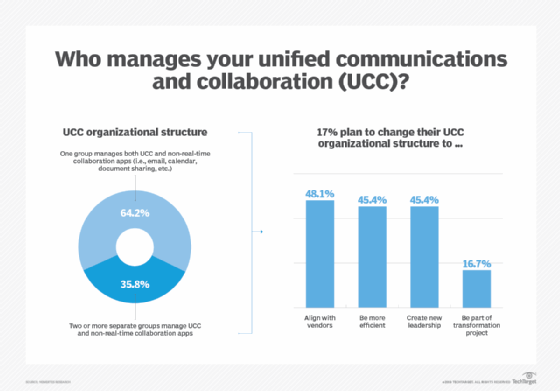 The shift to unified communications in the cloud is not just changing overall collaboration organizational strategies, but also the specific roles within collaboration groups. Nemertes finds that as organizations shift to unified communications in the cloud they see demonstrable reductions in the number of staff responsible for technical operations. This is to be expected as migrating to the cloud eliminates the need for provisioning and maintaining on-premises platforms.
Unified communications in the cloud is not just changing overall collaboration organizational strategies, but also the specific roles within collaboration groups.
Unexpectedly, the shift to unified communications in the cloud is not resulting in reducing IT staff responsible for collaboration. Instead, on average, those moving to the cloud increase staff by 6%. Additional staff is most often responsible for managing cloud vendor relationships, driving user awareness and adoption of new apps and features made available via the cloud, and in working with lines of business to ensure that collaboration strategies are aligned with business need. We're also seeing growth within collaboration teams of application development roles responsible for supporting digital transformation initiatives that integrate workflows with communications applications. With the growth of available APIs from communications platform-as-a-service providers as well as from UC as-a-service vendors, we expect to see continued growth in application development functions within collaboration groups.
Cloud is changing the strategic and tactical organization of collaboration groups. As you shift to the cloud, plan to integrate collaboration teams and expand roles related to vendor management, user awareness and adoption, and application development. Also, plan to expand business liaison roles to ensure that you are delivering capabilities that meet identified need.