Users share team collaboration software strategies
Many companies are pursuing a team collaboration software strategy to consolidate messaging on one platform to streamline IT and end user communications.
ORLANDO -- At one point, Structural Group Inc., a construction engineering company based in Columbia, Md., had several collaboration tools in use, including Slack, Yammer and other apps. With disparate systems in place, the company lacked a central point to find coworkers and contact them.
Structural Group didn't quite realize the assorted tools were causing collaboration problems at the time. But about six years ago, Structural Group committed heavily to unified communications as a service and picked RingCentral as its primary provider.
Structural Group, which has about 3,500 employees worldwide, consolidated its team collaboration software onto one platform. All end users received the service and started migrating their conversations to the new platform.
A single team-collaboration tool became essential for Structural Group, said Jason Kasch, the company's chief information officer. Although Structural Group is mostly a RingCentral customer, it also has some Microsoft Office 365 sprinkled in.
Consolidating onto one platform
In recent years, end users have simply downloaded free team collaboration software and started using it without IT's approval. As a result, organizations were laden with a variety of software tools for collaboration. Now IT groups are looking to consolidate their collaboration services onto a single platform.
This type of consolidation has been a continual trend, said Irwin Lazar, a UC analyst with Nemertes Research, based in Mokena, Ill. Fewer companies these days are running separate environments with several different vendors for voice, video, team collaboration and meetings.
"Companies prefer to have a single throat to choke for as much as they possibly can," Lazar said.
Some companies may still use Cisco Spark for voice and video, however, while also using Microsoft or Google for email and Box for document collaboration, he added. Additionally, some Microsoft Skype for Business customers may opt for Zoom or Fuze for web conferencing.
Existing systems steer decisions
IT leaders shared their team collaboration software strategies this week at Enterprise Connect, an annual UC conference. Organizations are taking different approaches to the adoption of team collaboration software. But for the most part, it seems, IT groups are working closely with end users to gather their feedback before deploying the platforms. Yet companies' existing environments often dictate deployment strategies.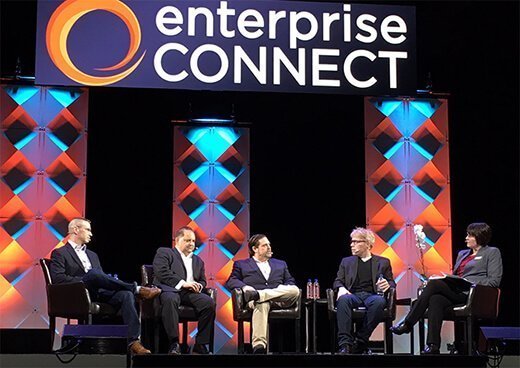 For example, Mott MacDonald, a global engineering firm with 16,000 employees and headquarters in the U.K., has closely aligned with Microsoft. As it rolled out team collaboration software, Mott MacDonald went further down the Microsoft path. Currently, the company has Skype for Business on premises but is moving to its cloud counterparts, which presently consists of Skype for Business Online and Microsoft Teams.
Similarly, as telecommunications company Charter Communications acquired Time Warner Cable and Bright House, the acquisition resulted in several different pieces of technology. But the dominant piece among the companies was Cisco video conferencing architecture. As a result, Charter opted for a Cisco Spark environment, said Richard Bugbee, an IT manager at Charter.
In addition, because it has almost 100,000 employees, IT largely directed Charter's team collaboration software rollout with limited input from end users.
"Our user adoption was simple: This is the tool you're using," Bugbee said.
Going all in
Mass media corporation 21st Century Fox used to have fragmented collaboration tools, which created communication problems, said the company's CIO John Herbert. 21st Century Fox has about 25,000 users across 90 countries. The company uses Slack as its core collaboration service, with Zoom for video communications and some Office 365 apps.
Once the company committed to Slack as its primary platform, workflows became more consistent and productive, Herbert said. The high use of Slack among 21st Century Fox employees was a driving factor behind the rollout.
"We've gone all in on Slack," Herbert said. "Every single employee has an account. … Once you're all in, it turns into this viral nature across the organization."
The city of Las Vegas allows a fragmented world of team collaboration tools and devices among its 3,500 employees. But the city's director of technology, Michael Sherwood, said he'd like to see one cohesive platform.
Las Vegas just moved from a legacy PBX system to a voice over IP system and has a mix of Cisco and Microsoft environments. The city has a diverse set of user groups, and it needs to determine which tools they want in order to communicate and how it will deliver those services.
"We're hoping at some point we can get to the utopia of having one platform," Sherwood said. "From a maintenance standpoint, it would be much more progressive."