What is WinZip?
WinZip is a software product used to archive, compress and encrypt files in a variety of archive formats for more efficient storage and distribution.
With WinZip, users can compress files to reduce their size, making it easier to share them by email or other means. These files can also be encrypted for added security. Other WinZip features include file backup, password protection, and integration with cloud storage services.
Developer Nico Mak released WinZip in April 1991. WinZip 1.0 was a graphical user interface application that ran in the Microsoft Windows 3.0 operating system to create, view and extract archives in the zip lossless compression format. WinZip 1.0 was a front-end utility that used the PKZIP and PKUNZIP MS-DOS applications on the back end to perform the compression and decompression of zip files.
In later versions of Windows, WinZip provided a simple drag-and-drop interface for easier archiving of multiple files. Users could also view individual files in a zip file without extracting the files. The latest version of WinZip offers compression of files on the local machine, network-attached storage and several cloud storage services.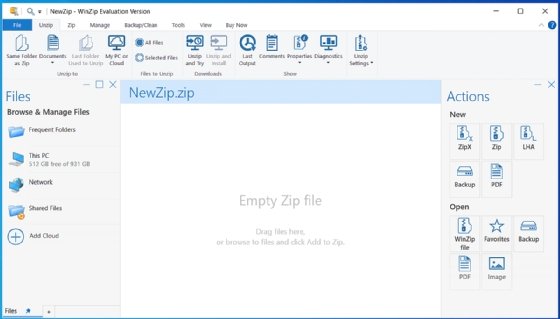 Over time, WinZip added more advanced features, such as sharing download links to cloud services and social media platforms, the ability to convert PDFs to different formats, and integration with cloud services such as Microsoft Teams.
Users can password-protect their archives in WinZip with two forms of encryption: standard Zip 2.0 encryption and Advanced Encryption Standard (AES). The latter provides encryption in two strength levels: AES-128 and AES-256. To extract an encrypted file with WinZip, the application will prompt the user for the password.
WinZip supports a wide range of archive formats, including 7Z, BinHex, BZ2, CAB, GZ, GZIP, HQX, IMG, ISO, LHA, LZH, MIME, RAR, TAR, TAR BZ, TAR GZ, TAZ, TBZ, TGZ, TZ, Uuencode, VHD, VMDK, Xxencode, XZ , ZIP and ZIPX.
WinZip is available for Windows, macOS, iOS and Android operating systems.
In May 2006, the Corel Corporation acquired WinZip Computing, formerly Nico Mak Computing.
How does WinZip work?
WinZip works by using a compression algorithm to reduce the size of files and folders. The software reads the data within a file or folder and looks for patterns and redundancies in the data.
It then uses mathematical algorithms to replace these patterns and redundancies with shorter codes, resulting in a smaller overall file size. When the compressed file is opened, WinZip will reverse the process and extract the original file or folder.
When a user compresses a file, they may have the option to choose various settings, such as the compression level and whether to encrypt the compressed file with a password. Once the compression process is complete, the user can save the compressed file to their computer or other storage devices.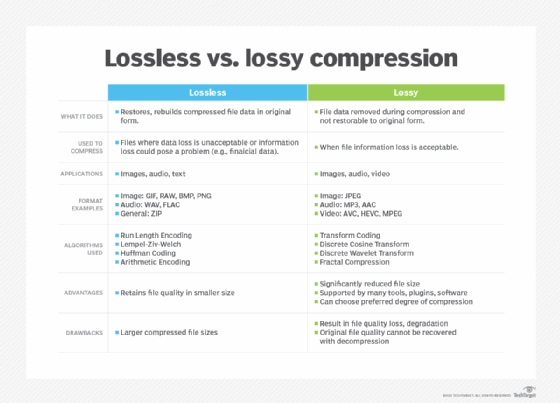 What are the alternatives to WinZip?
There are several alternatives to WinZip for compressing and decompressing files:
7-Zip. This is a free and open-source file compression tool that can work with a range of file formats. 7-Zip supports a high compression ratio and offers strong encryption options.
WinRAR. This is another popular file compression tool that offers many features, including support for different file formats and the ability to create self-extracting archives. WinRAR's trial is free, and basic features don't require purchase of the premium edition, which offers additional features typically used by enterprises.
PeaZip. This is a free and open-source file compression tool that supports many file formats, including ZIP, RAR and 7Z. PeaZip offers a user-friendly interface and strong encryption options.
B1 Free Archiver. This is a free file compression tool that supports a range of file formats, including ZIP, RAR and 7Z. B1 Free Archiver offers a user-friendly interface and the ability to extract files from many different types of archives.
Bandizip. This is a free file compression tool that supports many file formats, including ZIP, RAR and 7Z. Bandizip offers a user-friendly interface and strong compression options.
These are just a few examples of the many file compression tools available as alternatives to WinZip. Users can try different tools to see which one meets their needs.
Explore the differences between compression, deduplication and encryption.
This was last updated in
April 2023
Continue Reading About WinZip
Dig Deeper on IT operations and infrastructure management