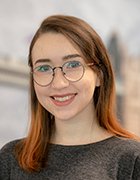 Katie Donegan is social media manager at TechTarget. She works closely with editors to extend Editorial's reach to audiences on external platforms and build brand awareness among Instagram, LinkedIn, TikTok, Twitter and YouTube users.
Donegan joined TechTarget in 2019. In her tenure with the company, she has worked as an associate site editor for SearchSecurity and SearchCloudSecurity, covering a range of security topics, including vulnerabilities, awareness training and the cybersecurity talent gap.
She is a communication and journalism graduate of the University of Massachusetts Amherst. Her work has appeared in the Massachusetts Daily Collegian and Amherst Wire. Prior to joining TechTarget, she directed the news program at WMUA 91.1 FM and worked as a producer at a local television news show. She is a Massachusetts native with a passion for iced coffee, live music and podcasts.
Katie Donegan's Most Recent Content