ptnphotof - Fotolia
Box admins get a deeper view with Insights Dashboard
In the GDPR era, compliance and security become heightened concerns. Box Insights Dashboard gives administrators a look into enterprise cloud activity.
With the Admin Insights Dashboard announced earlier this year, Box admins get a deeper view into collaborative work patterns related to the cloud services provided by the Box platform, something on-premises CMS admins may already take for granted, but hasn't always been offered by cloud vendors.
Admins, of course, are on the front line for support and compliance, and they must contend with the ever-increasing complexity of these cloud-based services. While they continue to be responsible for routine tasks such as adding and removing individual users, assigning roles and maintaining workgroups, they also must now monitor what's going on at all times, as well as be able to quickly diagnose and fix problems -- before they impact others.
The Box Admin Insights Dashboard offers a window into those issues, as well as helping enforce compliance around data management and privacy. Using the Admin Insights Dashboard, administrators can monitor upload, download and preview events related to documents, files, spreadsheets, images and Box environments within their purview of responsibilities. Administrators also have visibility into adoption and user engagement with third-party applications, such as Salesforce, Office 365 and Slack.
Admins vs. users
When it comes to digital work, there are two sides to enterprise content management (ECM) in the cloud -- what line-of-business workers experience and what administrators must do to maintain these shared enterprise resources.
Line-of-business workers are concerned about their own productivity, collaborating with colleagues and getting work done. They expect simplicity, intuitiveness, and just-in-time access to the right information. A cloud-based content services platform is simply the means to an end.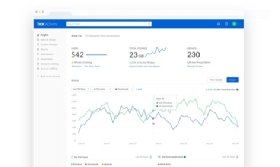 But a cloud services platform is only as viable as the range of digital experiences it supports. Making it easy for line-of-business workers to collaborate and securely manage the flow of everyday business information is one thing. Making it easy for administrators to monitor the platform's health, report on operational activities, take administrative actions and enforce security mandates is something entirely different.
Visualizing the administrative experience
From its inception in 2005 as a cloud-native set of services, Box has featured extensive metadata capabilities for content tagging and event logs for auditing. Today, the Box platform includes a wide range of capabilities for enterprise content management (ECM), compliance, governance and data sovereignty, designed to support line-of-business workers.
While Box provides new tracking resources, administrators still need to know what they are looking for.
Administrators can drill into activity reports and further analyze them by time of day and location. They can sequence events along a timeline or map them geographically, selecting from a variety of displays to identify trends and spot anomalies. Administrators can visually detect what line-of-business workers are doing, as well as how apps connected to the platform are being utilized.
In short, monitoring important events for ECM in the cloud matters. Visualizing these events adds insights. With the Admin Insights Dashboard, administrators can intuitively understand what is happening, identify problems and take actions -- and also drive Box adoption and collaboration in new ways.
Tracking events that matter
Yet being able to visualize administrative parameters is like an iceberg -- often, the most significant lurk below the waterline. The Admin Insights Dashboard highlights the baseline event-monitoring capabilities that are possible within the Box platform. Box promises next-generation administrative experiences in future updates.
Box logs more than 90 events related to content management, external collaboration, categorization, security and endpoint management, retention policy management, legal holds and other usage patterns, both with Box and third-party applications.
By tracking the events that matter to individual Box admins, Box can provide added insights into work activities. For instance, with enhanced controls based on metadata, Box can set retention policies using a file's metadata, providing organizations with added flexibility and control over their content governance.
Visualizing events is an important first step for enhancing the administrative experience. While Box provides new tracking resources, administrators still need to know what they are looking for and understand the meaning of relevant indicators.
Making things easy, intuitive and useful for administrators takes design expertise to envision, model and implement the next-generation metrics for tracking the health of a cloud-based platform. To deliver on the promise of insightful administrative experiences, it is essential to add meaning to the visible events
Next Steps
Box moves on AI, workflow automation and security with Box Skills Kit
Dig Deeper on Content management software and services