Hertz app causes legal pain for Accenture developers
Hertz e-commerce system for consumers at the center of $32 million suit; analysts looking at the detailed complaint spread plenty of blame over both parties.
Hertz Corp.'s e-commerce team had an eventful finish to April. First, the company sued Accenture for $32 million over an abortive Hertz app rollout that had resulted in the rental car brand terminating Accenture last spring. Then, April 30, the company released what it called a "refreshed Hertz app" for Android and iOS.
Content management played a role in the undoing of the mobile e-commerce Hertz app development project, which took place from 2016 to 2018. The app was to enable reservations and show account history and loyalty program progress, among other features.
Hertz, which also operates the Dollar and Thrifty brands spanning more than 10,000 locations globally, alleges that Accenture didn't deliver a responsive design with a "medium-sized" design to display optimally on tablets, as well as phones and desktop computers, which the contract mandated.
"The designs that Accenture delivered did not conform to these specifications," the lawsuit, filed April 19 in U.S. District Court in the southern district of New York, claimed. "Accenture created only two sizes: small and large."
Furthermore, the suit alleges that Accenture's code for the Adobe Experience Manager web content management component was not in line with standards, making "the [Hertz app] unreliable and difficult to maintain, as well as making future updates challenging and inefficient."
The suit so far has drawn attention both on social media and online forums, with opinion divided as to what went wrong. Neither Hertz's lawyers nor Accenture would agree to an interview for this story. Accenture told The Register that the suit is without merit and that the global IT management and services consulting firm intends to mount a defense.
Hertz told SearchCustomerExperience that the new app it announced April 30 was not developed by Accenture, and only covers Hertz -- not Dollar and Thrifty.
Analysts pick apart complaint
Analysts who looked at what they think may have happened with the Hertz app development based on the text of Hertz's lawsuit said the suit reflects the complexities of vast undertakings such as installing an e-commerce app for a large enterprise.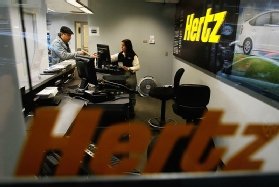 "A digital transformation project like Hertz said they wanted requires companies and implementers to approach the problem in entirely new ways," said Geoff Bock, a SearchContentManagement contributor and independent research consultant. "It requires a cultural change, a change in the way IT projects are developed and executed, and a change in the way information and content is used."
It also, he said, required that Hertz's business team be deeply involved in the process, which the complaint implies might not have been the case.
Content challenges vexing in e-commerce apps
Content is often a character in mobile app dev narratives for large global brands.
While the Hertz complaint only shows the rental car company's side of the argument, typically the problems begin when consultants -- who aren't content experts and tend to default to Adobe products -- focus on the app's front end at the expense of retooling the back-end systems delivering the content, said Alan Pelz-Sharpe, founder of the research firm Deep Analysis.
Web content provides unique challenges as it is, not so much in the form of files; rather, it is made up of strings, links and items of data that have to be assembled dynamically.

Alan Pelz-SharpeFounder, Deep Analysis
"Overhauling and modernizing legacy web and commerce systems, particularly those with multiple geographies, products and sites is very difficult indeed," Pelz-Sharpe said, adding that the Adobe products aren't the problem, but rather the free-form evolution of a company's legacy web CMS that can't just be quickly ripped and replaced. "Web content provides unique challenges as it is, not so much in the form of files; rather, it is made up of strings, links and items of data that have to be assembled dynamically."
These projects are a "nightmare," Pelz-Sharpe said, adding that jumping in with an army of consultants can cause more damage than benefit. A slower and better approach can be tackling one piece of the back-end system -- and one body of content -- at a time. This may require recreating content where necessary, unraveling unnecessary workflows and simplifying the process.
Getting it right from the start
When projects like the Hertz app go wrong, it probably isn't due to a lack of communication between the client and developer throughout the process despite appearances that there weren't enough check-ins along the way, said Michael Krigsman, industry analyst and host of CXOTalk, an internet video show.
It's more likely that client and consultant didn't perform enough upfront analysis of needs and therefore didn't strategize how to fulfill those needs before entering in an agreement, Krigsman suggested.
Given that, Krigsman added that companies like Accenture need to deal with their clients' hidden IT complexities during early stages of engagement, when estimates are drawn up. That means helping the client uncover potential complications to the project that the client might not even be aware of.
"The [Hertz lawsuit] is so one-sided that it's almost meaningless -- however, it's clear that something very bad happened," Krigsman said, an expert in analyzing IT failures. "Accenture does not want to be in a legal battle with their customer. They don't want this to be happening any more than Hertz does."
Dig Deeper on Content management software and services