alphaspirit - Fotolia
3 ways snackable content creates relevant digital experiences
Businesses can deliver snackable content through contextual commerce, content as a service and digital twinning to create innovative digital experiences.
As you're out and about, you may not have the time to engage with lengthy content and webpages. You just want to find the information you need, when and where you need it, tuned to your particular task.
These relevant digital experiences depend on snackable content, targeted information snippets -- sometimes termed content components -- that are informative, relevant and lead the user to take action.
Content services now make it even easier to deliver content in context, and next-generation frameworks and tools can weave snippets into useful digital experiences. Like cooking tidbits for workaday snacks, simple recipes of premixed information snippets add business value. And the ingredients for snackable content -- the content-type definitions, associated metadata, web service APIs, development frameworks and digital repositories -- are getting richer and richer.
While delivering content in context adds business value, upfront investments are required. Here are three ways in which snackable content shapes digital experiences.
1. Contextual commerce
Suppose you are reading an article about the latest energy saving tips for your business and learn about a new high-efficiency caulking for sealing drafty windows and doors. With one click while viewing the article, you can order the product over the web -- and there is no need to toggle from one app to another.
Content services now make it even easier to deliver content in context, and next-generation frameworks and tools can weave snippets into useful digital experiences.
The fewer the barriers, the easier it is to make a sale. And the organization promoting energy efficiency continues to reinforce its brand and increase sales through content marketing.
Contextual commerce relies on a third-generation web content management platform, such as Drupal, where content components are extensively tagged with relevant metadata. The energy conservation organization has already done its homework -- developing its information architecture; defining its business taxonomies; and deploying a third-generation platform to capture, organize, store and distribute snackable content. Now it can use the investment.
As an enterprise-grade services provider for Drupal, Acquia Inc. launched its Acquia Commerce Framework in April 2019 -- a set of Drupal modules that organizations can use to deliver contextual commerce experiences. The modules embed commerce components directly into the content presentation activities.
Site editors managing content on a website can easily add predefined commerce components to the page, just like any other content type. Commerce-related information and actions -- such as product descriptions, pricing, payment and shipping details -- are automatically triggered by the embedded metadata within the commerce components and presented in context within the overall webpage experience.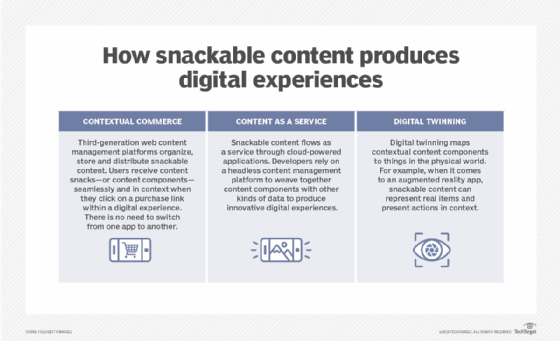 To accelerate deployment and increase time-to-value, Acquia provides predefined connectors to e‑commerce engines from two partners -- Elastic Path Software and BigCommerce. The Acquia Commerce Framework, however, is engine-agnostic and can be adapted to a variety of open source e-commerce platforms.
2. Content as a service
Contextual commerce is only one way to deliver snackable content. With the ever-expanding mobile revolution, it is necessary to confront the content management paradox -- the simplicity of digital experiences depends on the capabilities of the underlying applications to manage complexity, and simple experiences require contextual content delivery.
Snackable content flows as a service through the fabric of cloud-powered applications, and content as a service (CaaS) weaves metadata linked to these information snippets into innovative digital experiences.
Imagine that you are a facilities supervisor inspecting a warehouse for energy efficiency and notice broken seals on several warehouse doors. Using the company's field-maintenance app running on a smartphone, you can snap photos of the leaks and capture locations in the process, add annotations about your concerns and automatically report the results to the company's content-centric maintenance application.
Steps for shaping digital experiences
Application developers continue to face a content tsunami, and, more often than not, they are building on an existing set of enterprise applications -- using a substantial business investment.
Snackable content is a way to deliver business value. Here are four essential steps for getting started:
Focus on the digital experience and the operation activities required to support it.
Consider the information flows, where the content is stored and how it needs to be transformed to generate the content components that support the experiences.
Know what is already within the enterprise. Take a content inventory of existing applications and repositories. Create the blueprints for aggregating content from disparate sources.
Pay attention to content metadata. Develop plans to harmonize it around business purposes.
From a business perspective, content is the currency for delivering value -- the promise of innovative and useful digital experiences.
Company managers, in turn, can easily map where all problem reports occur and organize trouble tickets for resolving problems. And the repair professionals can view the photos and annotations within their own mobile apps when arriving at job sites to fix the problems.
The mobile app harnesses content in context -- including photos with annotations and location coordinates -- and synchronizes the report with a back-end repository. The content repository, in turn, includes the business logic for managing problem reports and scheduling trouble tickets. Productivity increases and error rates decline when everybody has easy access to the single source of truth.
But application developers must first design the digital experience and then develop the enterprise mobile apps, scripting the information flows at a granular, component-specific level.
Application developers can use rapid mobile application development (RMAD) tools to design and build their apps -- collecting and displaying snackable content and synchronizing the information snippets with one or more back-end repositories.
Developers will need headless content management system capabilities delivered by third-generation content management platforms -- such as Drupal, WordPress, Box, DropBox, Contentful and e-Spirit -- to deliver snackable content within a cloud-powered environment. CaaS also includes modern web service APIs that enable application developers to use their favorite RMAD tools and frameworks to produce digital experiences.
In short, CaaS provides omnichannel application access to a shared content repository. The more metadata there is to synchronize through web service APIs, the richer the digital experience, leading to a cycle for developing more useful and engaging enterprise applications.
3. Digital twinning
CaaS is becoming an essential capability for empowering next-generation digital experiences. With augmented reality (AR), snackable content can represent real things and present actions in context, contributing to digital work transformation. As a design methodology, digital twinning maps contextual content components to things in the physical world. CaaS provides the bridge between the AR app and the content repository.
Suppose you are the repair professional dispatched to fix the leaky warehouse doors using a new high-efficiency sealing material that requires special handling. In addition to viewing the problem, you need to know how to use the material. By pointing a mobile device at the problem area, you can begin to use an AR experience that recognizes the leaks and provides you with step-by-step instructions to make the repairs.
Snackable content automatically appears within the AR app -- you can see the problem area, overlaid with a visual guide about how to handle the special materials.
Thus, the Digital twin of the warehouse can include a digital display of the doors, overlaid with a hologram of the high-efficiency sealing material. Using image recognition to deliver content in context, all of the necessary information is presented within your field of vision.
The AR app provides a step-by-step guide about how to make the repair and successfully use the material. Using CaaS, the metadata generated by the app accesses the content components and presents the instructions as predefined actions, organized as a series of job steps.
Content delivered with a business context can simplify digital work activities, and CaaS provides the framework and services to weave snackable content into useful digital experiences. It is essential to bridge the analog-digital divide, as businesses need ways to add insights and weave together content components to support workaday tasks. Digital twinning promises to be a good design methodology to shape these next-generation digital experiences.
Dig Deeper on Content management software and services