Getty Images/iStockphoto
Top 8 knowledge base products in 2023
A knowledge base can help organizations increase brand loyalty and customer satisfaction. Top knowledge base products include Heroic KB, ProProfs and ServiceNow.
Organizations may struggle to offer quality customer support as their customer bases grow, but a knowledge base can help lighten support teams' loads.
A knowledge base -- a library of information that lets customers find answers to their questions -- increases support team productivity, because it reduces the number of support tickets teams receive. At its core, a customer support strategy integrates case avoidance, so customers can help themselves, and case management to create and manage tickets if customer self-service channels fail. Organizations can use knowledge base software to improve customer self-service and improve case avoidance efforts.
The following knowledge base products were chosen based on either direct experience or product demonstrations of the tools.
Benefits of a knowledge base
Knowledge base products let organizations create and manage educational content, such as FAQ pages and articles, for customers and employees. These systems organize content with hierarchical or ad hoc metadata.
Knowledge bases can benefit organizations in the following ways:
Top knowledge base products
An organization's size and goals determine which knowledge base products best suit its needs. Before organizations evaluate knowledge base products, they must consider the following questions about their content lifecycle:
How will employees write, edit and publish the content?
How will customers consume it?
How will the organization evaluate content for relevance and utility, and revise or retire it?
Eight top knowledge base products in 2023 include Heroic KB for WordPress, ProProfs, Zendesk Guide, ServiceNow, Atlassian Confluence, Help Scout, HubSpot Knowledge Base and Obsidian.
Heroic KB
Heroic KB is a knowledge base plugin for WordPress. The tool works in conjunction with KnowAll, a knowledge base theme for WordPress. HeroThemes sells these two products as a bundle.
Because WordPress runs underneath Heroic KB and its KnowAll theme, the core website code is free and open source. Organizations just need to pay for WordPress hosting, the Heroic KB plugin and the KnowAll theme. Heroic KB's open source nature makes it an economical option for startups and smaller companies.
A Heroic KB website has a prominent search bar on the main page. Authors can tag content with metadata and then organize it. The authors can also organize the flow and order of articles to improve users' ability to find content. Built-in analytics also help businesses see which content users access and which searches were not fruitful.
Heroic KB comes in three pricing tiers: Essential, Plus and Pro. The Essential tier costs $149 per year. This version lacks integration with other enterprise applications, and therefore an organization may struggle to grow with it. The next tier, Heroic KB Plus, costs $199 per year. This tier offers all the features in the Essential tier but includes search analytics. And at the top level, Heroic KB Pro costs $399 per year. This tier includes all the features in Plus but adds Slack integration. Also, the Pro tier lets organizations use the software on up to five websites.
ProProfs
ProProfs supports public-facing knowledge bases, which any customer with internet access can search through. The tool also supports private or internal knowledge bases that restrict access to employees. Users can rearrange content with a drag-and-drop interface and tag content with lifecycle states -- such as review, prepublication and published -- to improve the content authoring and reviewing processes. ProProfs also includes customer analytics features to track user behavior.
This product can benefit SMBs and organizations with a relatively small content set. It can also integrate with other corporate tools for case management and CRM.
Pricing is set at $49 per author monthly for an annual commitment, and $79 per author monthly for a month-to-month commitment. Both plans come with all the same features. For an extra $300 on the annual plan or $30 per month on the monthly plan, users can add a custom domain and replace the ProProfs branding with their own.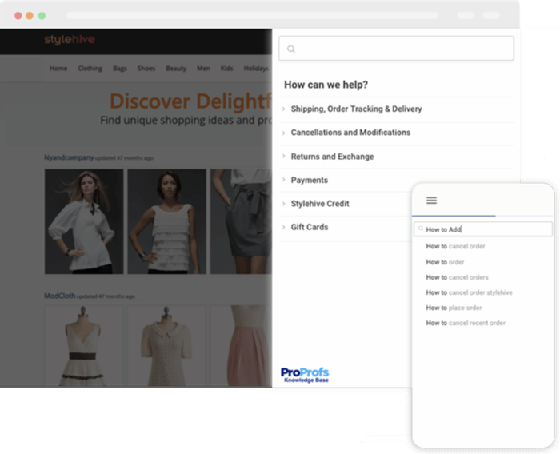 Zendesk for Service
Zendesk's customer service offering, Zendesk for Service, includes a knowledge base tool called Zendesk Guide. The knowledge base offers an easy-to-use and visually appealing interface for both authoring and reading content, as well as integration with a support ticketing system. The tool incorporates discussion boards, which let customers ask each other questions to find answers that aren't in the knowledge base. It also lets users search text documents for specific words and phrases to help them find what they need.
In addition to Zendesk Guide knowledge base, Zendesk for Service includes various support channels, such as email, live chat and phone support. The product's knowledge base and support system integration can help lighten service agents' workloads as it enables customers to find answers on their own.
Zendesk can benefit organizations of all sizes. However, for organizations that aren't in the market for sales or support desk software, Zendesk for Service might include too many unnecessary features.
Pricing for Zendesk's customer service offering starts at $49 per agent monthly when paid annually and $59 per agent when paid monthly. With additional features, pricing goes up to $150 per agent monthly when paid annually and $199 per when paid monthly.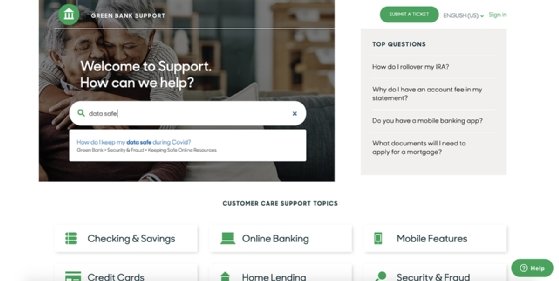 ServiceNow
ServiceNow is a powerful and configurable cloud-based option, but many users believe it's not intuitive. The software organizes content with hierarchical metadata tagging and runs in the cloud as a SaaS product.
ServiceNow has a steep learning curve, which can add some risk to an organization's investment in it. The product does not have discussion board capabilities, and its lack of full-text search means users may struggle to find information. ServiceNow is designed and priced for larger enterprises, which must also configure and customize ServiceNow to their own workflows and use cases. The tool offers a high degree of configurability.
Pricing information is not readily available on the vendor's website.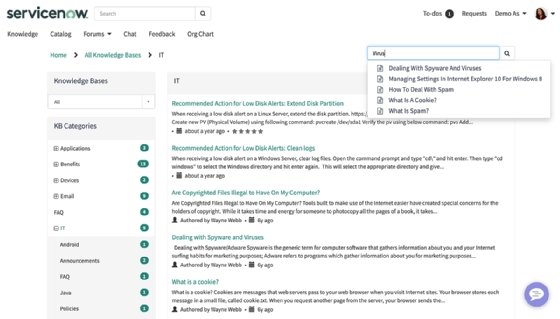 Atlassian Confluence
Atlassian Confluence is a cloud-based app that organizations can use with Atlassian's Jira Service Management offering to form a customer self-support and case support suite. The vendor designed the software for internal collaboration, similar to an in-house knowledge base. Several plugins connect it to other Atlassian offerings, like Trello, and external tools, such as Box and Dropbox.
This knowledge base software supports self-managed and cloud-based implementations, but the cost to purchase self-managed software is higher. Mainly organizations that need to self-manage for security or policy reasons choose the self-managed option.
Atlassian Confluence benefits content-heavy organizations -- whether startups or large companies -- that need expansive communications and knowledge capture. Atlassian offers ease of use, and it lets users start with a free, functional knowledge base and scale up to more features and users as their organization grows.
Atlassian offers four pricing tiers for its knowledge base: Free, Standard, Premium and Enterprise. The Free option supports up to 10 users on one site. The company defines a user as someone with a site account that can log in. Anyone with or without an account can access the product's public knowledge base content. Confluence's Standard plan costs $5.75 per user monthly for up to 50,000 users on one site. Next, the Premium option costs $11 per user monthly. Pricing information about the enterprise plan is not readily available online.
Also, each successive tier adds additional features; for example, storage increases from 2 GB to 250 GB to unlimited.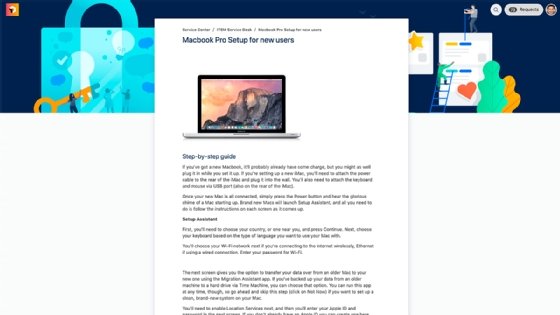 Help Scout
Help Scout is an integrated help desk and knowledge base suite aimed at smaller organizations and known for ease of use. Help Scout designed its knowledge base for easy migration. The tool lets users import HTML and Markdown files on a file-by-file basis. Markdown is a coding system for formatting text.
Like Zendesk Guide, Help Scout combines support desk and knowledge base functions to help customers find answers on their own and reduce service agents' workloads. However, organizations that don't need support desk features may find Help Scout to be overkill.
Help Scout offers Standard, Plus and Pro tiers. Annual pricing for Help Scout Standard is $240 per user, whereas the Plus tier costs $480 per user. The annual pricing for the Pro tier costs $780 per user. Help Scout also offers monthly pricing. The first two tiers are $25 and $50 per user monthly. Organizations can only contract the Pro tier annually.
HubSpot Knowledge Base
HubSpot, best known for its CRM offering, has built a suite of customer relationship products around sales and support, including a knowledge base.
The tool offers an analytics reporting dashboard that can show users how many times customers clicked on an individual article, how much time they spend reading the article and how satisfied they were with it based on explicit feedback scores. The knowledge base also offers SEO suggestions to help users create content that users can find easily.
Pricing for HubSpot's Service Hub Professional starts at $5,400 a year and the Enterprise tier costs $14,400 per year. Both tiers may be more expensive than many people starting a knowledge base can justify. However, the tool comes with considerable integration with the rest of HubSpot's features. Organizations that already use HubSpot for sales and marketing functions can get the most from this product.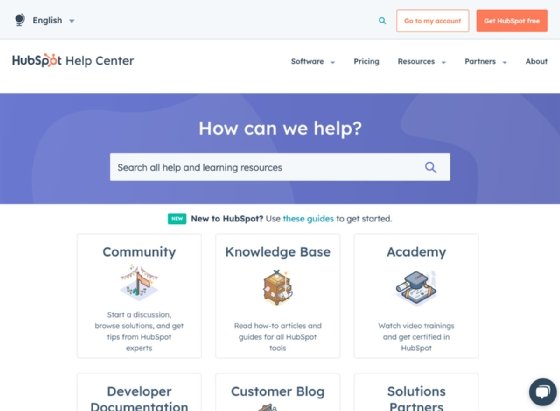 Obsidian
Obsidian is primarily designed as a personal knowledge management (PKM) system, which is a knowledge base for a single person. Yet, organizations can also use it as a company knowledge base. Obsidian uses Markdown formatting to simplify the content development and linking processes.
Obsidian's core software is free and open source. Numerous community plugins can extend Obsidian's capabilities. For example, Templater helps Obsidian users create article templates, and Homepage lets them customize their knowledge base homepage. An Obsidian-based knowledge base can benefit content modeling processes and organizations with small authoring teams.
As a PKM product, Obsidian works best as a knowledge base for one person or a small team. The tool is flexible, though, and can help small teams create strategies for content linking, metadata and structure.
Pricing for the commercial plan is $50 per author annually. Users can also add extra publishing and syncing capabilities. The publishing features cost an additional $192 per site annually, whereas the extra syncing capabilities cost $96 per user annually.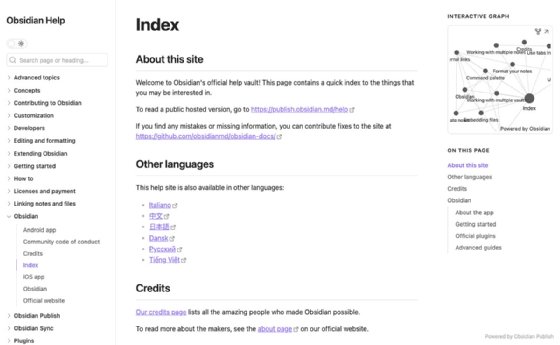 How to choose a knowledge base product
Organizations should evaluate their knowledge base needs and how they might evolve over time. While one product may satisfy an organization in the short term, another option may offer smoother integrations with ticketing, support tracking systems and CRM. Buyers must assess how customizable each product is, so they can choose one that meets current needs and can scale up to meet future requirements.
However, businesses planning complex integrations with CRM systems or planning to build a service portal around the knowledge base should start small. These organizations could start with the simpler and cheaper products and graduate to more powerful suites when they demonstrate the value of the knowledge base and confirm their need for expanded capabilities.