peshkova - Fotolia
Top 5 knowledge base products in 2020
One way to increase brand loyalty and customer satisfaction within a company is to have a knowledge base. These products can also help train customer support teams.
Organizations can face challenges with providing adequate customer support to a growing customer base, but a knowledge base can help lighten the load of support teams.
A knowledge base -- a searchable library of information where customers can find answers to their questions in real time -- increases support team productivity, as it can reduce the number of support tickets the team receives.
Any customer support strategy will have a technology suite that includes content management, knowledge management and case management systems, which specifically manage post-sale customer issues. At its core, the customer support strategy integrates case avoidance -- a way to help customers help themselves -- and case management to create and manage tickets when self-help is not enough.
Benefits of a knowledge base
Knowledge base products facilitate the creation and management of topics and larger articles, which are organized by hierarchical or ad hoc metadata. Here are some benefits of knowledge base products:
Increased customer satisfaction. Instead of opening a case and then waiting for support personnel to respond, customers can find answers to questions on their own. This can empower customers, which can increase brand loyalty.
Improved satisfaction and productivity for customer service reps. Knowledge bases answer simple questions for customers, such as "How do I change my subscription options?" or "How do I change my password?" enabling support teams to focus on more complex cases. This improves both agent job satisfaction and productivity.
Improved team member onboarding. Businesses can use knowledge bases to house training materials to train support teams. Knowledge bases may contain simple materials, such as instructions on how to use a phone system, or more complex materials, such as pre-recorded role-playing exercises for support teams. Employees can also find answers to frequently asked customer questions within knowledge bases.
The ability to gather analytics about customer experience. By looking at analytics of customer interactions with a knowledge base, as well as comments that customers leave in the knowledge base, companies can understand what is causing the most customer issues.
Best knowledge base products
Depending on a company's size and its goals, certain knowledge base products may better suit an organization's needs. When considering knowledge base products, it is also important to consider the whole lifecycle of content.
How will the business write, edit and publish the content?
How will customers consume it?
How will the business evaluate it for relevance and utility and revise or retire it?
Here are five leading knowledge base products.
KnowAll
KnowAll is a knowledge base theme built for WordPress. Because WordPress is underneath it, the core website code is free and open source -- businesses just need to pay for WordPress hosting and the WordPress theme itself. This makes KnowAll an economical option for startups and smaller companies.
The site KnowAll creates has a prominent search bar on the main page. Authors can tag content with metadata and then organize that metadata. The authors can also organize the flow and order of the articles to improve the consumer's ability to find content. Built-in analytics also help businesses see what content users are accessing and what searches are not fruitful.
What KnowAll lacks is integration with other enterprise applications, and therefore, it may be difficult for an organization to grow with it.
Pricing ranges from $149 per year for KnowAll Essential to $299 per year for KnowAll Pro. The Pro pricing enables businesses to use the software on up to five websites.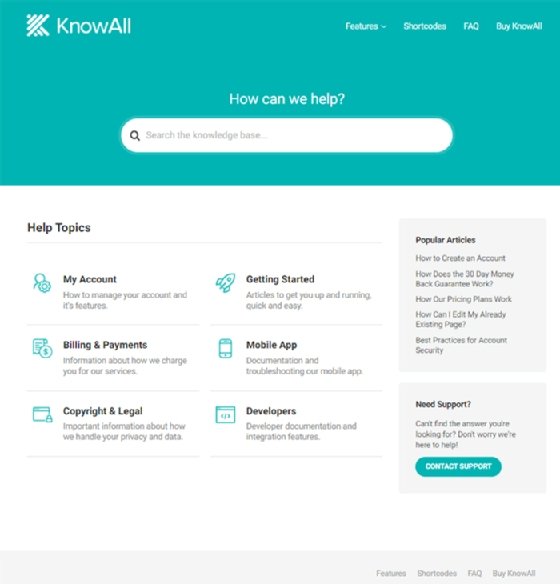 ProProfs
ProProfs supports both public and private knowledge bases. Users can rearrange content using a drag-and-drop interface and tag content with lifecycle states -- such as review, pre-publication and published -- to improve the content authoring and reviewing process. ProProfs also includes analytics.
Businesses should think about not only their current needs, but also where their knowledge base needs will be in a few years.
This knowledge base option benefits SMBs, as well as organizations that have a relatively small content set. It can integrate with other corporate tools for case management and CRM.
Pricing ranges from a free version to $0.50 per month per page. A 200-page knowledge base would run $1,200 per year. Depending on the complexity of a company's product and its content, the number of pages or topics in a knowledge base may vary. Businesses may need to perform a content analysis to understand how this pricing model may work for them.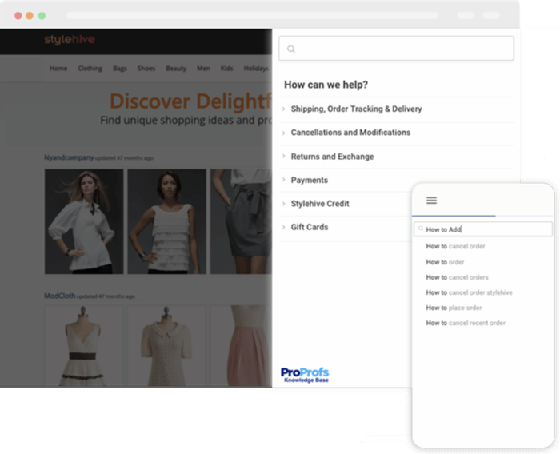 Zendesk Guide
Zendesk Guide offers an easy-to-use and visually appealing interface for both authoring and reading, as well as integration with a ticketing system for support tickets. It incorporates discussion boards, providing a way for customers to ask each other questions that aren't in the knowledge base. And it also provides full-text search, facilitating information discovery. Zendesk Guide offers both an on-premises version and a cloud-based version that runs on AWS.
Zendesk Guide's omnichannel platform -- email cases, live chat, phone support and knowledge base -- offers customers many options for accessing information. Zendesk Guide benefits organizations of all sizes.
Zendesk Guide has a freemium model, with the lowest tier of functionality available for free, followed by Professional for $15 per month per agent, Enterprise for $29 per month per agent and Answer Bot tiers from $50 per month per agent.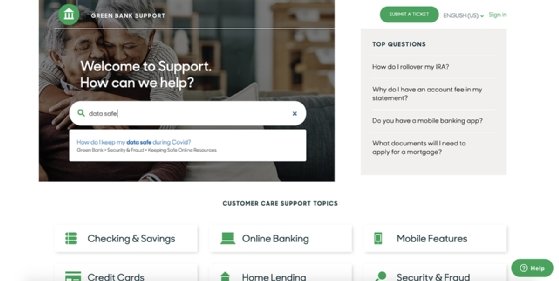 ServiceNow
ServiceNow is a cloud-based option that is powerful and configurable but, according to many users, not intuitive. ServiceNow organizes content with hierarchical metadata tagging and runs in the cloud as a SaaS product.
Users say that ServiceNow has a steep learning curve, which can add some risk to a company's investment in a knowledge base. ServiceNow does not have discussion board capabilities, and its lack of full-text search means that some information may not be easy to find. ServiceNow is designed and priced for larger enterprises.
ServiceNow does not provide pricing information outside of a sales discussion.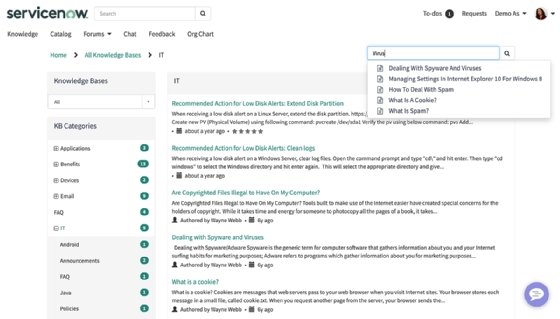 Atlassian Confluence
Atlassian Confluence is a cloud-based application, and when businesses use it with Atlassian's Jira Service Management offering, it provides a comprehensive customer self-support and case support suite. It is designed for internal collaboration, similar to an in-house knowledge base. There are also several plugins to connect it to other Atlassian offerings, along with those from other companies, such as Box, Dropbox and Trello.
Currently, Atlassian Confluence supports both self-managed and cloud implementations, but by February 2021, it will stop selling server licenses of its products. They will continue to offer their data center self-managed option. Atlassian Confluence benefits content-heavy companies that need expansive communications and knowledge capture, whether they are startups or large organizations.
There are three tiers for pricing. First, there is a free option for up to 10 users on one site. Then, there is a Standard option for $5 per month per user for up to 10,000 users on one site. Next, there is a Premium option for $10 per month per user for up to 10,000 users on one site with added benefits not in the Standard option. If a company needs a plan that accommodates 10,000 users with unlimited sites, it can contact the sales team about the Cloud Enterprise plan.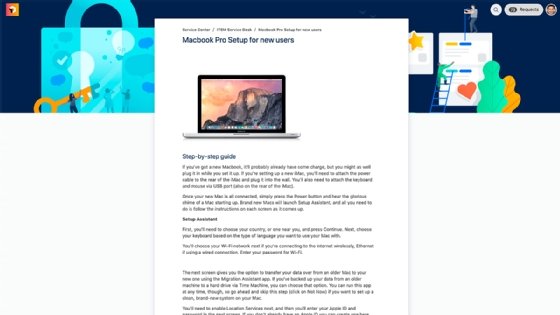 Think about current and future needs
Businesses should think about not only their current needs, but also where their knowledge base needs will be in a few years. While a product such as KnowAll may satisfy an organization in the short term, it may find that another option, such as ProProfs, may offer more benefits in terms of integration with ticketing, support tracking systems and CRM.
Even if the business is planning complex integrations with external products -- such as CRM systems -- or building a service portal around the knowledge base product the organization purchases, it could start with the smaller, lighter and cheaper products and graduate to more powerful suites once the business demonstrates the value of the knowledge base and confirms its need for expanded capabilities.