Getty Images/iStockphoto
HubSpot gives customer service platform a makeover
HubSpot's refreshed contact center platform features self-service automation and Twilio telephony. The company hopes a fragmented market and user loyalty will spur its growth.
HubSpot on Tuesday refreshed Service Hub, its little-known customer service platform, by adding service-level agreement management tools, service automation features, a customer portal and mobile access to agent email.
HubSpot also plans to roll out inbound calling, now in beta, through the Twilio telephony API. The Twilio integration currently provides outbound calling for HubSpot users, who are typically focused on marketing and CRM.
Since Service Hub was introduced in 2018, HubSpot has built chatbots that begin automated customer conversations on channels such as social media messaging, chat and email, and elevate them to agents when they can't solve a customer's problem through self-service.
At launch, HubSpot's customer service platform was built for its SMB customers. Many features that have been added since are targeted to larger companies, said Poorvi Shrivastav, general manager and vice president of HubSpot Service Hub.
Simplifying contact center tech
The customer service platform market is crowded with mature players such as Genesys, Cisco and Mitel as well as challengers such as Twilio and Amazon Connect. With the advent of cloud contact-center-as-a-service platforms and most contact centers shifting from in-person to remote work during the last two years, this technology sector is ripe for disruption from upstarts, said Dan Miller, co-founder of Opus Research.
"The structure of the CCaaS market doesn't make any sense right now [for users]," Miller said. He added that the fragmentation of CCaaS and UCaaS technologies makes it complicated for some companies to put together a contact center stack.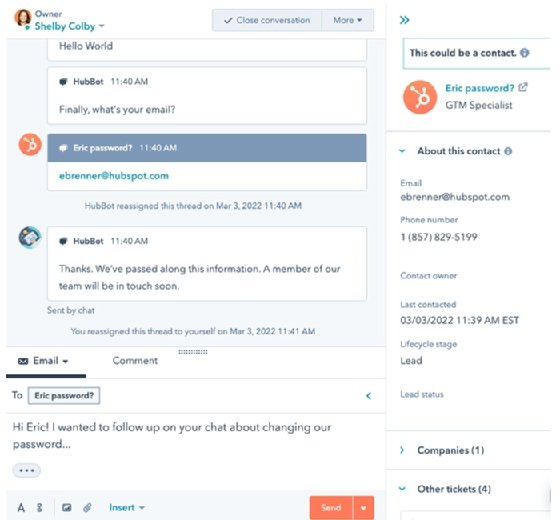 New approaches from vendors such as Salesforce and HubSpot integrate the customer service platform with marketing and CRM data -- and tie in partners' telephony that's wrapped in their own interface -- can potentially simplify the buying decision.
"[HubSpot's] challenge is going to be the packaging and making it easy to start," Miller said. "I would counsel them to make it consistent with their own history -- not ripping and replacing something else, but appending these capabilities to stuff [users are] already doing with HubSpot."
Shrivastav, who joined HubSpot in early 2021 after five years as a Salesforce Marketing Cloud and Sales Cloud product manager, said HubSpot customer service platform users tend to be a mix of startups looking for a full tech stack including marketing automation, customer service and CRM, existing customers, and a few who chose to replace an existing contact center platform they had been using.
"I would say, right now, the sweet spot is around anybody who wants to stand up a mature help desk and real-time channels outside the CRM -- and channels like email or digital channels inside," Shrivastav said. "We can cater to them."
HubSpot offers four monthly subscription plans for Service Hub that range from free to $1,200 per month for the Enterprise edition. Telephony on the Twilio Connect telephony API incurs additional per-minute costs that varies by location of both caller and call recipient.
Don Fluckinger covers enterprise content management, CRM, marketing automation, e-commerce, customer service and enabling technologies for TechTarget.