sommai - Fotolia
Humanitarian company uses Dynamics 365 for Talent for quicker deployment
Chemonics upgraded its technological process from telex-era capabilities to cloud-based software for its worldwide projects.
Whether it's responding to a natural disaster or helping a developing country improve its education system or water...
Continue Reading This Article
Enjoy this article as well as all of our content, including E-Guides, news, tips and more.
quality, international development company Chemonics needs to build out specialized business processes on the fly. That's how it keeps more than 60 humanitarian projects around the world moving, despite each one having its own technological needs that are dependent on size, scope and location.
Roughly three years ago, the Washington, D.C.-based company began looking at business applications that could simplify the HR process of finding and hiring the necessary talent needed for their distinct projects, ultimately settling on Microsoft's Dynamics 365 last October. But Chemonics was still longing for more HR capabilities, like onboarding and contract management, and it was looking at third-party tools to help fill the holes when Microsoft told them about a new feature coming down the line: Dynamics 365 for Talent.
The new Dynamics 365 feature, which was made generally available on Aug. 1, helps streamline routine tasks and automates staffing processes.
"Essentially, we build a brand-new company of anywhere from 15 to 20 people, to 400 to 500 people," said Eric Reading, executive vice president at Chemonics. "Our business process and the way we organize ourselves needs to be very flexible and oriented around the rapidly changing nature of the geographic and organizational layouts of our company."
'We can work in real time'
Founded in 1975, Chemonics has done humanitarian work all over the globe, including current projects in Afghanistan helping with sustainable agriculture and literacy, policy reform in Jordan and health services in Angola, as well as dozens more. The process calls for a local office to be set up in the corresponding region, with recruiting and hiring of talent both worldwide and local to that region.
"We have roughly 4,500 staff around the world, with the smallest office being a half dozen staff and the largest around 400 people," Reading said. "It's a pretty dramatic range of scale we have to work in. A lot of those systems and processes we used were designed during a time when we used telex machines. Things were manual or with little automation due to the geographic separation."
The growth of cloud hosting allowed Chemonics to think more modernly about its technology, as internet infrastructure can be spotty in some of the developing nations in which it works.
It took us to a place where it was possible to have our whole global organization operating on a single framework for IT and business process.

Eric Readingexecutive vice president, Chemonics
"It took us to a place where it was possible to have our whole global organization operating on a single framework for IT and business process," Reading said. "We can work in real time and collaborate."
Chemonics researched roughly a dozen different software providers, ultimately narrowing the list to four, then to two -- Oracle and Dynamics 365 -- before settling on Dynamics for its UI consistency, simplicity and licensing structure.
"The consistency of experience across different parts of the interface was valuable," Reading said. "There are a lot of elements of business that have to be done a certain way because we're a government contractor and work on programs that need to comply in a lot of different legal departments. It allowed us to do more at a deeper level without having to completely customize everything."
And while Chemonics' first iteration of Dynamics helped with collaboration and consistency among its global projects, it still left some features to be desired in the HR department.
"At the time, there was an incompleteness of the HR offering, and it didn't satisfy our needs in that area," Reading said. "We were evaluating options on what do we append in to get that resource functionality. We talked with Microsoft about it, and they asked us to give them a little bit of time to see what was coming down the road."
Reading said Chemonics was one of the first Microsoft customers to set up Dynamics 365 for Talent for a project in the Dominican Republic.
"After [implementing Dynamics 365 for Talent], we stood up the Dominican Republic office in a 21-day period," Reading said, adding that the typical goal is 60 days.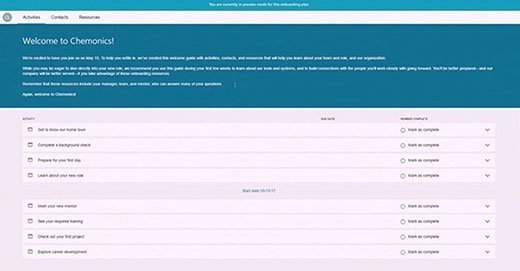 Integrating with LinkedIn
Dynamics 365 for Talent was one of two major upgrades that Microsoft brought to its business application earlier this year, with the other being bringing together LinkedIn Sales Navigator and Dynamics 365 for Sales, which allows Dynamics customers to mine LinkedIn's 500 million members for additional sales leads.
Integrating LinkedIn's vast amount of professional data into Dynamics also helps with the hiring process that Chemonics needed.
"The new offerings focus on the hiring process, the employee onboarding process and the underlying core needs of HR," said Mike Ehrenberg, chief strategist for Microsoft. "We've had these abilities before, but it's much more modern and richer now."
Reading said Chemonics uses LinkedIn as one of the first places to find specialized and specific talent.
"We may need to find an expert in methodology of literacy that can work in a particular language," Reading said. "Finding that specialized skill set and being able to link it from LinkedIn to the Talent offering is exciting."
Prior to Dynamics 365 for Talent, the hiring process for Chemonics' different projects was manual -- and the results varied.
"We often had lots of one-page Word documents that may or may not get reused," Reading said. "We'd have checklists and other manual management work that had a fair level of inconsistency with it."
Licensing easy to work with
The final aspect that drew Chemonics toward Dynamics 365 was the malleable licensing Microsoft offered, with both an overarching license for management and administrators and a team member license for employees with a simpler routine.
"Our organization doesn't break down neatly among traditional roles," Reading said. "The licensing made it easier to manage the process and much more competitive on a pricing standpoint."
The full use of Dynamics 365 cost $210 per user, per month, with team members' licenses costing $8 per user, per month to execute basic processes and shared knowledge. There's also an operations activity license for $50 per user, per month and an operations devices license for $75 per user, per month. Microsoft also offers other cheaper, stripped-down licenses of Dynamics 365, some of which don't include Dynamics 365 for Talent.
Next Steps
Seven ways Dynamics 365 stands out from other ERP systems
How will Dynamics 365 benefit the enterprise market?
Dynamics 365 marries CRM and ERP
Analysts ponder what Microsoft will announce at Ignite