Microsoft Dynamics 365 CRM takes center stage at Ignite 2017
Microsoft CEO Satya Nadella kicks off Microsoft Ignite with talk of future products, use cases for AI and continued bundling of Microsoft products.
ORLANDO -- Microsoft unveiled some far-reaching future products on Monday, while also updating Microsoft Ignite...
Continue Reading This Article
Enjoy this article as well as all of our content, including E-Guides, news, tips and more.
2017 attendees on its progress in bundling together existing products. The announcements will affect the Microsoft Dynamics 365 CRM platform in numerous ways.
Much like how AI was on display at last year's Microsoft Ignite conference, CEO Satya Nadella previewed new Microsoft products, including the company's building of a scalable quantum computing system.
"You'll be able to solve what are now unsolvable problems," Nadella told the audience of thousands packed into the Orange County Convention Center. "Building a quantum computer requires more than just simple intuition ... we're started on a journey to put a system that will be a scalable, general-purpose quantum computer."
While the use cases surrounding quantum computing for business users are few and far between, other news Microsoft unveiled Monday morning to kick off both its Microsoft Ignite 2017 and Envision conferences had a more tangible use for business applications -- namely the bundling of Microsoft products under the moniker Microsoft 365.
Combining the LinkedIn, Microsoft graphs
Building off its $26.2 billion purchase of LinkedIn last year, Microsoft is combining its data graph with LinkedIn's graph, providing users of Microsoft products a baked-in integration with LinkedIn. Outlook users can see LinkedIn profiles of the people they're emailing directly in Outlook.
"By having a deeper LinkedIn capability embedded into Microsoft Dynamics 365 CRM for updating and finding social feeds, that will allow sales reps do a better job of social selling," said Cindy Zhou, principal analyst at Constellation Research Inc. "If I don't need to log in to another system and I can perform and consolidate and augment my contact record and get a tracking of all the engagement I've had with this person, that's incredibly powerful."
A similar new Microsoft product that is currently in private preview is the Bing for Business search feature. It can search a company's internal data and information to allow employees to quickly search for whatever document, contact or correspondence they need.
"It's not about building individual tools, but creating that platform to drive digital transformation," Nadella said. "When you create such a rich data asset, what you enable is AI-first workloads."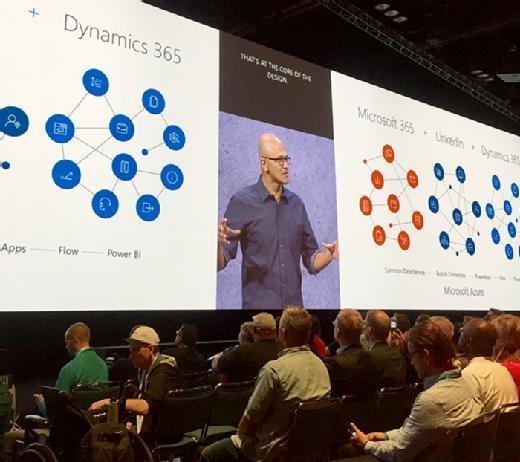 Dynamics 365 gets intelligent
While AI was a topic of future innovation at last year's conference, Nadella outlined potential use cases of adding intelligence to Microsoft Dynamics 365 CRM, which, while not a new Microsoft product, will bring some AI functionality to the existing CRM system.
"We're delivering a platform for you to create systems of intelligence for sales, field and customer service and operations," Nadella said. "We want to give you the modularity and flexibility to harness the next level of digitization and business automation. That's what we're doing with Dynamics 365."
This coming together of various business operations under Dynamics 365 is a move in the right direction, according to analysts.
"From a productivity standpoint, there's a lot of potential there that I thought was untapped in the past," Zhou said. "Whether it be a better sales intelligence, more integrated approach to move from productivity into selling and service and marketing -- that's important."
Dynamics 365 will include virtual agents for customers and virtual assistants for internal support, providing some intelligent insight to help users be more efficient.
"AI has a couple applications; it helps improve seller productivity and removes the repetitive tasks that suck up a lot of time," Zhou said.
More news and new Microsoft products are expected to be unveiled throughout the week at Microsoft Ignite 2017.
Check back to SearchCRM.com for updates throughout the week.
Next Steps
Compare CRM platforms for the enterprise
Protect Microsoft CRM security in your organization
What to think about when weighing Salesforce and Dynamics CRM platforms