Olivier Le Moal - Fotolia
Iland vs. Recovery Point: Compare these DRaaS providers
Iland and Recovery Point Systems are two leading providers of managed DRaaS. Learn how each vendor's services compare and how they differentiate themselves.
Many organizations that want both a disaster recovery plan and the means to properly execute that plan often look to managed disaster recovery as-a-service providers. These are typically cloud service providers that specialize in DR strategy, planning and execution. Beyond their expertise, the job of these service providers and DRaaS platforms is to offset an organization's lack of internal staffing and provide a lower total cost of ownership around their DR strategy.
Here, we provide a nonexhaustive and unbiased examination of two prominent DRaaS providers -- iland Internet Solutions and Recovery Point Systems -- to help provide some insight into what's important when examining DRaaS vendors. This iland vs. Recovery Point platform comparison is based on publicly available details from each vendor's website.
What to look for in a DRaaS provider
When assessing providers, an organization should group its considerations into the following three categories:
Technical capabilities. These are all those must-have boxes that each organization needs to define that must be checked off when determining whether a DRaaS provider can successfully recover the organization's environment in the cloud.
Expertise and execution. It's important to know that the provider has been doing this for some time and can tailor its service to the organization's specific needs.
Alignment with customer DR processes. Many organizations that want to engage with a DRaaS provider have internal experts and DR plans but are looking for an outsourced partner that can offer additional help within the constraints of the organization's existing DR strategy.
Let's use these categories to frame the comparison of these two vendors and to help identify where each might be a better fit. The chart below summarizes some of the specific factors that may help identify which DRaaS provider is a proper choice.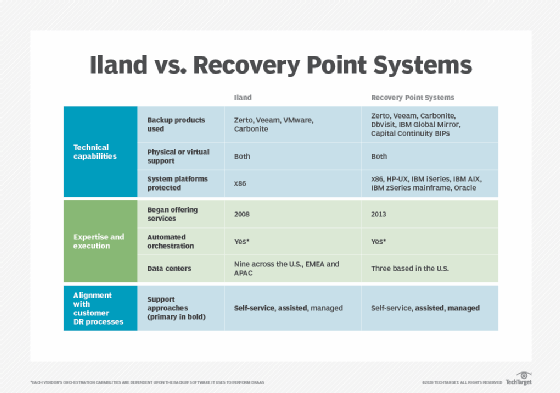 Technical capabilities
Both iland and Recovery Points' services are powered by the industry's best backup, recovery and replication offerings. So, the answer to the question, "What can you recover in a disaster?" has a lot to do with the platforms upon which each vendor builds its service. For example, Veeam focuses primarily on VM replication and recovery, while Zerto provides functionality that aids with continuous data protection and IT resilience. The DRaaS vendor's choice of backup product to use heavily influences the DRaaS offering specifics.
Platform and system support also differ between vendors. As shown above, for DR support for system platforms outside the scope of a simple x86 environment, such as Oracle databases or IBM mainframes, an organization may want to consider Recovery Point, as it supports a wider variety of backup systems than iland. But if the organization has physical servers that need to be replicated to the cloud, it may wish to consider Iland, as it uses Carbonite.
Expertise and execution
An organization is potentially putting the success or failure of its DR efforts into the hands of a DRaaS partner. So, it's critical that the vendor the organization selects has demonstrated DR expertise across a wide range of customer sizes, verticals and DR needs. Additionally, the DRaaS vendor may need to proactively orchestrate its DR so it's automated to ensure accuracy, consistency and speed during a recovery scenario.
Regardless of whether an organization considers one of these two vendors, it's important to meet each prospective provider and walk through the organization's needs.
The amount of DR orchestration and automation will, again, depend on the backup and recovery product being used as part of a DRaaS vendor's offering. For example, Veeam has a system that's dedicated to automated recovery orchestration.
Both vendors have been providing DRaaS for several years. They both have years of enterprise recovery experience under their belts and support multiple data centers. Iland has nine data centers across the U.S., EMEA and the Asia-Pacific region, whereas Recovery Point has three data centers in the U.S. For organizations that need worldwide data center representation, iland is the stronger choice.
Alignment with customer DR processes
Some businesses are looking for a DRaaS partner to handle their DR efforts from start to finish, while others simply need to augment their internal team. Whatever the organization's situation, it's important to identify the partner that can simply insert themselves into the organization's DR processes, providing value in the places needed.
These support approaches indicate what level of involvement a DRaaS provider will have with the organization's internal DR team. Both iland and Recovery Point offer the spectrum -- from do-it-yourself to internal teams being completely hands off -- but there are some caveats. For organizations that want white-glove service, Recovery Point is the stronger offering because of its primary focus on offering either assisted or fully managed DR. But for those organizations that want to do it themselves with a bit of assistance, iland is the right choice.
Pricing
Because neither vendor publishes pricing on its website, it's tough to make a comparison. But iland's website does include information on its pricing components.
Which product should you choose?
The reality here is that, outside of some obvious criteria where one vendor offers more than the other, it isn't a simple choice. To properly choose a DRaaS provider -- even one outside the scope of these two industry leaders -- it's important to identify the organization's DRaaS requirements, beginning with the business needs and working backward to technical specifications. Some requirements are nonstarters if not met, while others have some flexibility.
Regardless of whether an organization considers one of these two vendors, it's important to meet each prospective provider and walk through the organization's needs. While every vendor will tout really fast recovery objectives and so many nines of availability, the right DRaaS provider will provide specific details of its DRaaS offering and how that will best meet the organization's needs in a disaster scenario and at what level the organization's internal team will participate in the entire process.
Dig Deeper on Disaster recovery planning and management