AI's impact on business: The quest to make money
'Bionic' companies have cracked the code on using AI to make money. Here is what IT and business leaders need to do to maximize AI's impact on the business.
Artificial intelligence, still considered an emerging technology, is already fueling revenue growth at companies across industries.
"In every sector there are exemplars of companies that are using AI to drive better profits. Part of that is from cost savings, but a lot of it is increased revenue," said Shervin Khodabandeh, a managing director and senior partner at Boston Consulting Group and co-leader of its AI business in North America. To wit:
A textbook publisher leverages AI to create custom curriculum from more than 1 million different components. An education company uses it to power personalized instruction. And retailers are using AI to determine pricing, support customer service and generate more accurate sales forecasts.
"Those exemplars are showing what's possible: that they can actually get better outcomes out with AI," Khodabandeh said.
At this juncture, AI's impact on business comes mostly from increased efficiency and increased productivity. Other gains stem from increased sales in existing revenue streams. And some gains are from completely new revenue streams that were created by AI.
To harness such financial returns, experts said executives must take a strategic approach to AI implementation by targeting existing business processes that could yield strong ROI when enabled with AI-based systems and by identifying -- and imagining -- where AI could create new business lines.
"We see the companies of the future, and they're what we call the 'bionic companies,'" Khodabandeh said. Bionic companies, according to Boston Consulting Group, are those that can intertwine new technologies with human capabilities to power growth, innovation, efficiency, resilience and advantage.
"The future of competition will be around rates of learning, learning from data and events and using AI to do what humans cannot do and using humans to do what AI can't do, which is around creativity and innovation," he said.
Using AI to make money: Key behaviors
Optimizing AI's impact on the business requires understanding how AI works and knowing your business well enough to identify where AI technologies can have an impact.
Seth Earley, author of The AI-Powered Enterprise and CEO of Earley Information Science, and Scott Laliberte, a managing director and leader of Protiviti's Emerging Technologies practice, offered advice on how to get there:
Break down a vision into actionable steps with measurable outcomes. Many executives still struggle to move from AI ideas to implementation, Earley said.
"Translating a vision -- which is high-level and ambiguous by nature -- into something actionable is the biggest challenge that organizations face with AI," Earley explained. "The vision needs to be broken down into a concept of future operations that will describe what the future looks like: How will the organization operate in this future state? Who is impacted and how?"
Breaking a large transformation program into actionable steps with clear measurable outcomes is critical to realize revenue from AI, according to Earley. Because multiple workstreams are generally required to make an enterprise AI capability a reality, each workstream needs to describe how individual processes will be impacted.
"The key is to define your problem, business scenarios and use cases and not be sold based on the vendor's business scenarios and use cases," Earley said.
Teach the C-suite about AI, and work with the business to find areas where AI will bring the biggest gains. Laliberte said CIOs can start by actively searching for opportunities in IT where AI could be applied.
"This could include ways of automating tasks such as user administration, ticket assignment or other time-consuming activities to focus employees on higher-value tasks that require human intervention," he said.
"Next, the CIO should look for ways to mine value out of data using AI and advanced analytics. What data does the CIO's organization currently have, or could collect, that AI could analyze to identify valuable trends for actions that could lead to efficiencies, improvements or gains? For instance, data could be analyzed for preventative maintenance, resource optimization, cost containment and process improvements."
CIOs, of course, need to work with their business-side colleagues. That business engagement, though, may be a heavy lift for many CIOs who find their organizations are risk-averse with a low appetite for embracing emerging tech. CIOs in those cases will have to spend more time and energy educating their business-side counterparts on the possibilities that exist thanks to AI.
"Most business leaders do not understand how computer vision, natural language processing, intelligent automation and advanced analytics can be used to gain competitive advantage and improve business performance. The CIO has to engage with the business to help them identify those opportunities," Laliberte said.
That's not a new task for the CIO, as seasoned IT leaders have had to do similar work in the past as new technologies came onto the market. But it's a particularly critical task for CIOs who aim to be truly transformational.
"CIOs are more easily able to identify areas of financial gain in their own domain," Laliberte said. But often the greater opportunities for financial reward exist within the business. "The CIO must engage business leaders to work together to identify the most significant areas for gain."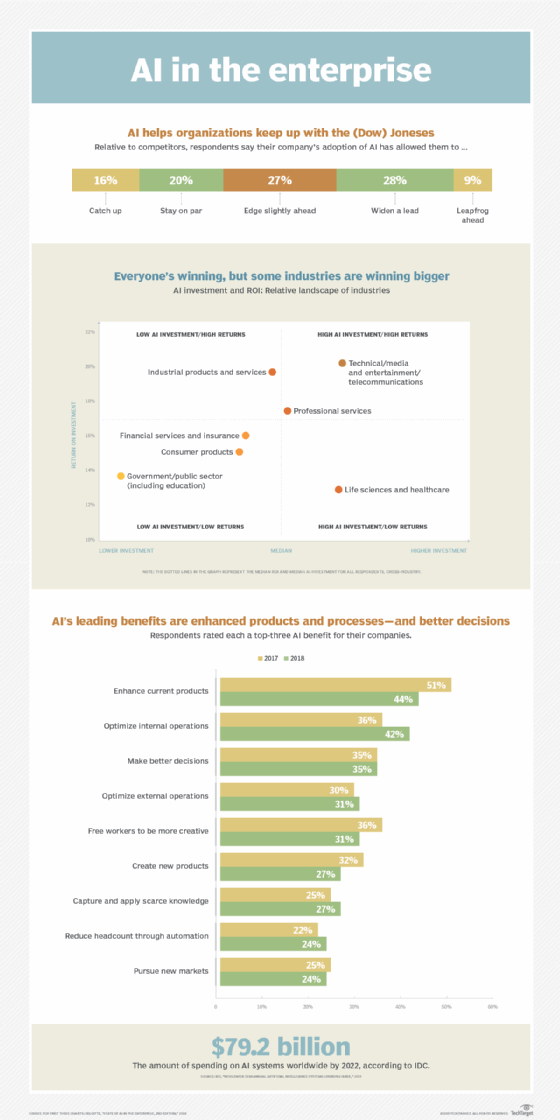 Impact of AI: Revenue growth, reduced costs
Research from McKinsey & Co. found that 63% of executives are seeing revenue increases from AI adoption and 44% are seeing reduced costs thanks to AI.
The 2019 report, "Global AI Survey: AI proves its worth," further found that respondents reporting revenue growth with AI are most often getting that financial boost in marketing and sales, followed by product and service development and supply chain management. Cost decreases generated by AI are most often realized in manufacturing, followed by supply chain management, risk and HR.
AI helps reduce costs by performing tasks at both a velocity and volume that humans cannot match. That in turn leaves human workers with more time to focus on the roles and responsibilities that neither automation nor AI cannot handle, thereby producing productivity gains for the enterprise. Case in point: AI's ability to monitor and analyze complex cybersecurity incident information to help identify real threats that can then be passed to security professionals to investigate and address.
Lian Jye Su, a principal analyst with ABI Research, identified two broad areas where organizations can use AI for financial gain.
"When it comes to revenue generation, I think it involves legitimate and appropriate monetization of existing internal or user data, or commercialization of internal AI practices and software," he said.
Organizations that commercialize internal AI practices and software "can choose to make their own internal AI-enabled products available to their clients or potential customers via licensing or via open source," Su said. He pointed to global manufacturer Foxconn, explaining that it developed its industrial AI platform with other partners and now offers it for sale through a spinoff entity.
Most organizations, however, aren't large enough to easily scale an AI-enabled product and roll it out for external sales, Su acknowledged.
"In the early stage [of AI use in business], I believe it is mostly about productivity gains and cost savings," rather than driving revenue with new AI products, Su said. But, he added, organizations that have learned to use AI to make their own internal processes faster, smoother and more reliable will also see revenue gains: Getting to market faster, after all, confers an advantage.
Examples of businesses making money using AI
Seth Earley pointed to a publisher that uses AI to customize textbooks based on the needs of the school districts placing orders. The AI sorts through a repository of more than 1 million components, essentially building blocks of content that can be combined in various ways, thereby allowing each customer to include or highlight certain lessons unique to its needs. Earley said AI enables this publisher to assemble the textbooks much faster than its competitors, which has helped it capture market share.
Madhu Bhattacharyya, managing director and global leader of Protiviti's Enterprise Data and Analytics practice, offered the following examples of businesses that are using AI to optimize their operations.
printer makers who integrate AI into their machines to determine when ink cartridges will run low and then initiate ink replacement orders;
banana suppliers using AI to navigate the supply chain to determine the best shipping times so that bananas reach the store an optimal ripeness, thereby increasing sales and decreasing waste; and
marketing companies using AI to design personalized sales campaigns to maximize the amount of actual sales.