15 top applications of artificial intelligence in business
The use of AI in business applications and operations is expanding. Learn about where enterprises are applying AI and the benefits AI applications are driving.
The use of artificial intelligence in business is now mainstream, with many organizations using AI as a standalone technology for specialized use cases or embedding it within common enterprise software systems that handle core business processes.
And recent surveys speak to the growing number of companies experimenting with AI. For example, an April 2023 pulse poll of 254 technology leaders by professional services firm EY found that 90% of respondents are exploring AI platforms such as ChatGPT and Bing Chat. And 80% are planning to increase their investments in AI in the upcoming year.
Executives have indicated to EY researchers and others that they're looking at AI to increase efficiencies, boost productivity, lower costs, create competitive advantages and meet rapidly changing market expectations. They've also credited advances in AI tools for making the technology more accessible to organizations.
Enterprise leaders said data security, process automation and customer care are the top areas where their companies have been applying AI. Natural language processing (NLP) is at the forefront of AI adoption.
However, executives also said their use of AI is moving out from those early areas of adoption and into nearly every part of the enterprise.
Here are 15 top applications of artificial intelligence in the enterprise.
1. AI-enabled innovations, products and services
Although organizations are only beginning to harness the potential of artificial intelligence, some are already using the technology to fuel innovation and create new products and services.
Amazon Alexa and other similar virtual assistants are some of the most well-known examples, but experts said companies across industries are finding ways to incorporate AI into their wares or use AI to develop new offerings.
As an example, Seth Earley, author of The AI-Powered Enterprise and founder and CEO of Earley Information Science, pointed to a company using AI to improve its telecommunications platform. The organization is also employing machine learning and other AI technologies to improve the quality of the speaker's voice and image and to keep the images of others participating from becoming distorted on screen.
Brian Jackson, principal research director at Info-Tech Research Group, highlighted a retailer that's collaborating with artists to feature their designs on clothing, using AI to develop the art and manufacturing merchandise to order.
2. Automating routine cognitive work
Organizations for years have used AI to automate many manual tasks, such as data entry. Now they're using next-generation intelligence such as generative AI to handle cognitive tasks such as summarizing reports and drafting communications.
"AI is now tackling some of the grind work," said Nicholas Napp, a senior member of the Institute of Electrical and Electronics Engineers, noting that this use of AI could affect many jobs. "Much of our jobs is grind versus special experience, and AI is really good at that grind."
3. AI for leveling up workers
Even when tasks can't be automated, experts said AI can still aid workers by offering advice and guidance that helps them level up their performance.
Kavita Ganesan, an AI adviser, strategist and founder of consultancy Opinosis Analytics, cited Grammarly and similar services that use AI to not only catch misspellings in text but to correct grammar and offer preferred phrasings to improve a user's writing.
Others noted that generative AI brings even more aid to workers, who with little or no experience can use the tool to write software code, design a logo or craft a marketing strategy.
Such AI applications "help level up the skills of a more junior person in the company and help them perform at a more senior level, and it helps experts really shine," said Mike Mason, chief AI officer at consultancy Thoughtworks. "It's an enabler that allows people to do things they otherwise wouldn't have been able to do."
4. AI as a creative force
Artificial intelligence is now capable of creating compositions of all kinds, including visual art, music, poetry and prose, and computer code.
Some have questioned whether AI-generated works are derivative in either the legal or artist sense (or both), as the technology works by analyzing and learning from the data it's given for training. Regardless of the answer, AI is being used by organizations to create a range of works.
Napp, who is also co-founder of Xmark Labs, tested OpenAI with a Moby Dick-inspired query -- "As Captain Ahab, can you pretend to be a teenage TikTok influencer and tell me about your quest for the whale?" -- and received an original three-graph narrative in response.
Napp also said he and a math teacher used ChatGPT to create real-world examples of a mathematical concept in action to inspire students, and worked with one of his children to create an adventure for the fantasy game Dungeons & Dragons.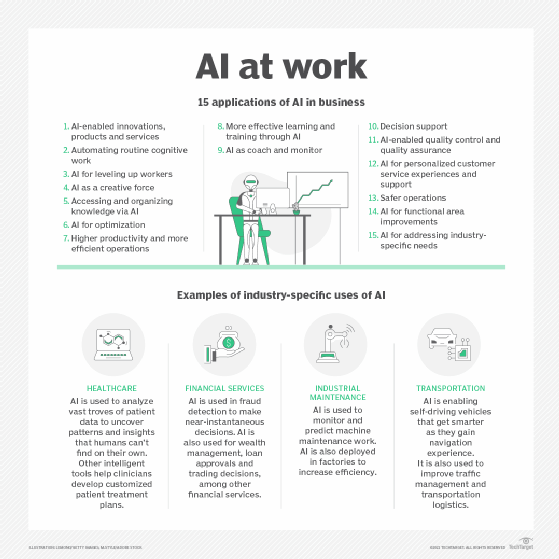 5. Accessing and organizing knowledge via AI
Accessing and organizing knowledge is another area where AI -- in particular, generative AI -- is demonstrating its potential to organizations and their workers.
The technology lets workers not only search through reams of information, such as institutional files or industry-specific data, to find relevant elements, it organizes and summarizes those elements.
Although this application of AI is potentially transformative, Earley warned that the technology isn't reliable enough to use without human oversight or review. AI systems, such as ChatGPT, don't always have all the data sets needed to reach accurate and complete conclusions, he explained, and they often make assumptions that aren't correct.
Case in point: Two lawyers in early 2023 submitted a court brief created using ChatGPT only to find the technology had fabricated some of the cases cited in the legal document.
6. AI for optimization
Optimization is another AI use case, and it's one that stretches across industries and business functions.
AI-based business applications can use algorithms and modeling to turn data into actionable insights on how organizations can optimize a range of functions and business processes -- from worker schedules to production product pricing. AI systems can use data, identify bottlenecks and offer optimized options to implement.
"Organizations can benefit using AI for the automation of repetitive tasks, which reduces manual efforts and increases accuracy," said Moe Asgharnia, CIO at accounting and consulting firm BPM.
7. Higher productivity and more efficient operations
Another top reason organizations are adopting AI is to boost productivity and generate more efficiencies, said Sreekar Krishna, U.S. leader of AI at professional services firm KPMG.
He said AI can be plugged into many processes that require human labor and then either fully or partially perform that process --- faster, more accurately and at a higher volume than any human could.
8. More effective learning and training through AI
Many organizations are using or exploring how to use intelligence software to improve how people learn.
Intelligent tools can be used to customize educational plans to each worker's learning needs and understanding levels based on their experience and knowledge. Asgharnia said that lets organizations implement more effective training programs.
9. AI as coach and monitor
In a related application, organizations are deploying AI-powered systems that coach employees as they work. The technology, experts explained, has the capability to monitor and analyze actions in near real time and provide feedback, thereby coaching or guiding workers through the process.
For example, many logistics and transportation companies use systems featuring cameras, eye-tracking technology and other AI algorithms to monitor for distracted driving, alerting workers to the problematic behavior and offering corrective actions.
10. Decision support
A similar application of AI in the enterprise is the use of an intelligent decision support system (DSS). These systems sort and analyze data and, based on that analysis, offer suggestions and guidance to humans as they make decisions.
Doctors, accountants and researchers are among the professionals who use such software, Asgharnia said. As an example, he pointed to a DSS that helps accountants wade through tax laws to identify the most beneficial tax strategies for their clients.
11. AI-enabled quality control and quality assurance
Manufacturers have been using machine vision, a form of AI, for decades. They're now advancing such uses by adding quality control software with deep learning capabilities to improve the speed and accuracy of their quality control functions while keeping costs in check.
These systems deliver a more precise, and ever-improving, quality assurance function, as deep learning models create their own rules to determine what defines quality.
12. AI for personalized customer services, experiences and support
Delivering personalized customer services and experiences is one of the most prevalent enterprise use cases for AI.
"It's using identifiers about customers and consolidating signals from multiple systems to understand who they are, what describes them, [and] what motivates them to create a personalized experience," Earley explained .
Although the use of AI for such a purpose is widespread, Earley said companies could be more effective. "I think personalization isn't being done well today, or not at the level it can be," he said.
13. Safer operations
AI is being used by a multitude of industries to improve safety.
Construction companies, utilities, farms, mining interests and other entities working in outside locales or in spacious geographical areas are gathering data from endpoint devices such as cameras, thermometers, motion detectors and weather sensors. Organizations then feed that data into intelligent systems that identify problematic behaviors, dangerous conditions or business opportunities, and make recommendations or even take preventative or corrective actions.
Other industries are making similar use of AI-enabled software applications to monitor safety conditions. For example, manufacturers are using AI software and computer vision to monitor workers' behaviors to ensure they're following safety protocols.
Organizations of all kinds can use AI to process data gathered from on-site IoT ecosystems to monitor facilities or workers. In such cases, the intelligent systems watch for and alert companies to hazardous conditions such as distracted driving in delivery trucks.
14. AI for functional area improvements
The functional areas within the typical enterprise are also putting AI to good use for their own specific needs.
Customer service uses chatbots powered by machine learning algorithms and NLP to understand customer requests and respond both faster and cheaper than human workers can. AI also powers recommendation functions, which use customer data and analytics to suggest products customers are most likely to need or want and therefore buy. Intelligent systems can help employees better serve customers by drawing on analytics, like those used in chatbots and recommendation engines, to give workers suggestions as they tend to customers.
Marketing uses intelligent systems to understand users and their buying patterns, so they can create targeted marketing campaigns with a higher success rate than their generic counterparts. Some organizations are also combining intelligent technologies -- including facial recognition, geospatial software and analytics -- to identify in-store customers and promote products, services or sales that match their personal preferences.
The supply-chain function uses algorithms to forecast what will be needed when and the optimal time to move supplies. In this use case, AI helps business leaders create more efficient, cost-effective supply chains by minimizing and even possibly eliminating overstocking and the risk of running short of in-demand products.
The HR function uses AI-powered systems to help write more interesting and accurate job postings, identify and screen potential candidates, and create personalized training and development programs for employees.
Cybersecurity uses AI to more efficiently and effectively monitor the enterprise IT environment to detect anomalies that could indicate a cyberthreat.
IT can use AI systems to write and document code.
The C-suite and the board can use AI to identify, analyze and rate risk, helping them to create better risk management strategies.
15. AI for addressing industry-specific needs
Although many AI applications span industry sectors, other use cases are specific to individual industry needs. Here are some examples:
Healthcare. The healthcare industry employs artificial intelligence and machine learning products to analyze the vast troves of data collected over recent decades to uncover patterns and insights that humans aren't able to find on their own. Algorithms in diagnostic tools are helping clinicians make more accurate diagnoses earlier in a disease's progression. Other intelligent tools help clinicians develop more individualized treatment plans designed for maximum efficiency for each patient.
Financial services. The financial services sector uses AI and machine learning for fraud detection, digital and data security, and to analyze historical and real-time data to make near-instantaneous decisions about the legitimacy of individual transactions. Financial services firms also use AI for more niche applications, such as wealth management, loan approvals and trading decisions.
Industrial maintenance. The industrial sector uses AI for predictive machine maintenance to identify the most probable time equipment will need service and to optimize the scheduling of maintenance work. AI is also used in factories to increase efficiency.
Transportation. AI is enabling a growing fleet of self-driving vehicles that are becoming smarter as they gain navigation experience. AI is also being used for smarter traffic management operations and transportation logistics.
Dig Deeper on Enterprise applications of AI