NLP, chatbot development reignite conversational commerce AI
The world of e-commerce has been focused on the adoption of conversational commerce for years to boost online sales. COVID-19 might just be the catalyst for widespread use.
From predictive analytics systems to chatbots, machines are increasingly able to perform a wide variety of tasks that would otherwise require substantial human labor or time -- especially in the world of e-commerce.
You might think that e-commerce is already an industry where machines have largely taken over the work of humans -- and that is partially true. However, surprisingly, there are still many different products and services that people are not able to effectively buy online. From complicated insurance policies to the dizzying array of options for computers, cameras and all sorts of gadgets, people still crave the human touch when it comes to selecting the product or service that best suits their needs. So what is conversational commerce? Will it aim to devastate the human sales industry or expand the reach of online commerce?
Expanding the reach of online sales
For products and services that have traditionally been harder to sell entirely online, companies have been focusing on a relatively new area called conversational commerce. Instead of presenting visual web pages or mobile interfaces that display products and services in a web shopping-style interface, customers can discover the offerings they are interested in using chat interfaces and conversational interactions with automated bots.
Conversational commerce AI tools utilize chatbot technology that has evolved over decades of AI development, which enables brands and shoppers to connect using voice and chat applications. Conversational commerce systems start by engaging a dialogue around the customer's primary needs and drives the user towards what they are looking for.
The key trends driving this movement include the growing usage of mobile messaging applications, improvements in natural language processing, the rise of sensors and the integration of payment technology within devices.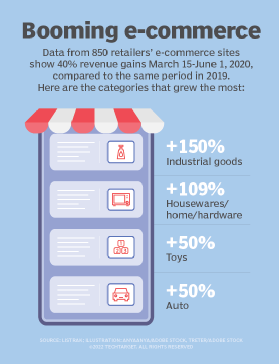 The primary goal of conversational commerce is to make customers feel like they're having a natural conversation with a knowledgeable sales assistant. Companies increasingly see these chatbots as an extension of their human employees and give the chatbot a persona and particular manner of communicating. These intelligent chatbots and conversational assistants have been designed so that they can gather information about the user and recommend personalized information based on the user's preferences. The more data conversational systems have about a user, the more effective they are in communicating with the user.
Increasingly, companies are finding chatbots to be a valuable first touch point for customers. Without intelligent systems such as chatbots, customers would have to interact with call center representatives or through chat and messaging interfaces that are powered by people and usually only available during normal business hours. The use of AI-based systems can make these high-touch sales processes more efficient and cost-effective.
How major platforms are implementing conversational commerce
Companies such as Facebook, Google and Amazon are leaping headfirst in the conversational commerce AI market. Facebook integrated payment technology into its Messenger app in 2015, and then launched a full chatbot API so businesses could create interactions with their customers. You can order flowers from 1-800-Flowers or order an Uber all within Facebook Messenger. In an attempt to compete with Facebook's conversational commerce offerings in Messenger, Google released its smart messaging app called Allo, but this was discontinued in March 2019. According to the Allo page, Google is currently working to incorporate Google Assistant to add more conversational commerce capabilities to the Google messages app.
With Amazon's Echo, you can tap into Amazon's entire product catalog as well as your personal order history and purchase items all through voice activation. Through Amazon's developer platform, retailers are building "Alexa Skills" that can accommodate a wide range of commerce-related tasks from banking to ordering pizzas or movie tickets.
There are also numerous startups working in the conversational commerce market. Inbenta specializes in semantic research and natural language processing to improve the customer experience. Octane AI offers easy ways to create chatbots quickly and effectively. Chatitive is an intelligent conversational messaging company that provides integrated SaaS for mobile customer engagement. Even Kik and Snapchat have started to integrate conversational commerce offerings in their apps, where you can order products and pay for them all within the app environment.
This just in: consumers trust conversational bots
In the new normal of working from home, social distancing and online-first retail, the use of conversational commerce is showing strong signs of rapid growth. Businesses are seeing increased use of conversational commerce ai tools for 24/7 contactless services, which is driving demand for chatbots and automation tools. Customers are also becoming increasingly more comfortable engaging in online or mobile conversations with automated assistants. According to an article from G2, 63% of people now prefer to message a chatbot over speaking with a human.
While it is arguable whether the technology of today is strong enough to fully replace the traditional method of humans selling a product, as time goes on, these bots will only become more intelligent and seem more "natural" for users to communicate and interact with. According to a report from Aspect Consumer Experience Index, 61% of consumers feel that having chatbots in customer service is the way of the future. As customers continue to engage and interact with chatbots the experience will not only feel more normal, but also will begin to feel expected. As a result, the future shows substantial opportunity for conversational commerce across a wide range of industries and applications.