Getty Images/iStockphoto
Despite losses, DeepMind technologies are worth it to Alphabet
Alphabet's DeepMind company loses millions of dollars each year, but it appears the research firm's AI advances are so valuable that Alphabet finds it worthwhile anyway.
DeepMind, the AI and robotics research company owned by Google's parent company Alphabet, has seen its yearly losses mount to more than half a billion dollars.
Founded in 2010 and acquired by Google in 2014 -- a year before the formation of Alphabet -- DeepMind has served as the AI research arm of Google, regularly publishing research papers and developing headline-catching advanced AI projects, such as its Go-playing AlphaGo program that beat a professional human player in 2016.
Developing advanced AI technologies has come at a steep cost, however.
Posting losses
The London-based company saw a loss of nearly 470.2 million pounds ($567.25 million) in 2018, down from about 302.2 million pounds ($364.6 million) in 2017 and 153.8 million pounds ($185.6 million) in 2016, according to documents filed with the Companies House, the United Kingdom's government-sponsored business registry.
Meanwhile, "staff costs and other related costs" totaled nearly 400 million pounds ($483 million) in 2018, up from about 200 million pounds ($241.5 million) in 2017, according to a 2018 financial document filed on Aug. 6.
There are few companies that have those kinds of resources to spend on speculative tech, but Alphabet is one of them.

Alan Pelz-SharpeFounder, Deep Analysis
Despite the financial losses, DeepMind technologies and research are likely worthwhile anyway to Alphabet, said Alan Pelz-Sharpe, founder of market advisory and research firm Deep Analysis.
"The losses are high but are to be expected, and I don't think those are of concern nor will be even if they were to double," Pelz-Sharpe said. "There are few companies that have those kinds of resources to spend on speculative tech, but Alphabet is one of them."
Worth the cost
For Google and Alphabet, DeepMind serves as a vehicle to advance AI technology with little risk, as many of the technologies it develops are not used in a commercial setting.
With DeepMind, Alphabet can avoid the kind of mistakes IBM Watson has made in apparently over-promoting Watson, Pelz-Sharpe said.
"DeepMind is, along with IBM, one of the few serious attempts to truly build wide-purpose true AI. If they are even 60% successful, they will not only be sitting on a proverbial gold mine, it will provide the parent company with enormous leverage across many fields and industries," Pelz-Sharpe said.
"There is a strong argument that it is worth it, no matter how high the financial costs," he said.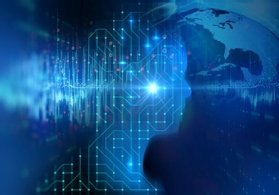 Alphabet commercially benefits from some DeepMind technologies, as well. AI advancements from DeepMind have regularly been incorporated into Google products, including its Android platform and Text-to-Speech and Speech-to-Text products.
DeepMind technologies and research also help Google and Alphabet stay vital in a field that is becoming ever more competitive. Competitors such as Apple, Amazon, Facebook and IBM have invested millions of dollars over the last few years in developing AI technologies, and AI startups regularly attract millions in venture funding.
Recently, too, Microsoft invested $1 billion in OpenAI, an AI research company similar to DeepMind that has also pursued artificial general intelligence (AGI) technologies, which are seen as powerful and groundbreaking, though difficult to achieve
While Alphabet's investment in DeepMind might be justified, the potential AI advances could spark even more data privacy concerns among consumers, Pelz-Sharpe said.
Noting Google's spotty data privacy track record, he said that "the data, and equally importantly, the insights that DeepMind will own, control and generate will go far beyond anything in their control today" if the company were to achieve a form of artificial general intelligence.