KazantsevAlexander - Fotolia
Intel makes new investments in AI startups
Intel reveals new investments in 11 startups focused on AI, automation and chip design as the tech giant ramps up its efforts in the AI hardware market.
Intel Capital, the investment and venture capital arm of software giant Intel, invested $132 million in 11 startups in the AI, automation and chip design market.
Intel Capital has invested nearly $13 billion in more than 1,550 companies since its founding in 1991. The new round of startup investments, revealed May 12, highlight Intel's continued efforts to ramp up its own AI products as it competes with other major chip and AI hardware and software players such as Nvidia and AMD.
The latest crop of vendors Intel is investing in are: Anodot, Astera Labs, Axonne, Hypersonix, KFBIO, Lilt, MemVerge, ProPlus Electronics, Retrace, Spectrum Materials and Xsight Labs.
The future is AI
For Intel, which sells hardware to power AI systems, investing in AI startups makes sense and builds synergy with its own business.
"The efficacy of AI often depends on strong processing capabilities," said Alan Pelz-Sharpe, founder of market advisory and research firm Deep Analysis. "So, at one level Intel is invested heavily in supporting existing approaches to AI."
Intel has long sold chips to power AI workloads, and over the last few years has invested heavily in AI hardware research and development. Last year, the Mountain View, Calif., vendor acquired Habana Labs, an Israel-based startup specializing in deep learning accelerators, for $2 billion to diversify its AI portfolio.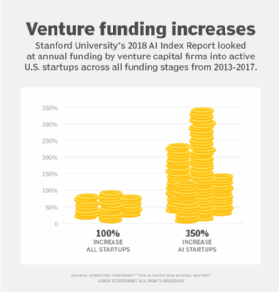 The acquisition built on Intel's 2016 purchase of AI firm Nervana Systems, which enabled Intel to produce the Nervana NNP processors, a line of chips specifically designed for inferencing and training machine learning models. Intel discontinued the line this year in favor of building out chips based on Habana's technology.
"We are moving away from generic AI capabilities to highly specialized, micro-implementations of AI that can be embedded and run at chip-level," Pelz-Sharpe said. Intel, he said, will likely continue to embed more AI in its products over time.
Investing in startups
The 11 startups Intel Capital in which recently chose to invest likely not only benefit from the millions of dollars of funding but also from Intel's deep expertise in complex processing, Pelz-Sharpe noted.
Intel investing in an AI startup is a huge endorsement of the startup itself.

Alan Pelz-SharpeFounder, Deep Analysis
"For some of these startups that could lead to being acquired by Intel in the future, but either way, Intel investing in an AI startup is a huge endorsement of the startup itself, so it's not an investor that anyone would want to turn away," he added.
Last year, Intel Capital invested $466 million across 36 new investments and 35 follow-on investments.
Other technology giants, including Microsoft, Amazon, Facebook and Alphabet, also invest heavily in startups in the AI market, and have frequently acquired AI startups over the last few years.
Funding for AI startups has skyrocketed over the past decade, with global private investments in AI startups having reached $37 billion in 2019, according to a report by Human-Centered Artificial Intelligence initiative at Stanford University.