UiPath platform update makes it easier to deploy smarter bots
A new platform upgrade for UiPath makes it easier for users to develop and use robots at scale, as well as makes the bots more resilient to UI changes.
Robotic process automation vendor UiPath on Tuesday released a new update to its UiPath Automation Platform, including new low-code capabilities to enable users to quickly build business applications and new features to make it easier for employees to use automation in their day-to-day work.
Generally, the update continues UiPath's agenda of "A Robot for Every Person," or in other words, the concept that any type of employee can use a bot to help them perform their tasks more efficiently.
Digital assistants
"A major theme of the new release is the user-to-software robot interactivity," said Maureen Fleming, program vice president of IDC's intelligent process automation research.
Taking the form of an assistant, the bot carries out tasks it considers fully automatable, as well as partially automatable tasks, she said.
Many of the new features in the UiPath update support the robot assistant, Fleming said.
One standout feature is UiPath's use of AI to make connecting to application user interfaces more resilient, she said.
"With these capabilities, developers can build simple UI components or more complex ones and share them with other developers from a repository," she said.
Developers can then use the UI objects to accelerate their development process, while overcoming robot failure issues stemming from vendor changes that typically affect UI components and cause software robots to break, Fleming continued.
The new Modern Automation feature, for example, uses machine learning and triangulation to enable robots to understand what is on a screen and continue working even as changes occur on the screen.
Meanwhile, improved integrations between UiPath StudioX, a no-code automation platform, and G Suite and Microsoft PowerPoint, as well as recorder enhancements, make it easier for tech-savvy employees to create automations to help with their everyday work.
"In essence, they're bridging the gap between RPA, task-oriented workflows and fully automated workflows," Fleming said. "This makes them more broadly usable for a larger variety of use cases and puts them into more direct competition with workflow software."
Competing automation vendor Automation Anywhere recently introduced digital assistant capabilities, she noted, adding that she expects to see similar announcements from other RPA vendors soon.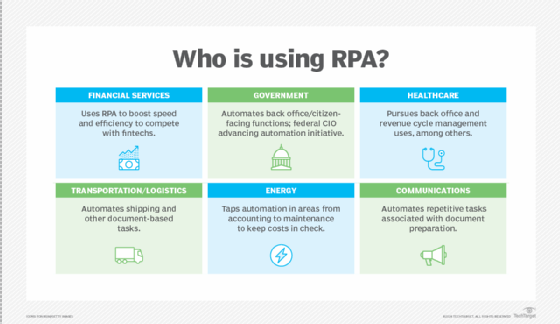 Ease of use
The UiPath update also introduces UiPath Apps, currently in preview, a web-based, drag-and-drop business application that enables users to more easily build and deploy small- or large-scale automations on top of various cloud and on-premises applications.
"It lets developers build and deploy enterprise-grade applications that deliver rich and engaging end-user experiences, ranging from a single form on a single automation, to rich, multiscreen interactive and responsive experiences running across multiple automations," said Param Kahlon, chief product officer at UiPath.
A major theme of the new release is the user-to-software robot interactivity.

Maureen Fleming Program vice president, IDC
"By removing the roadblocks that inhibit software, applications and people from collaborating effectively, UiPath Apps makes the universe of apps that can power new and existing processes virtually unlimited," he said.
Using UiPath Apps, customers can select from a range of off-the-shelf applications, preconfigured to meet their needs in a particular area and modify them.
"The benefit is time to value, where customers don't have to build everything from scratch in the studio environment. Instead, they just subscribe to the app," Fleming said.
UiPath also plans to deliver new services via its SaaS automation product, the Automation Cloud, including services for RPA management, AI, data storage, and low-code applications every other week with instant updates.
Meanwhile, customers who install and use UiPath Orchestrator, an RPA management platform, can autoscale unattended robots using the new, aptly named Unattended Robot Auto Scaling capability.