Getty Images/iStockphoto
Global workforce firm uses Glean's generative AI assistant
The distributed global workforce platform vendor uses generative AI search to find information across its network. As an early user, Velocity Global found it helps with efficiency.
With more than 800 employees scattered around the world, Velocity Global has a wide-ranging network that can make it difficult to find documents internally.
"People would constantly be sending each other emails or Slack messages -- 'Hey, where can I find this document?' " said Siddharth Ram, CTO at the global employment and payments company. "It's somewhere, someplace, locked up in some document or some repository somewhere. It's just difficult to come by, and given the time zone differences, it was just causing a lot of wasted time."
The Glean effect
Because of this wasted time, Ram searched for a software system that could help employees cut down on wasted time looking for internal documents online. After looking into multiple vendors, including customer support automation provider Forethought, he finally settled on AI enterprise search provider Glean.
Glean provides intelligent search and discovery products for employees. It helps enterprises search across their applications to provide the relevant information they need.
Velocity Global signed up with Glean in May. It began to use its search and discovery tool and became an early user of Glean Chat: a generative AI assistant that provides answers, analyzes and synthesizes information and surfaces new insights for enterprise employees.
Glean generative AI assistant
Officially introduced and made generally available on June 6, Glean Chat works across all of an enterprise's applications and provides summaries.
Glean Chat also provides users with a link to where it got its information from so that users can either go straight to the source or continue chatting with the assistant.
"It's brilliant," Ram said. "It's honestly transforming the way we're actually interacting with each other at work."
Since the AI assistant has the same advantage as the regular Glean Search -- searching within the Velocity Global network to find information quickly -- it usually answers users' questions precisely, Ram said. For example, if it has to information from a Slack message, those messages might be a few days old. A user might need to ask Glean Chat to exclude its answers from those kinds of systems.
"The place it might go awry every now and then is when it's looking up information that might be dated," Ram said.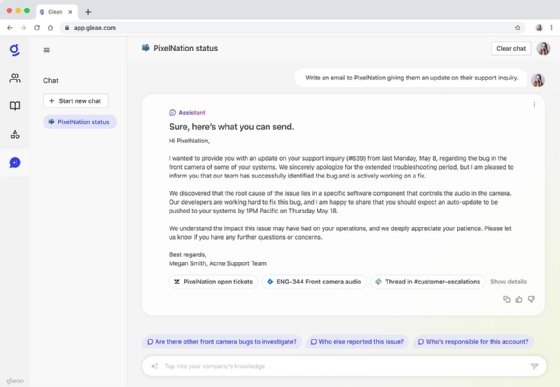 Training data
Glean Chat comes amid widespread interest in generative AI and as many enterprises have stayed cautious in the face of the generative AI boom.
Some organizations with sensitive data have chosen to tell their employees not to use generative AI systems such as ChatGPT due to concerns that using their data will be used to retrain these systems.
For Velocity Global, the idea that its data might be used for training the model wasn't an issue because the company's research showed that ChatGPT doesn't save data when it's submitted through the ChatGPT API, Ram said.
It's honestly transforming the way we're actually interacting with each other at work.

Siddharth RamCTO, Velocity Global
Moreover, while Glean uses the Microsoft Azure OpenAI language model, the model has been custom-designed so that enterprises who are cautious of their data being used to train the LLM will be sure that their data won't leak into the model, according to Glean.
"None of your data is ever going to be used to train these publicly available models and benefit organizations that are outside," said Glean CEO Arvind Jain. "Whatever information [being] summarized is not going to be used for any future training or in fact even going to be retained at all."
Glean's permissions level control also keeps certain employees from obtaining information they shouldn't have access to.
"That's both an advantage and a disadvantage," Ram said. He added that employees might get slightly different answers to their questions based on their permission level.
While Glean seems to have the right level of controls to ensure enterprise data is secure, some information may still inadvertently leak depending on the employee's knowledge of the system, Forrester Research analyst William McKeon-White said.
For example, if someone shares something like resumes on the public search internally, that might feed into the system and become a vulnerability, he said.
"It, in part, depends on people's ability to accurately protect their information to start with," he added. "At the very least it seems to provide some of the control that you would expect to see from any AI generative tool in the enterprise."
Other enterprise search vendors include Algolia, Yext and AWS with its OpenSearch Service.
Esther Ajao is a news writer covering artificial intelligence software and systems.