Getty Images/iStockphoto
How a digital retail firm uses enterprise search
Glean trains language models based on a customer's documents and other stored content. Its platform sits on users' technology stack to provide for smooth integration.
As a knowledge manager for online retail marketplace Upside, Elizabeth Vaggelatos is always on the lookout for emerging technologies and trends that support enterprise employees and enhance their work experience.
During an encounter with a group of knowledge management leaders from different technology companies, Vaggelatos heard about startup Glean and its search platform that helps employees find information across the many applications they use every day.
Founded in 2019, the Palo Alto-based startup's platform is trained similarly to ChatGPT and other large language models with a large amount of web data, according to Glean. However, it takes an individualized approach for each customer.
First, Glean trains a custom language model on a customer's documents and content. The process extracts embeddings and performs other natural language processing tasks to improve query understanding for the customer.
Intrigued by Glean's technology and hopeful about its potential to provide Upside employees with a tool that assists them with document management, Vaggelatos presented her managers with the Glean technology in March 2022. Upside, based in Washington, D.C., started to pilot the program in May.
The pilot
About 35 of Upside's 285 employees participated in the pilot. Vaggelatos said she was surprised by how easy it was to integrate the technology.
"I have probably implemented over 100 different tech tools throughout my tenure. This is, by far, the easiest tool I've ever implemented at a company," she said.
Training new staff members on Glean is simple, she added. It's easy to log onto the program with a web link to the platform.
"There are no questions because it's already kind of that innate Google-type landscape that you know, so the behavior of how you search is already there," Vaggelatos said. "Truly, people just plug in, and they go."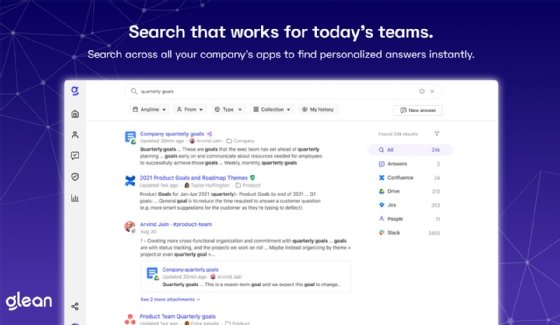 Besides being easy to implement, Glean did not require any content migration compared to other knowledge management software vendors, such as Guru or Slab, she added.
Glean sits on top of Upside's other applications and has been helpful when employees are performing a search within tools such as Google Drive, Atlassian's Confluence and Jira. Jira is a project management platform that helps teams track and manage projects. Confluence lets employees within enterprises collaborate on projects and ideas.
"The fact that I can have Glean now, link to our entire Google Drive instance, our entire Atlassian instance JIRA and Confluence combined … that's huge. Because then [Upsiders] have one place to search, and they don't have to go, 'Where did I save it again?'" Vaggelatos said. "It eliminates that kind of thought of where the information resides. It just allows you to get to it faster."
During the pilot program, Glean saved most users one to nearly two hours of the time they would usually spend searching for documents, she added.
Employees finding value
Even Upside employees who are change averse have found value in Glean.
For example, a worker told Vaggelatos that she could use Glean to find a document saved with a unique name that was not used within the document.
"It really just empowers people to do their jobs more effectively and efficiently,"" Vaggelatos said.
I have probably implemented over 100 different tech tools throughout my tenure. This is, by far, the easiest tool I've ever implemented at a company.

Elizabeth VaggelatosKnowledge manager, Upside
While Glean seems revolutionary to Upside, internal content search has long been a tech challenge for enterprises despite systems from numerous vendors over the years.
In 2008, Microsoft paid $1.2 billion for FAST Search and Retrieval, the search engine for Microsoft's SharePoint collaboration platform.
"Companies have recognized the value of enabling employees to search through non-curated content across systems and applications," said Opus Research analyst Dan Miller. "The tools are getting better. And employees, being people, are programmed to expect to be able to find info 'in the wild' by entering their queries in search boxes, whether it's Google, Bing on a browser or a space embedded in the workspace of a popular productivity app."
The tools continue to be important parts of supporting decisions backed by facts and insights, said Rowan Curran, an analyst at Forrester Research.
"The past 18 months have seen a revitalization in the excitement around search with the increasing adoption of technologies like vector search and LLMs for search," he said. "The ability to both search across and summarize large corpuses of information into usable knowledge will be indispensable for enterprises."