Getty Images/iStockphoto
Will Windows 11 become a subscription-only service?
There are several ways to handle Windows 11 licensing, only some of which are truly subscription-based. Find out what the landscape is for Windows licensing moving forward.
Microsoft has always had numerous ways to license its business software and services, with Windows 11 being no exception, but this flexibility also comes with the challenge of finding the right license and bundles for any given organization.
To muddy the waters even further, Microsoft continues its aggressive push toward a cloud-based offerings and a services model. As such, there's plenty of confusion about the future of the perpetual desktop license and whether Windows 11 requires -- or will eventually require -- a subscription service-style licensing model in the future.
Is Windows 11 subscription-based?
Most organizations choose Windows Professional or Windows Enterprise for their desktop OSes. Many of those computers are still running Windows 10 at the time this article publishes, in which case, administrators can upgrade them to Windows 11 for free. This assumes that the devices running Windows meet the newer hardware requirements -- if they don't, then the upgrade technically has the cost of a new device. If Windows 10 Pro is installed, the upgrade installs Windows 11 Pro. If Windows 10 Enterprise is installed, the upgrade installs to Windows 11 Enterprise. In either case, the existing software licenses continue to apply.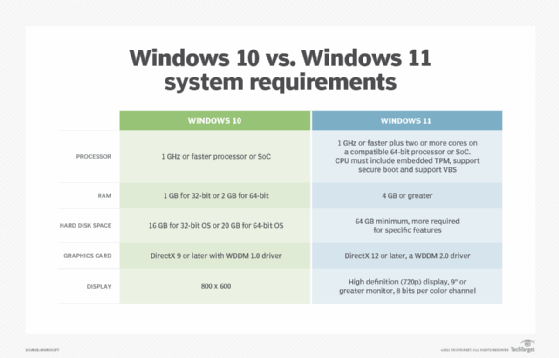 If customers purchase new computers, upgrade from Pro to Enterprise, deploy Windows in virtual environments or make any other changes that could affect licensing, they need to fully understand the differences among the various licensing programs. This topic is so complex that organizations usually need to contact Microsoft or a qualified partner to understand all the nuances. Even then, they should carefully review all licensing-related documentation to get the full picture.
With that in mind, there are a few basics worth knowing about Windows 11 licensing to help navigate the labyrinth of fine print and feature matrixes. For example, Windows Pro is cheaper than Windows Enterprise, and its licensing is a bit more straightforward. It's also available as a perpetual license, with 24-month support from its release date, as opposed to 36 months for the Enterprise edition.
Until recently, Windows 11 Pro was available only as an upgrade for eligible PCs running Windows 10, unless the OS was preinstalled by an OEM. This is also the case for Windows 11 Home. In this case, the OEM license is linked to the specific device and can't be transferred to another machine. Administrators who built their own computers or wanted to do a clean install had to first install Windows 10 and then upgrade to Windows 11.
Microsoft has somewhat recently made Windows 11 Pro available as a standalone product. The retail cost of Windows 11 Pro comes to approximately $200. This license is much more flexible than an OEM license – despite being more expensive -- and it can be moved to a different machine if necessary. Administrators can download the ISO disk image or use the media creation tool to make a bootable DVD or USB drive. They can also download the OS from the Volume Licensing Service Center.
Windows 11 Enterprise is a much different animal. In most cases, it's available only as an upgrade license to Windows 10 Pro or Windows 11 Pro, including Windows Pro for Workstations. Windows 11 Enterprise can't be purchased as a standalone license. A computer must already be running a qualified, licensed OS to apply for an Enterprise license.
Windows 11 Enterprise is licensed on a subscription basis only. Microsoft offers three primary types of subscriptions:
Windows Enterprise per-device license.
Windows Enterprise E3 per-user license.
Windows Enterprise E5 per-user license.
Organizations can also license Windows Enterprise for remote virtualization through the Windows Virtual Desktop Access (VDA) E3 or E5 license, even if they don't have Windows Pro devices to upgrade. In addition, Microsoft offers Enterprise licensing for educational institutions.
Windows Enterprise E3 is included with all three Microsoft 365 services: E3, E5 and F3. Although Microsoft doesn't publish Windows 11 Enterprise subscription rates, it does publish those for Microsoft 365. For example, a Microsoft 365 E3 subscription is listed as U.S. $36 per-user, per-month with an annual commitment.
Administrators can use the same deployment and management tools for Windows 11 Enterprise that they use for other editions. This includes Windows Autopilot, Microsoft Intune Suite and Windows Update for Business, but there may be other less-common tools that come in handy.
How does Microsoft's push to subscription services affect Windows 11?
Microsoft recently launched the Flexible Virtualization program to allow cloud providers and their customers more choices when hosting Microsoft products. Along with other changes, the new program makes it easier for customers with Software Assurance or subscription licenses to run their own licensed software on a cloud provider's infrastructure. This is the case regardless of whether the infrastructure is dedicated or shared, and it provides customers with more flexibility for working in multitenant environments.
The new licensing rules also make it easier for Microsoft 365 customers to virtualize Windows 11. Prior to these changes, customers needed a VDA add-on license to virtualize the OS, unless they had a primary device with a qualifying operating system. However, the VDA license is no longer required. In addition, Microsoft customers can work with Cloud Solution Provider (CSP) partners -- not to be confused with cloud service providers -- to deploy pre-built hosted desktop offerings using their own licenses or getting them from the partner.
The Flexible Virtualization program is still very new, and no doubt there will be a few kinks to work out as it's adopted. What is clear, however, is that the changes are focused squarely on cloud providers and their services. This might have been to appease some of the smaller European cloud providers. The licensing restrictions that apply to on-premises Windows 11 have changed little from Windows 10. Customers are still subject to the specific rules under which they acquired those licenses.
Microsoft also retired its Open License program earlier this year and moved those services -- or at least a portion of them -- to the CSP program. The Open License program catered to smaller organizations looking for discounts on perpetual software licenses. Those organizations must now go to a CSP for their on-premises software needs, even if doing so seems counterintuitive.
There's a new Windows 11 UI feature that displays information about a user's Microsoft subscriptions, such as Microsoft 365. Customers can access this feature through Settings > Accounts > Your Microsoft account. There, customers will find general information about any Microsoft subscriptions they might have along with links to additional details about Microsoft services and purchases.
These three events -- the introduction of Flexible Virtualization, the demise of the Open License program and the new Windows 11 subscriptions feature -- might seem unrelated. Perhaps they are, but together they suggest an even greater push on Microsoft's part toward a cloud-based services model in which subscription-based licensing, rather than perpetual licensing, plays an ever-increasing role. These factors lead to the question of whether Microsoft is planning to move its Windows desktop OS software into the subscription-only category.
Services such as Windows 365 Cloud PC, Microsoft 365 and Office 365 -- in addition to the entire Azure platform -- make it clear that Microsoft is serious about its cloud services strategy. The new subscriptions feature in Windows 11 only fuels the notion of a subscription-based Windows OS.
At this point, there's no way to know what Microsoft has in store for Windows 11 and any future desktop OSes, but a subscription-only strategy for all Windows desktops would be difficult to pull off in today's OEM environment.
At this point, there's no way to know what Microsoft has in store for Windows 11 and any future desktop OSes, but a subscription-only strategy for all Windows desktops would be difficult to pull off in today's OEM environment. Many business software and hardware vendors, including Microsoft, are invested heavily in the OEM infrastructure, and it could be extremely difficult to convince such a large customer pool to settle for an OS that will require additional payments after a year or two.
Such an attempt might even be enough to bring about the long-awaited Linux revolt that some computing enthusiasts have been waiting for. Until then, Microsoft will no doubt continue to challenge customers with its ever-evolving, ever-confusing licensing practices while steadily pushing them toward a cloud services subscription model … whether it matches their business needs or not.
Dig Deeper on Windows OS and management