Andrea Danti - Fotolia
10 top ERP systems CIOs and business leaders should consider
From SMBs to global enterprises, companies of many sizes need the efficiencies the right ERP system brings to their businesses' processes. Here's a look at the top ERP systems.
The right ERP system can help an organization automate and improve processes. The critical part of that idea is "the right ERP system."
Choosing an ERP system is one of the most important decisions business leaders and CIOs can make. That's why it's so important to understand what ERP is and what some top ERP options are before creating a shortlist.
What is ERP?
Broadly speaking, ERP is modular software designed to integrate the main functions of an enterprise's business processes into a unified system. An ERP system consists of software components, typically called modules, each of which focuses on an essential business function, such as finance and accounting, HR, production, materials management, supply chain operations and CRM. Business leaders and CIOs can choose the modules they need to manage their particular business processes. Some of the more comprehensive ERP suites also include enterprise performance management software that helps organizations plan, budget, predict and report on their financial results.
In reality, a number of factors distinguish one ERP system for another. Certain modules of a given ERP will be stronger than others in the suite. In addition, a given ERP system may be more or less complex, making that ERP more suited to larger or smaller organizations. In general, more customization capabilities also come with greater complexity. So, choice may be critical for a large enterprise but unnecessary for a smaller business. In addition, a particular ERP system may target certain industries, such as manufacturing or services industries.
Bottom line: Selecting the right ERP system hinges on knowing both your industry's and your company's specific needs. There are a lot of vendors, and deciding which ERP software to choose is never a simple task.
Based on industry reports and expert thinking, here are 10 of the top ERP systems to investigate.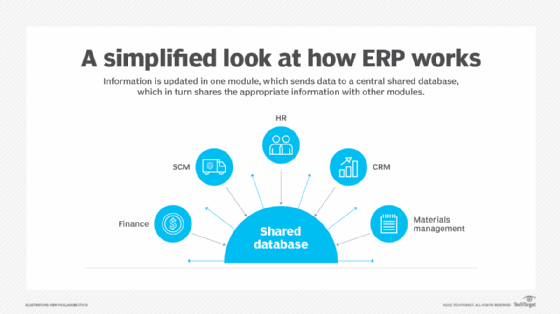 Acumatica ERP
Acumatica ERP offers organizations a complete suite of modern business applications. Its reporting, dashboards and data analysis tools yield better insights into their business processes, according to the vendor, and its self-service tools enable companies to analyze trends and generate reports in real time.
The product's software modules offer users forecasting tools, data collection, data visualization and workflow management. Acumatica ERP is sold entirely through a global partner network.
Acumatica ERP is designed for small and midsize businesses in the wholesale distribution, discrete manufacturing, retail and e-commerce and most service and nonprofit industries.
The vendor offers three deployment options:
A SaaS model run in a public cloud provided by Amazon Web Services (AWS). Acumatica handles IT infrastructure and upgrades.
A private cloud model in which the buyer selects the hosting provider. The buyer also decides when updates are applied.
A traditional on-premises model. The ERP is deployed on a company's servers.
While Acumatica continues to invest in advanced technologies -- such as machine learning, natural language processing, business intelligence and analytics -- it needs to add more functionality to support the increasing number of small to midsize businesses that have complex multi-entity, multiunit and multi-country operations, according to a 2019 IDC MarketScape report.
Epicor ERP
Epicor ERP software can handle a variety of business processes, including accounting and finance, project management, CRM, inventory, pre-production materials planning, manufacturing execution, HR, supply chain and global business management.
Epicor ERP is intended for midsize and large organizations involved in manufacturing, distribution, retail and services and the vendor is focusing on improving both its cloud and on-premises platforms, for example, integrating AI into its workflows. Business leaders and CIOs can choose from among on premises, hosted in a private cloud or as cloud-based SaaS offerings. It can handle discrete, make-to-order, engineer-to-order, configure-to-order, mixed-mode and make-to-stock manufacturing. The product is modular-based, which gives companies the option to purchase only the modules they need.
Using the software's quality-management features often requires assistance from a third party. While this might be good for Epicor's partner ecosystem, it highlights a limitation of its ERP software.
Epicor is known for its commitment to its target markets, such as deep industry knowledge and capabilities for manufacturers, especially in discrete manufacturing subsectors, including fabricated metals, industrial machinery and high tech. However, some users may find it lags behind other vendors in cloud capabilities, according to the IDC report.
FinancialForce ERP
FinancialForce's native integration with the Salesforce cloud CRM platform differentiates it from its competitors, because it combines ERP functionality with Salesforce's familiar user experience. FinancialForce also incorporates Salesforce's Einstein Analytics technology. The ERP's functionality is meant to help customers align their sales, services and finance teams around one system, removing barriers between departments.
FinancialForce is suited for the business services, health and life sciences, media and digital communications, professional services and consulting, software, high-tech and IT services and telecommunications industries. It's delivered as a SaaS product.
The software may be a good choice for Salesforce CRM users who are looking to replace on-premises ERP or two-tier ERP deployments. It fulfills the ERP requirements of project- and service-based companies, according to a 2019 report from Constellation Research, "Innovations Abound in Global ERP Suites."
However, it has a limited reach outside the Salesforce ecosystem and its ERP functions are narrowly concentrated compared to the rest of the market, according to a Nucleus Research 2019 Value Matrix report.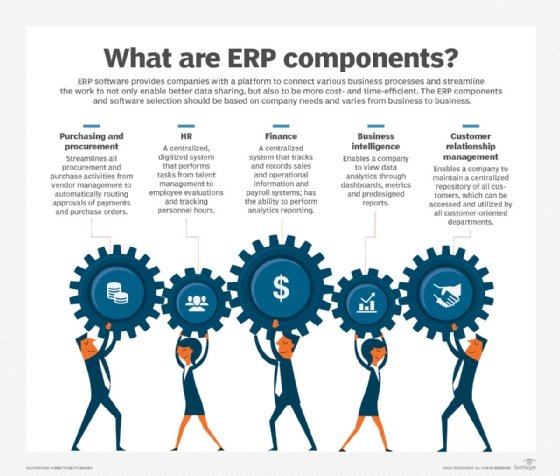 IFS Applications
IFS Applications ERP software helps businesses integrate data and processes across multiple departments and locations. It offers modules for asset management, field service management, project management and supply chain management. Companies can select the modules they need and can later add or subtract components as their business needs change. IFS Applications includes capabilities for financial, HR, document management, CRM, business intelligence and reporting operations and in recent years has taken on advanced technologies such as RPA. It also supports integration with Microsoft Office and other productivity tools.
IFS Applications focuses on specific industries, including aerospace and defense, energy, utilities and resources, engineering, construction and infrastructure, manufacturing and services. IFS Applications may not be a great fit for manufacturing customers outside its main functional focus areas.
IFS Applications is available as:
A cloud-based SaaS product. IFS manages the software.
IFS Managed Cloud. The software is delivered through a fully managed service and runs on the Microsoft Azure cloud, in a private, single-tenant installation that IFS fully maintains, updates and monitors.
An on-premises product. Users can install and deploy the software on their own servers.
IFS has invested heavily to adapt and engineer IFS Applications for the cloud.
As a SaaS product, IFS Applications features multitenancy on the infrastructure layers, but not on the application and database layers.
Understand challenges and create ERP success
Microsoft Dynamics 365 for Finance and Supply Chain Management (formerly Microsoft Dynamics 365 for Finance and Operations)
Microsoft Dynamics 365 for Finance and Supply Chain Management combines a business' financial and operational activities and enables companies to keep track of their finances and inventory.
Even though most people still refer to it as Finance and Operations, Microsoft now technically licenses the ERP as two different applications: Dynamics 365 Finance, which includes budgeting, project management, and financials and accounting for large international companies; and Dynamics 365 Supply Chain Management, which includes engineering, manufacturing, warehousing and distribution.
However, Microsoft Dynamics 365 for Finance and Supply Chain Management is still a single implementation. The two-application licensing means that business leaders and CIOs must decide which of their users can access one or both of the apps. That choice depends on the company's business processes.
Microsoft Dynamics 365 for Finance and Supply Chain Management supports retail and consumer goods, manufacturing, services, the public sector and distribution industries. It is available in the cloud, on premises or via a hybrid delivery model.
Microsoft Dynamics 365 for Finance and Supply Chain Management has formula management, catch weight management (for variable-weight products), batch order consolidation and active ingredient batch balancing, making it ideal for process manufacturing. It also features embedded analytics and predictive analytics for turning data into actionable insights, helping organizations make better business decisions, according to the IDC report.
Some users have said ticket-response times are slow and that Microsoft Dynamics 365 for Finance and Supply Chain Management's customer service team could be more responsive. Some users have been dissatisfied with negotiations with Microsoft partners, as well as with deployment, integration, service and support, according to the 2019 Gartner "Magic Quadrant for Cloud Core Financial Management Suites."
Oracle Cloud ERP
Natively connected with all Oracle enterprise cloud applications, Oracle Cloud ERP provides a complete suite of applications for finance, project management, procurement, risk management and other core day-to-day activities for a wide range of companies. It's meant to accommodate the needs of organizations ranging in size from SMBs through to large enterprises.
The product is designed for companies in a variety of industries, including financial services, education, healthcare, manufacturing and technology industries.
Oracle Cloud ERP can scale to support additional users, transactions and sites as a business increases in size or moves into new markets. It's ideal for multinational and global deployments, as well as companies that have large enterprise requirements and require vertical expertise, according to the Constellation Research report. And it supports global languages, currencies and regulations.
More users are adopting Oracle Cloud ERP, and Oracle's cloud product line is maturing, according to a report by Third Stage Consulting Group. However, Oracle Cloud ERP's functionality is not as mature as the vendor's legacy on-premises products, such as JD Edwards and E-Business Suite. Some users find its technical complexity overwhelming.
Oracle NetSuite ERP
Oracle NetSuite ERP is a SaaS product that is meant to help companies streamline business processes by automating and integrating key functional areas, such as financial management, order management, inventory management, revenue management, billing, e-commerce, human capital management and CRM. It mostly targets midmarket ERP customers but can also scale for small and large businesses.
Oracle NetSuite ERP is designed for a wide variety of product and service industries, including advertising and digital marketing, food and beverage, health and beauty, healthcare and life sciences, IT services, professional services, transportation and logistics, manufacturing, retail, media and publishing and wholesale distribution.
It also helps companies prepare for their initial public offerings or move their legacy ERPs to the cloud, according to the Constellation Research report.
Oracle NetSuite ERP doesn't have strong implementation and reseller options, although this has been changing. It's limited in the functionality it offers for the business needs of more complex manufacturing, distribution, electronic data interchange (EDI) and retail situations, according to the Third Stage Consulting Group report.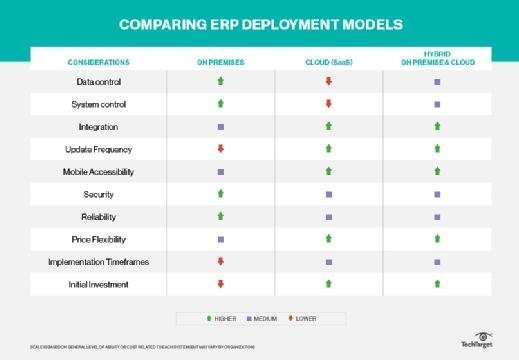 Plex Manufacturing Cloud ERP
The Plex Manufacturing Cloud ERP provides a fully integrated manufacturing execution system and ERP for manufacturers. The Plex Manufacturing Cloud lets customers manage their financial, operational and IT strategies within one unified system. The system connects a manufacturer's plant floor to the top floor, providing complete supply chain, production visibility and control with real-time access to data across the entire enterprise.
The Plex Manufacturing Cloud ERP is aimed at manufacturing industries that have rigorous traceability, quality and food safety requirements, such as industrial manufacturing, automotive, aerospace, food and beverage and life sciences or medical manufacturing. It's delivered as a SaaS product.
The Plex Manufacturing Cloud ERP delivers new functionality to customers without requiring upgrades, eliminating version numbers. As a result, all users are always on the same version, according to the IDC report.
SAP S4/HANA
S4/HANA is an integrated ERP system that runs on SAP's in-memory database, SAP HANA. It is meant to help organizations solve complex problems and handle significantly larger amounts of data than its predecessors, while also being easier to use and administer. SAP's positioning is that S/4HANA helps organizations become an "intelligent enterprise" via its digital core and create digital transformation.
S4/HANA addresses industry-specific requirements for a number of verticals, including energy and natural resources, professional services, financial services, discrete manufacturing, engineering, construction and operations, sports and entertainment, consumer products, fashion, life sciences, healthcare, transportation and logistics and the public sector. The S/4HANA public cloud version supports a variety of verticals, including the manufacturing, professional services, sourcing and procurement, HR, sales support and financial services industries.
SAP S/4HANA deployment options include on premises, cloud and hybrid.
The following S/4HANA cloud options exist:
S/4HANA Cloud essentials edition (ES). Multitenant SaaS model; updates are quarterly; the user is not able to customize. SAP manages the S/4HANA public cloud's infrastructure and system maintenance, including upgrades and patches.
S/4HANA Cloud extended edition (EX). Single-tenant SaaS model; updates are twice a year; the user is able to customize.
S/4HANA AnyPremise. Managed service from SAP; private cloud; infrastructure-as-a-service model; annual updates, extensive customization is permitted but not recommended.
S/4HANA works well for larger enterprises. It also uses HANA to improve analytics, allowing real-time decision-making.
Adoption among legacy SAP customers is low, particularly in the upper midmarket, because implementation is a major undertaking, especially on premises. In addition, business leaders and CIOs are confronted with difficult decisions on whether to do a greenfield or brownfield S/4HANA deployment.
As a result, many companies forgo secondary functionality or look outside SAP to simpler ERP systems for that secondary functionality to cut down on implementation time, according to the 2019 Panorama "Clash of the Titans" report.
SAP released S/4HANA in February 2015 and recently extended its maintenance commitment for SAP S/4HANA until the end of 2040, along with an extension for Business Suite.
Implement S/4HANA the right way
Sage X3
Sage X3 brings a company's entire operations under one enterprise management system and database. Its core capabilities include financials, as well as supply chain and production management. Users can customize Sage X3 to interact with third-party software, such as CRM, a warehouse management system (WMS) and e-commerce.The underlying architecture of Sage X3 was inherited from Adonix, which Sage acquired in 2005.
Sage X3 is suitable for companies in the distribution, services, manufacturing, chemicals and food and beverage industries. Sage X3 is designed for global organizations that have multiple companies and associated laws, sites, languages and currencies. Users can customize Sage X3 with add-on tools, including third-party software such as CRM, WMS and e-commerce.
Sage X3's deployment options include on premises, as a service in the AWS cloud or in a partner-provisioned cloud. Sage X3 also works on mobile devices. Sage X3's strength is in midmarket manufacturing and distribution.
Many midmarket companies have implemented it as a low-cost, low-risk alternative to SAP S/4HANA and Oracle ERP Cloud, according to the Third Stage Consulting Group report. Sage X3 is not ideal for larger, more complex and diversified manufacturing and distribution companies, including those with global supply chains and many business needs.
Sage X3 V12 offers choice of deployment, responsive user experiences, integration and deeper product-centric functionality. It also includes blockchain capabilities to help organizations with supply chain transparency.