WavebreakmediaMicro - Fotolia
Why consider SAP SaaS ERP -- 8 benefits of S/4HANA public cloud
The SaaS version of SAP S/4HANA may help companies lower their ERP total cost of ownership and help them stay agile in a business world that's always changing. Here's how.
Due to the plethora of benefits it offers, SAP S/4HANA public cloud is making significant inroads into small and...
Continue Reading This Article
Enjoy this article as well as all of our content, including E-Guides, news, tips and more.
midsize companies as a cost-effective alternative to S/4HANA on premises. S/4HANA public cloud -- SAP's SaaS ERP -- is even making inroads into large businesses, albeit typically as a tier-2 choice in a two-tier ERP strategy.
Regardless of where your company falls on the size spectrum, you'll need to carefully consider whether this SaaS version is the right choice for your organization. To that end, here are eight factors to consider when making a business case for S/4HANA public cloud.
Flexibility of subscription-based pricing
S/4HANA public cloud's subscription pricing is per month and per user, thereby allowing companies to only pay for the users it needs. Any increase or decrease in the number of users as and when needed is also possible, which makes S/4HANA a cost-effective ERP solution for mid-tier companies that have around $20 million in annual revenue.
Further, no annual maintenance or quarterly innovation costs are charged to the customers.
Shorter implementation timeline
Deploying and implementing S/4HANA public cloud takes a few weeks in most cases depending on the overall scope of the implementation. The highly intuitive, user-friendly, browser-based user interface makes it easier for users to start using S/4HANA with little training.
Additionally, the plug-and-play option for any SAP or non-SAP cloud-based software, as well as any on-premises or third-party software, makes the entire S/4HANA public cloud deployment faster than an on-premises implementation.
Guidance from SAP Best Practices
An S/4HANA public cloud implementation is made easier by SAP Best Practices, which removes a lot of the confusion and guesswork.
An S/4HANA public cloud implementation is made easier by SAP Best Practices, which removes a lot of the confusion and guesswork. Adopting and deploying SAP Best Practices ensures a company adopts the standard business processes followed by most companies in similar industries. Some of these standard processes are plan-to-produce, order-to-cash and hire-to-retire, and they are based on decades of industry experience.
S/4HANA has deliberately kept tighter control configuration options in S/4HANA public cloud so as to ensure the standardization of processes and to enable companies to embark on change management initiatives.
Postproduction support
Once the S/4HANA public cloud is deployed, it takes minimal effort to maintain postproduction support for the system. This is because a deployment using SAP Best Practices and standard processes ensures a company's business analysts are able to handle most of the issues the end users encounter, such as updating a material, customer or vendor master record or running standard reports and embedded analytics.
Quarterly innovations
Quarterly innovations offer the latest tools and features to ensure companies are able to leverage them as soon as there's a need for one. Latest innovations, such as machine learning and AI, are also supported all the while using the enormous data processing prowess of SAP HANA.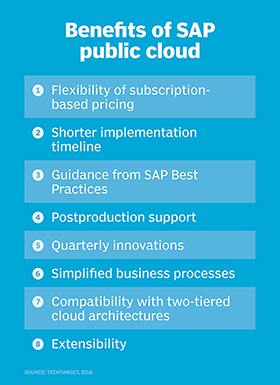 Simplified business processes
While SAP S/4HANA public cloud supports standard business processes for most industries, such as trading and manufacturing, it also has industry-specific functions for oil and gas, chemicals, pharmaceuticals, public sector, and consumer products. Software targeted to other industries is in the S/4HANA public cloud roadmap.
Compatibility with two-tiered cloud architectures
S/4HANA public cloud is known to be a good fit for small to midsize companies. What is less well-known is its increasing use as tier-2 software by large enterprises that have an annual turnover or revenue of around $1 billion.
For example, in a two-tiered approach, the head office or large manufacturing units can deploy S/4HANA on premises or even SAP ERP Central Component while the smaller regional or satellite offices, subsidiaries, or even warehouses can implement S/4HANA public cloud. With this hybrid approach of S/4HANA on premises and in the public cloud, the entire organization can benefit from the same system of record by working in a completely integrated ERP system.
For companies considering a two-tiered hybrid approach, an advantage is that S/4HANA public cloud uses the same programming language as S/4HANA on premises, thereby ensuring both tiers, or systems, integrate with each other in a seamless manner.
Extensibility
S/4HANA public cloud is limited to mostly standard business processes and configuration options. However, it does offer complete integration with other SAP HANA-powered, cloud-based SaaS software, such as SAP Ariba, SAP Concur, and SAP SuccessFactors, as well as on-premises ERP software systems and even third-party software -- all via SAP Cloud Platform Integration.
Dig Deeper on SAP selection and implementation