zagandesign - Fotolia
Deacom ERP helps process manufacturer pump up the volume
California Custom Fruits and Flavors chose to implement a process manufacturing-oriented ERP tool from Deacom over industry heavyweights like SAP, Oracle and Microsoft. Here's why.
Process manufacturers can struggle to find an appropriate ERP product because many systems are designed with discrete manufacturing in mind.
Yet, while discrete manufacturers assemble products from parts or systems, process manufacturers, like California Custom Fruits and Flavors Inc. (CCFF), make products that require recipes or formulas.
The decision by CCFF to implement an ERP system about nine years ago was easy, but narrowing down the choices of ERP systems and ultimately deciding on Deacom ERP, designed specifically for process manufacturing, was less so, according to Jason Kim-Rastello, CCFF's director of systems and supply chain management.
While CCFF now sees a lot of business benefits after implementing Deacom ERP, the company learned a few lessons along the way that may benefit others looking for process manufacturing ERP products -- and for the vendors who offer the systems.
A complex ERP selection process
CCFF, based in Irwindale, Calif., makes fruit flavorings used in food products such as yogurt, ice cream, toaster strudels and bakery goods. The company produces anywhere from 60 to 100 million pounds of products in a year, making it a midsize company for its market, according to Kim-Rastello.
CCFF needed a new ERP system because it was rapidly outgrowing a homegrown ERP system that struggled to keep pace with the volume and complexity of the business.
"Back in 2009, we found that in the previous 10 years, we were spending an average of $110,000 per year in programming costs just to create new reports and stay on pace with DOT [U.S. Department of Transportation] or FDA regulations," Kim-Rastello said. "It was a very manual process with lots of paper and people pointing to their heads and saying, 'I know where that is.'"
The company then began an exhaustive process to identify prospective ERP systems, and Deacom wasn't remotely in sight. Instead, CCFF focused on ERP products from more well-established vendors such as SAP, Navision -- now Microsoft Dynamics NAV, JD Edwards -- Oracle, and Ross ERP -- now Aptean Ross. CCFF also engaged Technology Evaluation Centers to help evaluate the ERP software based on thousands of criteria that were most relevant to the business from ten different companies, Kim-Rastello explained.
Deacom made the list because of the personal touch it offered that couldn't be matched by the industry heavyweights, Kim-Rastello said. The same Deacom sales rep called Kim-Rastello regularly over a two-year period, and their conversations centered more on baseball than ERP systems. At the same time, various sales reps from the likes of SAP and Oracle called, but they didn't establish any ongoing relationship.
"It felt like most ERP software had the same type of sales turnaround as copier sales people -- you sign a contract and a year later, that person has moved on and you're dealing with someone else," Kim-Rastello said. "So there's no relationship, no sense of continuity or comfort in the sense that this is a major investment. Deacom was the only one of all the software vendors where it was the same rep over a two-year period."
Deacom topped the ERP list
But sales relationships and technical capacity and functionality are different matters, and Deacom had to prove itself to CCFF against serious competition. The final four products under consideration came down to Ross ERP, Navision, Sage and Deacom, and after a two-year evaluation period, Deacom ERP surprisingly topped the list, Kim-Rastello said.
"Our preconceived notions out of the gate were that we would end up with a Microsoft product or Ross ERP, but Deacom came out as the highest scoring software, which blew us away," Kim-Rastello said.
The decisive factors for CCFF may have been that Deacom provides an ERP system that is more suitable for a small-to-midsize business, and its functionality is specific to process manufacturing.
"It was somewhat surprising that JD Edwards or SAP didn't make the cut, but it may be because of our company size and the nature of our industry," he said. "The features and functions that matter to us were different than other companies like Nestlé or Dunkin Brands."
Deacom ERP is aimed specifically at process manufacturing companies, with functions that are designed to meet their specific needs, according to Scott Deakins, COO of Deacom.
"There are four big differences between process and discrete manufacturing: [the] production process, the quality management process, the document generating process and the WMS [warehouse management system]," Deakins said. "All those systems are being put together in a single system in Deacom. That gives our customers improved process control because they're not moving data between all those different systems."
An ERP that can handle complex process manufacturing
CCFF needed an ERP that could handle its complex production processes, which include formulas that go eight levels deep before generating finished goods, Kim-Rastello said.
"We have nested BOMs within nested BOMs within nested BOMs, so we needed to see how that would manifest within MRP [material requirements planning], demand planning and scheduling," he said. "We wanted to makes sure that we had visibility into what we needed and when we needed it."
CCFF also has a complicated tier pricing model that includes both volume and shipping methods, and Deacom was able to handle that complexity, as well as the volume of data the system generates by having so many unique formulas and recipes. Kim-Rastello said that there are almost 37,500 active formulas currently in the system.
"With Deacom, we can have one sub-assembly that can satisfy an infinite number of finished goods -- different packaging configurations, different unique numbers and IDs for different parts, or trials that customers want to run -- and yet trace that all back to the same formula or recipe," Kim-Rastello said.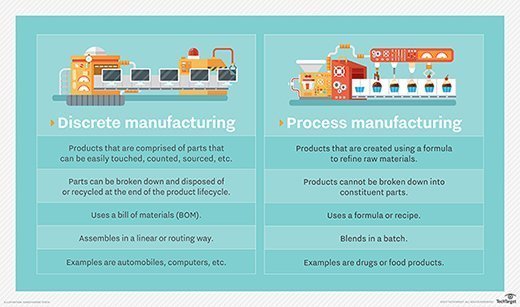 Moving out of the computing Stone Age
Usability was the other main criteria that tipped the scales in favor of the Deacom ERP, as many of the other systems CCFF looked at required higher levels of IT involvement to get good reporting data.
"Coming from the environment that we were in -- essentially in the Stone Ages where people walked in and had reports waiting for them at their printers -- it was vital that we had an intuitive system," Kim-Rastello said. "The UI and usability factors were very important."
Implementing the Deacom ERP helped CCFF improve operational efficiencies enough that it could handle growth without adding costs.
"We doubled our volume in the past few years, but head count has grown by less than 50%, which is mainly due to the efficiencies of the software," Kim-Rastello explained. "We don't need a bunch of clerks to do data entry or enter lot numbers of orders that were shipped. That's all captured in real-time via hand-held scanners by Deacom, and there's no synchronization or bridges. It's right there in the system."
Next Steps
Read how craft beer-makers use ERP for process manufacturers to help handle growth
Find out how process manufacturing cockpits can improve efficiencies in SAP ERP systems