Armin Sestic - Fotolia
The risks and rewards of a multivendor ERP strategy
As old-school mega ERP implementations increasingly fall out of favor, companies are now picking and choosing software. Here are some of the issues that these choices create.
Move over, SAP and Oracle. When it comes to enterprise resource planning software, there may not be a new sheriff in town, but there are a whole lot of deputies gobbling up pieces of what used to be your pie.
A company considering its ERP strategy today has more choices than ever. It can go old school and get almost everything it needs from one of the big boys. If the company is building its businesses around a cloud platform, anything it might need in the ERP sphere is available from a partner of that platform provider. And if it's just getting started with formalized ERP and doesn't want to commit to either an on-premises or cloud-based platform, it can cobble together pieces of ERP functionality from niche vendors using a growing assortment of integration options.
But no matter what path is chosen, there will be strengths and weaknesses. And to make matters more complicated, as companies reinvent themselves as never before -- by tackling new markets, adopting new business models, adding services to products and products to services, or simply selling things that have never been sold before -- the definition of ERP is constantly evolving.
For instance, a company that provides internet of things technologies, such as location services, monitoring devices or related data feeds, is an example of the kind of business that doesn't conform to established ERP norms.
"They're all things that require new business models that don't fit into traditional ERP, which was originally designed for optimizing a repeatable process," said Rod Butters, CTO of Kenandy Inc., which provides a data-centric set of ERP services to Salesforce customers. "It was not built for different channel-to-market [strategies], or different pricing models, or a different way of doing promotion or rebates."
Some benefit, some risk to multivendor ERP strategy
Kenandy's approach lets its customers combine small pieces of functionality, delivered as schema-based tables, and tie them to the data in their Salesforce environments to enable an ERP process.
"Everyone would like to get a real-time view out of their ERP," Butters said. And according to him, Kenandy "can give people that very real-time view. It's easy to understand where the information is, where it comes from and how you relate to it."
There's no ERP system that's going to do everything a company needs to do.

Paul HamermanVP and principal analyst, Forrester Research
The risk of that function-specific approach, according to Jim McGeever, executive VP of the Oracle NetSuite global business unit (the result of Oracle's acquisition of NetSuite last year), is that companies are tempted to solve problems without dealing with the underlying weakness of their data. And typically, the data pulled from different applications has many discrepancies.
"Too many companies are playing whack-a-mole," McGeever said. "I have a revenue recognition problem, so I buy a [revenue recognition] module. It's easy to do that, but you don't wake up and have insight into your business," he added. "It's still the same problem you'd have in the past. If you don't solve your master data problem, it's still a complete mess."
Not surprisingly, Oracle NetSuite promotes a cloud-based suite approach, and McGeever said customers often turn to the company to help them shed an accumulation of ERP-related applications for a single cloud-based platform.
Kevin Roberts, director of platform technology for FinancialForce, which offers a complete ERP suite for the Salesforce platform that it promotes as being "organized around the customer," said he also sees more companies stitching together multiapplication ERP systems. But he cautioned that going that route requires a disciplined approach, or an organization could find itself struggling with shadow IT.
"The potential problem with a multiapp ERP strategy is that you get people signing up for a cloud app without a vision of the long-term goal, and you can get this proliferation of apps in an organization," Roberts said. "The ones who are getting it right are setting big goals and then allowing piecemeal [adoption of apps] but ensuring that each one fits into the larger vision."
Integrating ERP from multiple vendors
Potential pitfalls aside, analysts say many organizations are discovering that a buffet-style approach to ERP is workable.
"In today's cloud-driven application environment, it is common to combine applications from multiple vendors," said Paul Hamerman, VP and principal analyst for Forrester Research. "For example, we might see a company use e-commerce, [customer relationship management], financial accounting, procurement and HR, all from different vendors. What enables this is modern standards-based integration [for example, APIs] and prebuilt connectors."
Hamerman said most of these combo approaches rely on niche providers that specialize in solving a particular piece of the ERP puzzle but aren't ERP vendors, per se. It's much less common for companies to mix and match components from the legacy ERP vendors, although Hamerman noted that they can combine pieces those vendors have acquired, such as SAP SuccessFactors for human capital management and Oracle Hyperion for business performance management.
Mickey North Rizza, program VP of enterprise applications and digital commerce for IDC, said via email that she also sees companies doing a lot more mixing and matching of multiple ERP-related software, often using software as a service (SaaS) sourcing and procurement partners tied to their financial systems via hybrid integration models.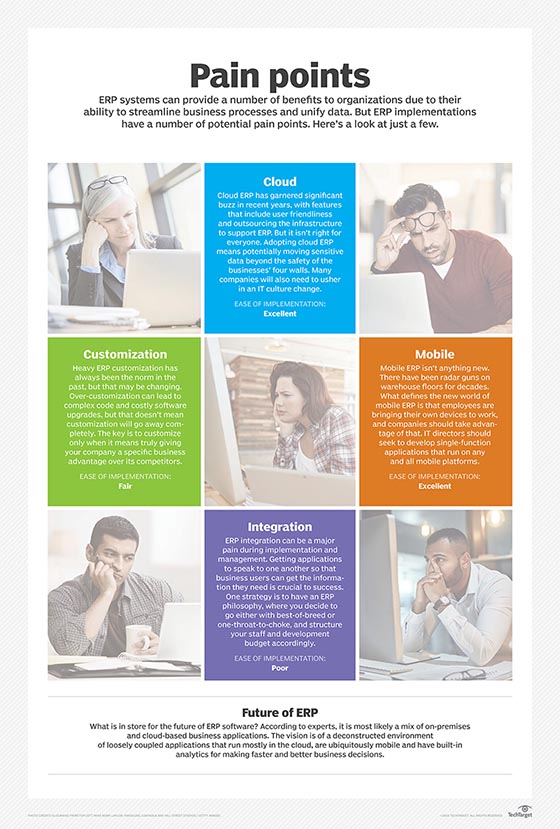 "With the data integration aspects now available, it makes it easier," North Rizza said. "However, companies are still buying ERP suites for one complete data set, typically finance, purchasing and inventory."
Hamerman said the decision on what approach to take is tied to a company's makeup and priorities. The most important thing is that IT leadership is very clear on where the organization is headed.
"It's a question of how many pieces they want to integrate," Hamerman said. "There's no ERP system that's going to do everything a company needs to do. They're going to outsource some processes, use third parties, deploy different systems for HR and, within HR, different systems for benefits and recruiting. A company has to decide what its strategy is and see if there are viable vendors that can provide the majority of solutions it needs."
Next Steps
SAP Cloud Platform gets new functions
Cloud ERP a confusing issue for many companies
Take an in-depth look at SaaS financials