Getty Images
Infor: Marketplace will drive ERP industry functionality
At Inforum 2022, Infor touted its Infor Marketplace as complementing and furthering the industry functionality of its CloudSuite ERP products.
Cloud ERP deployments combined with industry-specific applications ensure faster time-to-value and more effective results for companies, Infor executives said at this week's Inforum 2022.
"[Industry] best practices are in the products, all the innovation that goes into the products benefits those end users, versus the alternative of having a horizontal product that takes a long time to make work or a hosted product that takes a lot of customizations to work," said Kevin Samuelson, Infor CEO, during an interview with SearchERP after the opening keynote.
Companies are aware that enterprise applications are a critical part of operations and supply chains, but they are nervous that ERP implementation projects will fail because they take too long, cost more than expected and don't deliver the expected ROI and business improvements, according to Samuelson.
Infor CloudSuite ERP, a multi-tenant SaaS portfolio of products for specific industries launched in 2014, could help companies overcome that nervousness by removing the burden of customizing a more general, horizontal ERP system, he said.
With the launch of its new Infor Marketplace, which was announced at Inforum, Infor is providing ways for customers to find applications and for partners to develop applications that take specificity that much further.
Industry-specific versus industry edition
There's also a difference between having an industry-specific ERP versus an industry edition of a horizontal ERP, which grafts on some industry capabilities to a horizontal, or general-purpose ERP, said Soma Somasundaram, Infor CTO, during an interview.
"The problem with [industry edition ERPs] is they can't deliver the last-mile functionality," Somasundaram said.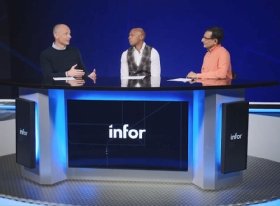 Infor's approach with CloudSuite is to develop ERPs that address industry-specific requirements into the product, he said. The vendor's ERP for services industries such as health care and the public sector, for example, is different from its ERP product for discrete manufacturing.
The company uses two strategies to build ERP products that meet specific industry requirements, according to Somasundaram. The first is to establish product strategy and management teams staffed with subject-matter experts.
"We have people who have deep industry knowledge that are on the product teams, working with the go-to-market teams, customers and analysts," he said. "They help identify the trends and where we need to invest in the products."
The second is Infor Marketplace, an app store of Infor and Infor partner applications, Somasundaram said. The goal is to provide customers with ways to extend the Infor platform and to provide partners with opportunities to develop applications for industry microverticals, he said.
"For example, Infor has a cloud application for the food and beverage industry," Somasundaram said. "If someone wants to take it down into a microvertical like dairy, where they have some unique assets that they want to bring to market, they can build this with extensibility through our [software development kit] and then put it in the marketplace."
Industry-specific is ERP's path forward
Industry analysts believe that Infor is hitting the right notes with the industry-specific focus but have mixed reactions about Infor Marketplace.
Industry focused applications is the way ERP is going, and now, vendors are moving toward SaaS delivery, said Holger Mueller, principal analyst at Constellation Research.
"This makes a lot of sense and is not a surprise for Infor, which has always been vertically focused," he said.
Mueller, for one, said he believes the Infor Marketplace is off to a good start but cautioned that getting marketplaces right is not easy.
Predrag Jakovljevic, principal industry analyst at Technology Evaluation Centers, on the other hand, took a more conservative tone.
Although the marketplace could be an evolution of Infor's existing application development and services platform, the vendor faces challenges in making it a relevant option for partners to develop third-party apps, he said.
"This is just a marketing spruce up and a way to pull in some revenue," Jakovljevic said. "Except for a few sales tax add-ons, I have yet to see many true plug-and-play add-ons for Infor products."
It remains to be seen if Infor will be able to entice partners to develop apps on its Infor OS cloud operating system, he said.
"While Infor OS is integral to the core go-forward cloud ERP's, Infor wants every legacy ERP user to license Infor OS, too," Jakovljevic said. "In a lot of deals, this could be a deal breaker, so Infor will need to rethink that setup."
He also noted that it was interesting to see Infor emphasize the inclusion of industry-specific veterans on its product teams and that the company is building properly staffed teams to support the industry cloud portfolio.
"They have a lot of dead-end ERP products with profitable maintenance, and you might have had teams of eight or 10 for support, only minimal developers, one or two services people, and a manager," Jakovljevic said. "All those folks can now implement and support their go-forward [ERP products] like LN and M3."
Jim O'Donnell is a TechTarget news writer who covers ERP and other enterprise applications for SearchSAP and SearchERP.