Blue Planet Studio - stock.adobe
Infor execs tout ERP SaaS growth, industry functionality
Infor experienced strong revenue growth in 2021, particularly for SaaS bookings, and the ERP vendor believes its deep industry functionality will spur more cloud migrations.
Infor's focus on deep industry functionality as the key to successful cloud ERP transitions is paying off.
The privately owned ERP vendor recently touted strong growth in 2021 with total revenues of $3 billion and SaaS revenues of $1 billion, according to Infor CFO Matt Flamini. He was speaking at an event for industry analysts where Infor reaffirmed its commitment to industry-specific ERP.
Overall growth was up 20% and was particularly strong in Infor's two largest markets, with revenue up 32% in Europe, the Middle East and Africa, and 17% in North America. Infor experienced "significant growth" across some key industries, Flamini said, including distribution at 59% and automotive at 52%.
Owned by Koch Industries, Infor is continuing its move from an ERP company built on a perpetual on-premises license model to a subscription-based business model, he said.
Early innings of cloud transition
Kevin Samuelson, Infor CEO, described the ERP market as still being in the "early innings" of its transition to the cloud, and outlined how Infor is trying to position itself as one of the leaders in the market.
Few companies have moved their ERP systems to the cloud, but many will decide to over the next few years, which could usher in leadership and distribution changes, Samuelson said.
"If we look at other areas where technology has transformed, usually the leadership changes, and some companies that maybe weren't as big or successful with the earliest technologies can shake up the market and become true leaders," he said. "And we hope that that's us."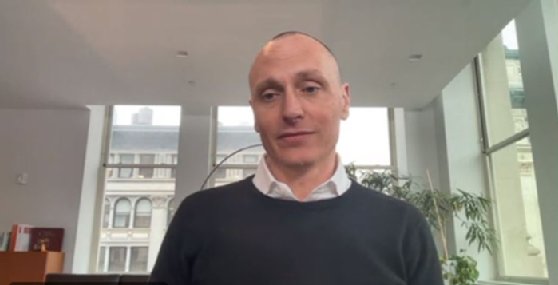 Companies know how important enterprise operational software is, but "in general are very scared of the process to implement and adopt that software," he said.
Deep ERP functionality for specific industries is a key differentiator for Infor, including the company's purpose-built ERP systems for discrete manufacturing industries, process manufacturing industries, distribution and healthcare, Samuelson said.
Other vendors "build one system and then try to deploy it across many industries," which means that "innovation has to be widely distributed over time," he said.
Infor, for example, has added process mining to its Infor OS technology framework. At the end of April, process modeling capabilities will also be added to the OS, according to Infor CTO Soma Somasundaram.
"Process mining is now part of Infor OS as we're releasing Process Modeler at the end of this month," Somasundaram said. "That's a huge innovation for customers because built-in process modeling and process intelligence is a thousand times better than having screen scraping and getting data from one point in time."
Infor's Process Modeler will combine its cloud data lake, AI-based modeling and industry verticality to derive better time to value, optimize processes and enable different business models, he said.
"By working on the data from the data lake, you can actually see the progress of the process," Somasundaram said. "And that's our technology, not third-party technology."
Staying the course pays off for Infor
There was not much surprising in Infor's messaging that industry verticality and the cloud matters, but its stay-the-course approach is paying off given that it has now reached the $1 billion mark for cloud revenue, said Holger Mueller, vice president and principal analyst at Constellation Research.
Infor has been focused on industry verticality for years, and it has had a better focus on providing public cloud ERP than rivals like SAP and Oracle, he said.
"In a world of me-too ERP announcements -- which vendor does not have a process mining offering by now? -- Infor stands apart with its platform, which has been powering public cloud-based ERP longer than any other ERP vendor," Mueller said. "And with that, Infor has tapped into the infinite compute the cloud offers, most prominently with its data lake."
As other ERP vendors, including SAP, Oracle and IFS, have developed their own industry cloud approaches, Infor "has a good story to tell" because it already has industry-specific on-premises products, said Predrag Jakovljevic, principal industry analyst at Technology Evaluation Centers.
"While all of these vendors' vertical approaches are reaching some parity, Infor's differentiation here is they have multiple ERP products as the basis for the industry cloud," Jakovljevic said. "For example, Infor S3 [formerly Lawson] for healthcare; Infor LN for complex ETO [engineer-to-order] manufacturing, such as automotive; Infor M3 for process manufacturing and distribution; SyteLine for SMB discrete manufacturing. It's easier than a single SAP or Oracle ERP having to retrofit for 20 industries."
Infor's announcement that it is including process mining in its Infor OS was eye-catching, he said, particularly since Infor has had a previous partnership with process mining vendor Signavio, now a part of SAP.
This appears to be following a current trend for process mining technology and enterprise platforms, Jakovljevic said.
"Process mining seems to be all the rage," he said. "Like BI [business intelligence] and AI, process discovery and mining are getting to be part and parcel of the enterprise platforms. Microsoft recently acquired Minit, Appian did so with Lana, and Salesforce did with Servicetrace."
Jim O'Donnell is a TechTarget news writer who covers ERP and other enterprise applications for SearchSAP and SearchERP.