Definition
xAPI (experience API)
The xAPI (experience API), also known as Tin Can API, is an open source software specification that provides a set of rules for representing the events a learner performs while interacting with a piece of learning content.
It also provides rules for communicating these events back to a permanent storage system called a learning record store (LRS).
The LRS is comprised of four detailed application program interfaces (APIs) that can be accessed over the internet. The LRS may be part of a learning management system (LMS) or an independent application.
XAPI identifies a learner by Email address, or other unique identifier. Inside a statement, it includes the identity of the learner, or employee, with additional data, including the learner's action and specific learning or content activity.
In many LRSs, a learner or administrator can view the statements of a particular learner and identify the actions they took across many different activities. Also, some learning systems that support xAPI are using these statements as prerequisites for awarding accomplishments and badges.
Applications have been developed that use xAPI to record learning events across a wide variety of uses. These include instructor certification, reading an e-book, interacting with web videos, virtual reality simulations, assessments and meetings.
XAPI is currently being used by many organizations, including some of the largest U.S. companies, flight schools, medical training facilities and various military organizations. The specification was developed by Advanced Distributed Learning, a program of the U.S. Department of Defense, which also created the Sharable Content Object Reference Model (SCORM), a standard for distance learning (e-learning).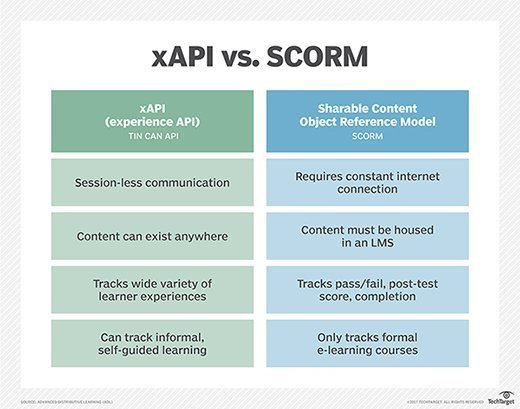 XAPI enables more advanced uses than SCORM because it can interact with mobile applications and track a learner's real life outcomes in addition to their training activities. SCORM, on the other hand, is primarily concerned with tracking training delivered directly from an LMS.
The project to develop the initial xAPI specification, originally named Project Tin Can, was awarded by ADL to Rustici Software, based in based in Franklin, Tenn. A team from Rustici Software worked on Project Tin Can for 16 months before completing the initial .90 version of the specification. After turning the specification over to ADL, it was further developed by an open community group directed by ADL. The release of version 1.0.0 was in 2013 and the specification continues to evolve through community efforts led by ADL.
This was last updated in
April 2017
Continue Reading About xAPI (experience API)