TechTarget
Workday admits to Black diversity problem, pledges to improve
Workday makes HR tools, including diversity software, for half of the Fortune 100. But Black employees make up less than 3% of its own workforce, an issue Workday vows to address.
Workday Inc. sells HR tools that many of the largest companies in the U.S. rely on to recruit and hire workers who make up a diverse workforce. But the vendor itself underperforms in Black diversity and lags behind other Silicon Valley firms.
Workday, a $3.6 billion company headquartered in Pleasanton, Calif., cites diversity and inclusion as a core corporate value. The company reports its overall U.S. population of Black employees at 2.4%. The average number of Black employees at Silicon Valley firms is 4.4%, according to a study by the Center for Employment Equity at the University of Massachusetts (UMass) Amherst.
Workday drew attention to its low percentage of Black employees this month in an online forum on diversity. The session was prompted by broader racial bias issues raised nationwide. During the forum, the HR software vendor acknowledged that its Black diversity needs work and said that it is developing a plan to address the disparity.
But the issue isn't just an internal matter for Workday -- or for HR vendors, in general. Workday is a significant player in the HR software market. In an earnings call last summer, Workday said it now includes half of the Fortune 100 as customers, which means the software it's building is being used by other companies to make core HR decisions.
"The challenge here is that, if you are designing and selling technologies to help large organizations manage human resources, including upholding equal opportunity, then you have to consider the degree to which your services can be modeled in your own company," said Safiya Umoja Noble, an associate professor at the University of California, Los Angeles in the Department of Information Studies and the Department of African American Studies.
"The use of automated HR technologies has already shown many failings with respect to ensuring diversity -- and, in fact, many undermine it by screening out qualified women and perpetuating discrimination against African Americans who don't 'whiten' their resumes, who are often evaluated through software screening systems," Noble said. She is the author of the book, Algorithms of Oppression: How Search Engines Reinforce Racism.
Silicon Valley's diversity problem
Silicon Valley technology firms have been broadly criticized for underrepresented workforces, especially among women and Black employees. Some Silicon Valley firms, including Workday, are now publishing their racial diversity data. Google's 2020 diversity report, for instance, said that 3.7% of its workforce is Black; Facebook reported 3.8%, Salesforce reported 2.9% and Microsoft reported 4.5%.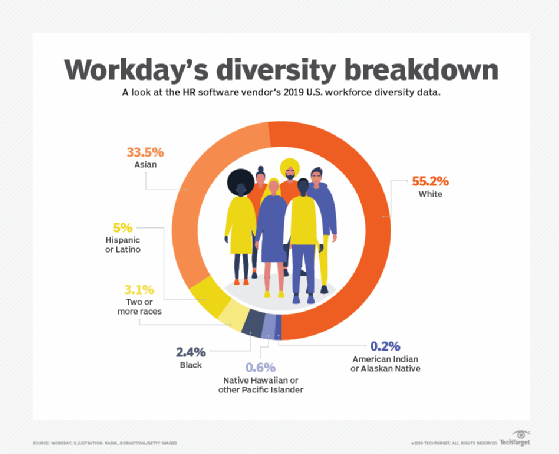 Diversity at Silicon Valley firms gets attention because the products tech companies make are influential to the broader economy. The software helps businesses make decisions, for instance, on who gets a line of credit or hired for a job. Workday, with its 12,500 employees, is a good example of this, as its software can help with recruitment, hiring and retention decisions.
During Workday's forum, which was held against a backdrop of protests over police brutality against Black Americans, Aneel Bhusri, Workday's co-founder and CEO, shared what he'd heard from Black employees.
"I think of Workday as a great place to work for all and I think we're striving to be that," Bhusri said during the online session. Workday has been holding employee meetings on diversity issues since the protests started.
"But what I heard from our Black employees is that they're not OK right now. They're going through a lot of pain and, in the workplace, many times, they feel alone," Bhusri said. "They might be the only Black person in a group of 20 people, and they don't get the mentorship and sponsorship."
About 45% of Workday's workforce is non-white minorities; the largest group, at 33.5%, is Asian.
Ashley Goldsmith, Workday's chief people officer, said during the forum that "over the last couple weeks, we've heard loud and clear that our diverse representation just isn't good enough. And we also see it in the data: less than 3% of our workforce is Black; yet, 13% of the U.S. population is Black."
Workday, in a statement to us, said, with respect to the size of its Black employee population, "we recognize we have work to do and are committed to doing so with an action committee in place across the company to drive our commitments." The firm said it will share those specific steps later on.
A 2018 study by the UMass Amherst Center for Employment Equity analyzed data from 177 "leading" Silicon Valley firms that file diversity data reports to the U.S. Equal Employment Opportunity Commission, finding the average number of Black employees to be 4.4%. Academics can examine the racial diversity data with an agreement to keep specific firms confidential.
"Workday's website makes strong claims of corporate commitment to diversity, but at 2.4% Black, it is one of the poorest performing tech companies I have encountered," said Donald Tomaskovic-Devey, a sociology professor who heads the Center for Employment Equity at the university. Workday's data is from 2019.
Diversity in software development
Some experts argue that a lack of gender and racial diversity can affect software development in negative ways.
"The lack of diverse designers can allow the product to retain pernicious or selective or biased features," said Mark Muro, a senior fellow and policy director at the Brookings Institution, a policy research group in Washington D.C.
"There are things that a white programmer or user experience designer might not think of that could have a very significant impact on how a product is approached and used," he said.
Workday defended its product development process. In a statement, the firm pointed to design partner groups that bring customers in to brainstorm about product functionality across its product portfolio. The process has led to diversity dashboards and benchmarks for workforce comparison. Workday said that it is also incorporating feedback in its products from employees, customers, partners and industry experts.
The challenge here is that, if you are designing and selling technologies to help large organizations manage human resources ... then you have to consider the degree to which your services can be modeled in your own company.

Safiya Umoja NobleAssociate professor, University of California, Los Angeles
New anti-bias product planned
In September, Workday plans to release a new tool, Mask Recruiting, which is "the process of removing any and all identification details from candidates' resumes and applications," the firm said. The idea behind Mask Recruiting, which is getting industry adoption, is to remove identifying features of a candidate, such as name and photo, to limit unconscious bias in decision-making. But the firm also plans to take steps internally to improve its diversity.
In an interview, Carin Taylor, Workday's chief diversity officer, said Workday has started assessing its processes, opportunities and goals in diversity. "What are things that we can do to actually make intentional progress toward making things better?" she said. It will be a 12-month effort.
But Taylor said hiring is only one part of making a workforce more diverse. Workday has a program that works on broader issues of diversity such as inclusion. "Is there a sense of inclusion -- is there a sense of belonging that goes along with having a diverse workforce?" she said. That's important to achieve, she added.
Taylor said customers "should feel comfortable" with the software's ability to help create a diverse workforce. While she doesn't minimize the importance of technology, she said that building diversity goes well beyond it.
"It's bigger than just the product," Taylor said. "There's a whole systemic ecosystem of challenges that are at play when it comes to companies increasing their racially diverse talent. And I think that we have to look at the entire ecosystem," she said.
"Of course, we have to look at products and technology, but we also have to look at how decisions are being made, how people are being given opportunities to develop, where are you recruiting from, etc. All those things. Are there biases that exist?" Taylor said. "It is a whole ecosystem of things that needs to change and it needs to happen in concert with each other, not just focusing on just the hiring piece.
"It's got to be more than [hiring] because what we know is that you can bring people into your company, but if they don't feel included and they don't feel like they belong, there may not be enough of a reason for them to stay," Taylor said.
Bias and algorithms
While diversity in developers can help spot problems, there are also technical challenges that deserve attention, said Dokyun Lee, an assistant professor of business analytics at Carnegie Mellon University. He researches interpretable machine learning and explainable AI.
"People don't usually write algorithms to be biased," Lee said. The problem comes from the data the algorithms are trained on, he added.
If an algorithm is trained on data using underrepresented demographics, for instance, then the algorithm can perform badly for that demographic, Lee said. An example where this problem can appear is in a recruiter's use of an algorithm to filter resumes.
An algorithm may be using attributes that are predictive of gender and race, which is a bias that influences the outcome of the results. Engineers have to determine if the data set used for training is well balanced, among taking other steps, Lee said.
"Unless companies specifically test for biases, it's going to be hard to detect," he said.
Giving algorithms transparency and users the ability to understand how they make predictions is still an emerging technology area. One category of tools, interpretable machine learning, gives users a way to vet how an algorithm arrived at its recommendation, such as why it selected certain candidates for interviews, Lee said. "It's a starting point to poke and prod these algorithms," he said.
Developers from diverse demographics may be in a better position to ask questions about sources of data and flag something they don't think is representative, Lee said. Even then, diversity, by itself, doesn't guarantee success, he cautioned.
"I don't think having a diverse set of engineers working on things would automatically lead to better outcomes," Lee said. "They would have to be aware of this issue and then try to actively fix it."