Getty Images/iStockphoto
Hybrid work takes bite out of return to office
Despite the current reality of the hybrid work model, office building owners might have to invest in amenities such as gyms and bike storage to entice workers back to the office.
The shift to remote and hybrid work has reduced the number of people turning up at offices. The decline in attendance isn't reassuring to some office building owners, but they remain optimistic about the long-term future of in-office work.
Office building owners see an obligation to make buildings more attractive to workers, but they also think that employers fear forcing workers to return to the office. The job market is too competitive to risk losing someone by having an in-office mandate, industry experts said at a recent virtual forum.
"The number of people physically coming back to the office is still very disappointing," said Fred Seigel, president and COO of Beacon Capital Partners, a Boston-based private real estate investment firm. The Real Estate Roundtable, a nonprofit public policy organization, sponsored the virtual forum.
But, Seigel noted, a positive sign for the future of offices is that the average lease term is seven years, indicating a commitment to using office space. "All that early conventional wisdom that businesses are only going to enter in the short-term leases -- it was wrong," he said.
Seigel said employers "need to communicate the advantages of in-person working, whether it's better collaboration, driving more innovation, talent development."
Our clients are definitely coming back to the office.

Owen ThomasCEO, Boston Properties
Owen Thomas, CEO of Boston Properties, said he's also seeing a commitment to office spaces. "Our clients are definitely coming back to the office," he said. This publicly traded firm owns some 53 million square feet of office space in Boston, San Francisco, New York and other major cities.
In San Francisco, about 40% of the workers are back in the office compared with pre-pandemic levels. In Boston, it's 50%, and in New York, about 60%, Thomas said. Those percentages are "going up every week," he said.
The reality right now
Thomas said that most clients have adopted some form of hybrid work, where workers come in the office three or four days a week. He doesn't know if hybrid work "is here to stay forever, but it's certainly a reality of the market right now."
Thomas added that encouraging people to return to offices will be helped by creating an "extremely high quality" office environment. That includes investing in amenities such as gyms, bicycle storage rooms and systems that deliver high indoor air quality.
By the end of this year, about 30% of office employees will work from home two or more days a week, said Kate Lister, president of Global Workplace Analytics, a telecommuting research and consulting firm in San Diego. Over three years, as leases begin to expire and managers adjust, this number might go up to 35% to 40% of people working remotely one or more days a week.
Child care was also cited in the forum as a need to help encourage women to return to the office.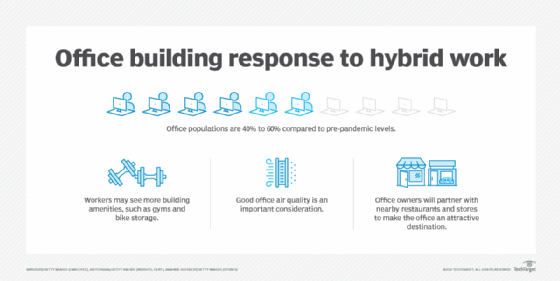 U.S. Labor Secretary Marty Walsh, who was also at the forum, said there's a need for funding child care services to help women.
"We have a major crisis in this country when it comes to child care," Walsh said. Some people aren't returning to work because of the cost of child care, he said.
Some 1.8 million women are missing from the workforce compared with pre-pandemic data, according to a report last month by the National Women's Law Center.
Remote worker fear
Expanding child care programs and financial support "would likely make a large impact on getting women to return to the workforce," said Annika Jessen, an analyst in Gartner's HR practice. "We know that flexibility of location, working hours and specific days they work is paramount for current working mothers."
But working remotely also carries career risk, Jessen said. Remote workers can lose out on a promotion because they aren't in the office. "Those working on site first think of other colleagues on site for development opportunities, which cascades into remote colleagues missing out on promotions because they did not have the necessary opportunities to grow," she said.
Jessen said that business managers need to be aware of their bias against remote workers to avoid penalizing them. They also have to take "intentional steps to ensure that they are considering their remote and hybrid workers when nominating their employees for development or stretch opportunities," she said.
"Empty statements are not enough; employees must see action," Jessen said. That includes creating employee resource groups for remote and hybrid workers, and providing specific development opportunities, among other steps. Organizations can also audit promotions for equal opportunity across on-site, remote and hybrid workers "and commit to publishing those results internally," she said.
Patrick Thibodeau covers HCM and ERP technologies for TechTarget. He's worked for more than two decades as an enterprise IT reporter.