Getty Images
New study reveals how AI will change future workplaces
AI adoption may be bad news for middle managers, says a new study. Future workplaces will hire people with technical skills and give junior workers more power.
Researchers said artificial intelligence is becoming a new general purpose technology that will be as impactful on the economy as the steam engine, electricity and the internet. The influence of AI will change the structure of businesses, creating a future workplace that empowers junior workers as it cuts middle management positions.
The researchers used millions of jobs ads and resumes to assess the stock of current employees and the demand for new ones.
Firms using AI are also becoming less top-heavy and flatter, and have higher shares of employees in entry-level and non-management roles and fewer employees in middle management or senior positions. Firms with larger investments in AI also upskill, increasing their share of workers with bachelor's, master's and doctoral degrees.
"AI improves the ability to make predictions and decisions, which gives entry-level workers more autonomy and reduces the need for middle management," said Alex Xi He, an assistant professor of finance at the Smith School of Business at the University of Maryland, and one of the researchers on the paper.
Researchers from Columbia University, the University of California, Berkeley, and Cognism Inc., a London-based sales intelligence firm, were also involved. Researchers used Cognism's resume data set, covering more than 64% of full-time U.S. employment and some 180 million job vacancies from Emsi Burning Glass, a Boston-based labor market analytics firm.
AI improves the ability to make predictions and decisions, which gives entry-level workers more autonomy and reduces the need for middle management.

Alex Xi HeAssistant professor of finance, Smith School of Business, University of Maryland
This research found that AI-using firms changed the composition of their businesses. AI-adopting firms shaped their future workplaces by hiring educated workers with STEM (science, technology, engineering and math) training, analytics and IT experience.
Future workplace won't cut HR
The study also found that these firms didn't replace some jobs with automation. Firms that invest heavily in AI "do not reduce their demand for some of the skill groups that are most often predicted to be replaced by AI, such as customer service, HR, and legal skills," the study said.
He said that "AI mainly benefits firms by spurring product innovation and increasing the scale of the firms rather than automating human tasks." AI-using firms are also increasing their employment, he noted.
The idea that machine learning is a general purpose technology (GPT) was explored in a paper last month by the National Bureau of Economic Research (NBER), a private nonprofit research organization based in Cambridge, Mass. The report found many of the characteristics of a GPT in machine learning, such as widespread interest, being capable of ongoing technical improvement and enabling innovation.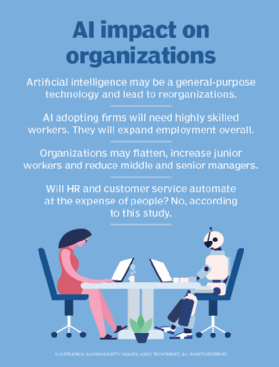 The report argued that it's crucial to identify GPTs as early as possible because that allows organizations to prepare for the change, such as investing in internal R&D capabilities, collaborating with academic researchers and taking other steps to prepare.
One of the NBER paper authors, Avi Goldfarb, an AI expert and professor at the University of Toronto, said it is still unclear how organizations will change with AI adoption. Some may be flatter and "empower lower-level employees to make decisions," but it might lead to centralization in some industries.
"Our point is to anticipate change that takes advantage of better prediction, but it is difficult to generalize what that change might look like," Goldberg said.
University of Maryland's He said the researchers believe the answer to the question of whether AI is becoming a GPT is "mostly yes." But "we are still early in the adoption curve of AI, and we should see applications of AI technologies more widely and maybe in more transformative ways in the coming years."
Dig Deeper on Talent management