Definition
corporate culture model
A corporate culture model is the organizing principle behind the values, beliefs and attitudes that characterize a company and guide its practices. Corporate cultures are often categorized by the degree of emphasis placed on various defining elements such as hierarchy, process, innovation, collaboration, competition, community involvement and social engagement.
To some extent, a company's culture model, if not articulated outright, may be categorized by details contained in the company's mission statement or vision statement. Small and mid-size companies with relatively flat hierarchies may apply the principles of more than one model, or change emphasize for which model to value most, depending on business needs. Larger companies with deep hierarchies may find it more difficult to institute wide-spread changes in company culture and may, instead, seek to implement cultural changes at the division level.
Popular corporate culture models include:
Adhocracy - values the ability of the company to adapt quickly to changing conditions. Adhocracies are characterized by flexibility, employee empowerment and an emphasis on individual initiative. Although corporate levels exist in an adhocracy, they are less strictly defined than in more hierarchical environments.
Clan culture - embraces a family-like or tribe-like environment that values consensus and commonality of values and goals. This type of culture often puts mentoring programs in place to foster employee engagement and loyalty.
Hierarchical - has a fairly rigid and fixed organizational structure. Hierarchical cultures depend upon structure, rules and top-down control to guide business practices and activities. An adherence to identified best practices, controlled processes and considerable oversight are considered essential to productivity and success.
Holacracy - has a flat management structure that distributes authority. The goal of a holacracy is to ensure that those responsible for completing work are given the authority to decide how that work should be carried out.
Keiretsu - extends the corporate culture to include partners. In Japanese, the word keiretsu means "group." In a company that embraces keiretsu as a culture, each member of the group -- including those with independent financial interests -- works closely with other members of the group to ensure each other's success.
market culture - emphasizes competitiveness not only between the organization and its market competitors but also between employees. An emphasis on individual performance is thought to lead to greater achievement for the individual employee and, as a result, greater success for the organization.
Startup culture - values creative problem solving, open communication and a flat hierarchy. Startup cultures may also be referred to as innovation cultures. Workplaces that foster a culture of innovation generally subscribe to the belief that innovation is not the province of top leadership but can come from anyone in the organization.
Developed by professor and change management researcher Robert Quinn, the Competing Values Framework offers a visual representation of four different management and culture models, visible in the following image: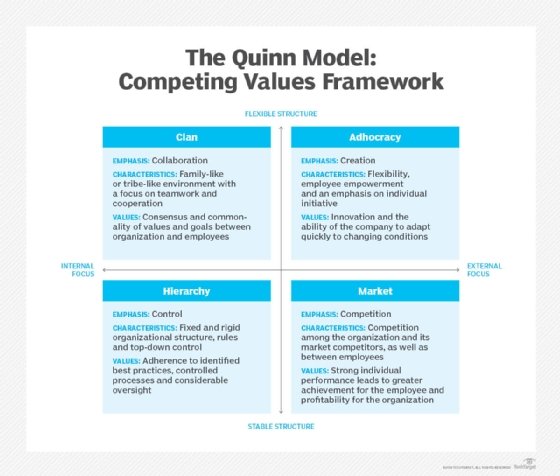 This was last updated in
January 2018
Continue Reading About corporate culture model