Getty Images
Microsoft layoff signals shift from rapid hiring to caution
Microsoft's layoff of 10,000 workers follows a similar tech industry pattern: rapid employment growth during the COVID-19 pandemic, followed by a relatively modest cutback.
The COVID-19 pandemic was a boon for the tech industry, and Microsoft was in the thick of it. But the global economy is cooling, IT spending is softening and PC sales are declining. Now Microsoft is laying off and shifting its priorities, along with other tech companies.
On Wednesday, Microsoft said it was laying off about 10,000 workers -- less than 5% of its global workforce. But that's after a sizable jump in its headcount. Starting in June 2020, Microsoft increased its workforce by 36% over the next two years, growing from 163,000 to 221,000.
Microsoft's employment growth followed a similar pattern in the tech industry. As employers sent workers home and consumers turned to online commerce, the enterprise demand for digital tools increased, and tech employment grew. But businesses globally are now concerned about an economic downturn, said Microsoft CEO Satya Nadella in a blog post on the cutback.
"We saw customers accelerate their digital spend during the pandemic, we're now seeing them optimize their digital spend to do more with less," Nadella wrote. Businesses worldwide are exercising caution, "as some parts of the world are in a recession and other parts are anticipating one," he added.
With this round of layoffs, Microsoft is following in the footsteps of other large, publicly held software companies, including Salesforce, Amazon and Meta, that also made sizeable cuts due to over-hiring during the pandemic. These companies are choosing to take the hit now, anticipating that the economy will not improve much over the next quarter or two, one analyst said.
"The larger public companies are saying, 'Before we really get hammered, let's cut back here a little,'" said Jack Gold, principal analyst at J. Gold Associates. "I don't expect this to result in any major changes to plans Microsoft has going into 2023."
Microsoft is still spending big
Microsoft, however, does have aggressive moves planned for this year. The company is making a $10 billion investment in OpenAI's ChatGPT. It appears confident its proposed $69 billion acquisition of Activision will happen this year despite the Federal Trade Commission's ongoing attempts to block the deal over the past 12 months.
The Microsoft layoff will add to the gloom in the tech industry, which cut nearly 100,000 workers last year, said Challenger, Gray & Christmas, Inc., an outplacement firm in Chicago.
Customers accelerate their digital spend during the pandemic, we're now seeing them optimize their digital spend to do more with less.

Satya NadellaCEO, Microsoft
The firm said that the Microsoft layoffs bring the number of tech industry layoffs in just over the first two weeks of 2023 to 20,000.
Analysts see Microsoft as a well-run company responding to global realities.
Historically Microsoft "has taken advantage of shifts in market demand to adjust its workforce to align its skills and staffing with the areas where the demand and opportunity will be the best going forward," said Al Gillen, an analyst at IDC.
Microsoft has not reported its results from the quarter ending Dec. 31, its second quarter for fiscal year 2023. Still, its first-quarter results "showed that while the business growth was slowing, at that time it was certainly not contracting," Gillen said.
Automation may also have a role in its action. "Microsoft works very hard at automating its business operations, particularly its cloud operations," Gillen said.
Microsoft's conservative approach
Dan Newman, principal analyst at Futurum Research and CEO of Broadsuite Media, agreed that the layoffs reflect Microsoft's conservative approach to what lies ahead with macro trends in the general economy in the U.S. and other key foreign markets. He expects the company to keep making small reductions in selected areas of the business to ensure cash flow is in balance with hiring practices.
While the financial performance of its AI business appears to be doing well, Newman said the company will keep close tabs on that business over the short term. One reason to keep an eye on it is due to a slowdown in Azure sales for larger accounts that had trouble completing their digital transformation projects over the latter part of 2022.
"There was a lot of talk about the acceleration of digital transformation in various industries in early 2022, and Microsoft did a lot of hiring," Newman said. "But many IT companies couldn't implement all the transformations fast enough and didn't realize their goals for AI and workflow automation. Microsoft may look to be conservative in investing in those areas. But I would expect that to come back later 2023."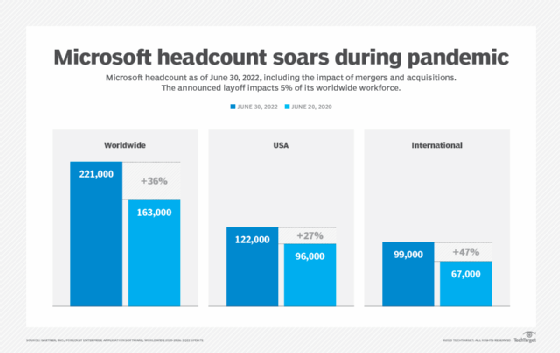 Mobile, PC spending is declining
Microsoft and IT spending in the tech industry is increasing but slowing, according to Gartner. It is projecting IT spending to reach $4.5 trillion in 2023, an increase of 2.4% from last year. But that's down from a prior estimate last quarter of a 5.1% increase.
"Consumers and enterprises are facing very different economic realities," said John-David Lovelock, an analyst at Gartner, in a statement. Inflation hurts consumer spending, but enterprises "continue to increase spending on digital business initiatives despite the world economic slowdown."
Gartner estimates a decline in device spending of just over 5%, including mobile, PC, tablets and printers. In 2022 device spending was down 10.5%, it reported.
"Microsoft is one of the best-managed, well-positioned technology firms in the market," said Josh Bersin, an HR industry analyst. He said demand for Teams, Azure services, Office 365, LinkedIn and most of Microsoft's products is explosive. However, the company's revenues are also dependent on OEM sales through PC channels, which are lagging, he said.
Microsoft is adjusting at the edges "as the company transforms into a cloud services and platform provider. So I see this as nothing but positive for the company, customers and employees," Bersin said.
Jeff Kagan, an independent industry analyst, said the pandemic fueled demand for tech products and workers. "Now that the pandemic is subsiding, the extra demand has collapsed for companies in different industries," he said.
Patrick Thibodeau covers HCM and ERP technologies for TechTarget Editorial. He's worked for more than two decades as an enterprise IT reporter.
As Editor At Large with TechTarget's News Group, Ed Scannell is responsible for writing and reporting breaking news, news analysis and features focused on technology issues and trends affecting corporate IT professionals.