jamesteohart - stock.adobe.com
Salesforce 2023 layoff plans follow recent executive exodus
Changes continue to shake up Salesforce, with a 10% workforce reduction and office space closures this year following recent departures of top executives.
Editor's note: This story was updated Jan. 4 to include layoff reporting.
Salesforce has kicked off a restructuring plan that includes a 10% reduction of the company's workforce and office closures in some markets.
The CRM giant estimates up to $2.1 billion in charges in connection with the plan. Up to $1.4 billion in charges are related to employee severance payments and benefits.
In a letter to employees on Wednesday, CEO Marc Benioff said the company over-hired during the pandemic and cuts will happen in the coming weeks.
"The environment remains challenging, and our customers are taking a more measured approach to their purchasing decisions. With this in mind, we've made the very difficult decision to reduce our workforce by about 10%, mostly over the coming weeks," Benioff wrote.
Affected employees will receive a minimum of nearly five months of pay, health insurance, career resources and other benefits to help with their transitions, he wrote. The employee layoffs are complete by the end of the company's fiscal 2024, subject to local law and consultation requirements. The real estate restructuring plan is expected to be fully complete in fiscal 2026.
Executive changes
Salesforce co-CEOs Marc Benioff and Bret Taylor put on a show of solidarity in keynotes and in joint sessions at the company's annual Dreamforce conference in the fall. Not long after, Taylor revealed that he is leaving, effective Jan. 31, ostensibly to launch another startup.
In the days after Taylor announced his resignation, Slack co-founder and CEO Stewart Butterfield said he will also be leaving, two years after Salesforce acquired Slack for $27.7 billion. He will be replaced by former Microsoft and Sonos exec Lidiane Jones, currently executive vice president and general manager of Salesforce Experience Cloud. Jones has been with Salesforce since 2019. Moreover, Tableau CEO and president Mark Nelson left the company. Salesforce indicated there will be no successor.
Taylor's 14-month tenure will end up shorter than previous co-CEO Keith Block's, who lasted 18 months and left just as the pandemic took hold in 2020. Taylor said in the company's quarterly earnings call on Nov. 30 that he planned to "return to his entrepreneurial roots."
Taylor launched social network FriendFeed, which was acquired in 2009 by Facebook (now Meta), where he eventually became CTO. In 2012, he left to launch Google Docs competitor Quip, which Salesforce bought in 2016, marking the beginning of his ascent to co-CEO.
"Even after this transition, I will always, always be a part of this company," Taylor said, "and always be a part of this community."
Benioff said Taylor's exit was upsetting and a difficult moment for Salesforce. At the same time, he added that Taylor will always have a home at Salesforce and wished him well starting a "third great company."
"You can't keep a wild tiger in a cage," Benioff said. He continued by addressing Taylor directly: "We're going to try to get you back somehow."
The timing makes sense if Taylor does plan to start another company, said Jason Wong, a Gartner analyst.
"Tech downturns are always a good time to do startups, because unfortunately, with all the layoffs, you have talent available," Wong said. "Certainly Bret has capital of his own. He doesn't necessarily need to raise any money."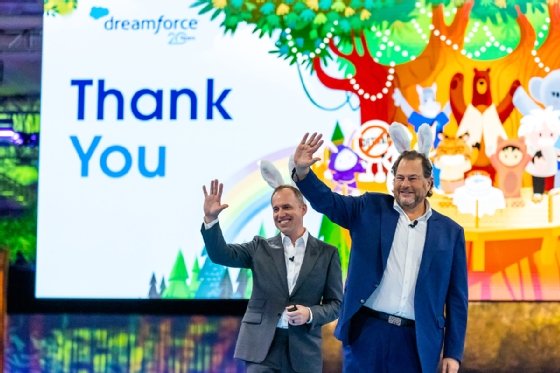 Twitter likely figures in
Co-CEO arrangements often don't work out in the long term, but occasionally they do. Taylor's tenure was marked by the acquisition and integration of Slack into the Salesforce platform and the recent release of Genie.
He deserves a year in a remote villa with a killer view.

Liz MillerVice president and principal analyst, Constellation Research
Taylor has set Salesforce well on its way to becoming a composable platform, said Liz Miller, an analyst at Constellation Research. In general, composability is enabled when applications and infrastructure can be customized to an individual enterprise's needs based on standard building blocks. In Salesforce's case, key composable components include Genie for customer intelligence and Slack for collaboration.
Taylor also presided as Twitter board chair through its tumultuous sale to Elon Musk, who then fired the board. That may have figured into his stepping down at Salesforce.
"He's got to be exhausted," Miller said. "He 'Slackified' Salesforce, and he saw through the Twitter deal. He deserves a year in a remote villa with a killer view. But from what I've learned about Taylor over the years, he's going to be right back in the thick of creating and building."
Impact on customers
Taylor's departure won't likely affect Salesforce customers or the product pipeline, Wong said. Salesforce, he points out, has a long history of hiring experienced leaders from AWS, Oracle, and other stable tech giants to maintain its pace of innovation.
"I don't think there will be any material impact on customers and their adoption and implementation," Wong said.
Miller predicted Salesforce will take new directions in 2023 as soon-to-be solo CEO Benioff "dreams his next dream." But investors will hold him to his predictions and aspirations. That may lead to the next Salesforce co-CEO.
"Benioff needs a strong and worthy operational foil who is rooted in platform, engineering, and business," Miller said. "Wall Street will start expecting some new big, bold moves to ensure their growth trajectory is sustainable."
Don Fluckinger covers enterprise content management, CRM, marketing automation, e-commerce, customer service, and enabling technologies for TechTarget Editorial.