Definition
managed hosting
Managed hosting is an IT provisioning model in which a service provider leases dedicated servers and associated hardware to a single customer and manages those systems on the customer's behalf.
In managed hosting, customers can rent equipment such as dedicated server, storage and network hardware; operating systems; and system software. The leased equipment serves only that single customer -- or "tenant" as customers are referred to single-tenancy architecture. The customer usually has administrative access to the leased systems yet rarely uses it, instead opting to interact with the system through a web-based interface.
Features of managed hosting
Management services are a key aspect to what differentiates managed hosting from other dedicated hosting services. Typically, managed hosting providers are responsible for hardware and software setup and configuration, technical support, patch management, system maintenance, monitoring and updates. Managed hosting providers, however, may offer a menu of add-on services and/or packages that range from basic service offerings to pricier bundles of more advanced services. In most cases, managed hosting services can be customized to fit a customer's specific business requirements.
Among the services that customers can expect from managed hosting providers include:
backups and disaster recovery;
security services, such as vulnerability scans, intrusion detection, and distributed denial-of-service prevention and mitigation;
physical security measures for safeguarding data centers;
server configuration, maintenance and monitoring;
application support; and
support for resolving technical issues.
Some managed hosting companies have partnered with Amazon Web Services, Microsoft Azure and other cloud providers to expand their portfolios of management service offerings.
Managed hosting plans frequently come with a service-level agreement, which outlines the services the customer is paying for and service standards that the hosting provider is required to meet.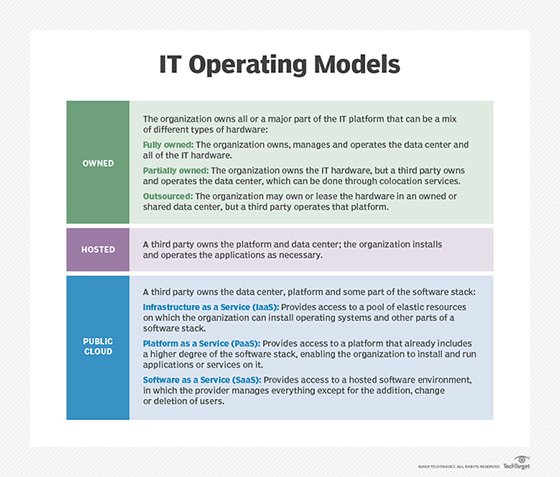 Managed hosting vs. colocation
In colocation, or "colo," a customer contracts a data center facility to lease space for compute hardware. While colo providers may offer managed services, they traditionally provide only the data center space and associated operational needs, such as cooling, power, bandwidth and physical security. In the colo model, customers generally have unilateral control over the hardware and software they use, which they must implement, manage and maintain using their in-house IT staff.
From a customer perspective, the choice between the managed hosting and colocation models might boil down to the organization's level of in-house expertise. Compared with managed hosting services, colocation customers will need internal IT skills to oversee the hardware housed in the colo facility. In this sense, an organization with a small in-house IT staff may benefit from the ability to offload the management and maintenance of leased hardware to a managed hosting provider.
This was last updated in
July 2018
Continue Reading About managed hosting
Dig Deeper on MSP technology services