violetkaipa - Fotolia
Device as a service set to expand for channel partners
The device-as-a-service market is poised for growth as customers look to trim Capex, but channel partners may need to recast themselves if they want to serve as a DaaS provider.
If analyst predictions come true and the device-as-a-service market experiences significant growth over the next two years, channel partners involved in the management of PCs and mobile devices should brace themselves for what could prove a lucrative market.
Device as a service, or DaaS, is defined as the management of hardware such as PCs, laptops, desktops, tablets or mobile phones, and the software that runs on them. A DaaS provider delivers services under one contract to a customer for a monthly subscription fee. DaaS is gaining popularity among companies that want to take advantage of the subscription cost structure while removing the stress that comes with procuring, managing and disposing of their hardware.
DaaS is an evolving market. PC manufacturers and IT service providers are paying closer attention to how they'll structure their services, coalesce their marketing strategies and incorporate technologies such as artificial intelligence and the internet of things into their DaaS plans.
In 2016, about 1% of PCs -- notebooks, laptops and desktops -- were shipped through a DaaS agreement, according to market research firm IDC, based in Framingham, Mass. IDC had forecast that number would grow to 21% in 2020, but the company recently revised its prediction.
"The number for 2020 is closer to 12% to 15%, but that's still a pretty sizable chunk," said Linn Huang, a research director at IDC who covers devices and displays. "We are talking about one in 100 PCs in 2016 under a DaaS contract and in the span of four years, one in six or one in every seven commercial PCs shipped globally will go through a DaaS contract."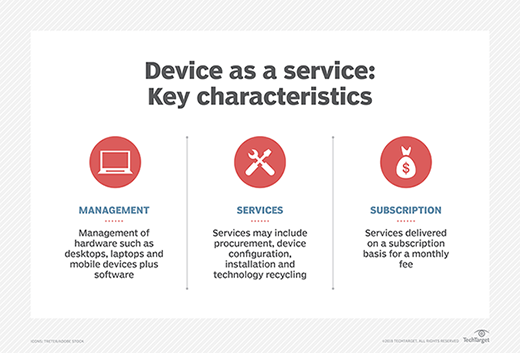 Hardware vendors push offerings
It's against this background that companies like Dell Technologies Inc. and Lenovo Group Ltd. are pushing their offerings into the market.
Another manufacturer leading the way is HP Inc. HP offers DaaS for PCs and workstations and in February introduced DaaS for Apple devices. The major driver of DaaS is the rapid adoption of the subscription-based services model, said Stephanie Dismore, vice president and general manager, Americas Channels, at HP. This model enables DaaS customers to shift the high cost of acquiring new technology from a capital expenditure (Capex) to an operating expense (Opex). In doing so, companies of all sizes can free up cash for investment in strategic initiatives that drive revenue and growth, Dismore said.
Furthermore, by outsourcing services on multiple devices that come with multiple operating systems, companies can benefit from a reduction in help desk volume, policy compliance, and increased end-user productivity. Other benefits, Dismore said, include the ability to use the latest technology and access customized services, including device configuration, installation, data migration, on-site support and technology recycling.
On the partner front, HP offers a device-as-a-service specialization within its HP Partner First channel program.
"The DaaS training -- or specialization -- is designed to help partners grow their businesses, extend their reach to new customers and provide new, innovative solutions that align to market trends over the next year," Dismore said.
Partners that become a DaaS specialist can access HP Partner First benefits such as sales tools, reporting and analytics solutions, financing and sales, and marketing support.
Partners weigh the device-as-a-service market
While speculation about how the market will evolve is rife, channel partners will have to figure out how they'll approach their customers with a DaaS offering.
At CompuCom Systems Inc., an IT managed service provider headquartered in Fort Mill, S.C., company executives said being device agnostic has helped expand its DaaS business. Focusing on customers that use multiple devices to support a variety of business operations in verticals such as life sciences, finance and the retail sector has also fueled growth, according to the company.
Additionally, when an IT service provider is looking to convince a potential client that DaaS is the right fit for their business, they should have a conversation with company decision-makers such as the CIO or CFO, said Ken Jackowitz, chief product officer at CompuCom.
"Ultimately you want to speak to the business owner who manages the budget," he said. "The DaaS discussion is about the opportunity cost -- the value of Opex versus Capex dollars and where it can be best applied to their business," Jackowitz said. "It's really about what is the most important thing to grow my business and where can I start to gain a competitive advantage, and how can I move my device management to a trusted partner."
As DaaS provider companies figure out how they'll approach the market, they'll also have to provide customized solutions for small, medium and large businesses that are looking to them for assistance in choosing the right devices and the right software for a variety of use cases.
DaaS growth forecast for mobile devices
While IDC doesn't have any figures for smartphones, tablets and other devices, Huang predicted the device-as-a-service market's mobile device numbers will grow based on a number of trends. For instance, HP's announcement that it will offer DaaS support for iPhone, iPad, Mac and other Apple devices used by commercial customers in mixed operating system (OS) environments will correspondingly lead to an increase in the number of mobile devices enrolled under a DaaS agreement.
Microsoft's Surface as a Service program further encourages this trend. Huang said IDC considers the Surface a tablet, and is therefore, "another area where we think tablet growth and DaaS is going to grow very heavily."
As DaaS grows in the market it will affect most of the channel if not all of the channel.

Linn Huangresearch director, IDC
Additionally, in the past, employees that procured their mobile phones through a contract with their carriers would engage in a bring your own device (BYOD) policy, which permitted them to bring personally owned devices to the workplace. Today, the choose your own device plan, in which employees select their devices from a list provided at the workplace, is becoming more popular. This shift is more conducive to a device management structure that can be administered under a DaaS plan.
"Here's the bottom line with phones: If you are a company that's either provisioning corporate phones to certain people or no one at all and it's all BYOD, there's no DaaS opportunity there for a provider because that person is buying that phone from companies like Verizon or AT&T as a consumer or home purchase," Huang said.
As the market evolves, other devices are being considered for DaaS management too. HP's Dismore said, in the U.S., the company's DaaS program gives customers access to the full Apple product portfolio, including wearables.
In addition, Huang said there's a lot of potential for augmented reality and virtual reality units to be included in a device-as-a-service plan.
Becoming a DaaS provider
Given the swift pace at which the market is predicted to grow, DaaS will affect different channel players in very different ways depending upon the position they currently occupy, Huang said. If the IT provider has mostly implemented hardware and wants to participate in this space, that company will have to build service capabilities. On the other hand, managed service providers that historically lacked interest in managing inventory or carrying inventory risk must learn how to manage inventory if they want to implement DaaS, Huang said.
"As DaaS grows in the market it will affect most of the channel if not all of the channel," Huang said. "Essentially, it forces them to become providers more so and I'm pretty certain for some it will force them to have to step out of their current scope."