Gunnar Assmy - Fotolia
Unified communications as a service: The next generation
New-look UCaaS solutions are opening opportunities for channel partners that can navigate differing customer needs, regulatory environments and the security landscape.
Next-generation unified-communications-as-a-service systems are gaining momentum and providing a variety of new growth areas for IT service providers offering solutions in this market segment.
Based on the cloud delivery model, UCaaS offers a variety of communications technology and collaboration applications and services that taken together help businesses increase productivity, enhance collaboration and improve business processes.
As cloud technologies mature, more businesses are moving their communications and collaboration solutions from on premises to the cloud. By hosting or reselling third-party UCaaS solutions, IT service providers can help customers design and manage a broad range of technology: enterprise communications infrastructure; audio, web, and video conferencing platforms; telephony systems; email; instant messaging; team collaboration solutions and other productivity applications.
"The hosted IP telephony and UCaaS market as a whole is growing," said Elka Popova, digital transformation vice president at Frost & Sullivan. She added that all the different technologies and business models within that hosted communications space are experiencing growth, whether it's a BroadSoft multi-tenant approach or Cisco's multi-instance approach or a true cloud-based offering. Driving the adoption of these technologies, Popova added, is that the UCaaS model delivers to customers the value proposition of outsourced communications -- it relieves the burden on a company's internal resources.
"It's on demand, more or less, with most businesses committing to a one- or three-year contract that effectively hands a company's communications solutions over to a third party, which possesses the technology assets and skill set to more cost-effectively manage and scale deployments, leveraging converged IP communications and cloud technologies," Popova said.
IT service providers will have a lot more growth opportunities ahead of them as they help customers implement UCaaS services offering PBX and key telephony systems replacement solutions, according to a recent Frost & Sullivan survey. That survey shows 54% of the telecom and IT decision-makers polled have moved all or part of their enterprise telephony solutions to the cloud (see chart), while 31% plan to migrate within the next couple of years.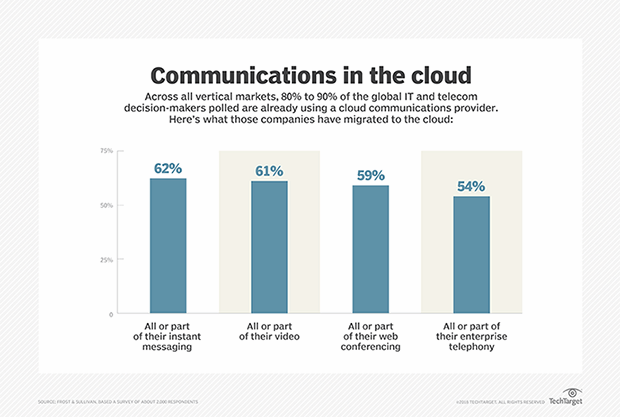 UI, security considerations
Kevin Rubin, president of Stratosphere Networks LLC, a managed service provider (MSP) in Evanston, Ill., noted there are particular aspects of unified communications as a service that are being impacted by market trends, newer technologies and customer requirements. User interfaces, for example, are becoming increasingly customizable around the client's brand and are better able to integrate with other systems. However, these changes are still in progress and will take time.
"Businesses that adopt UCaaS solutions leverage user interfaces for the web, as well as for mobile," Rubin said. "Making communications easier is the primary reason why some clients move to a UCaaS solution, since some businesses don't even have physical phones on their desks anymore and have a more mobile user base."
With regard to interoperability of systems, Rubin said this is still a challenge in the UCaaS space.
"Each provider has their own set of standard integrations, such as Salesforce and Office 365, but clients these days are asking for better integration with customer relationship management and other line of business applications," Rubin said. "Some UCaaS providers will specifically customize their solution in order to win more opportunities."
The ability to customize helps providers distinguish their unified-communications-as-a-service offerings.
"Cloud solution providers need to continuously find ways to differentiate themselves by providing more customizable options unique to that cloud provider," Rubin said.
The hosted IP telephony and UCaaS market as a whole is growing.

Elka Popovadigital transformation vice president, Frost & Sullivan
On the security front, IT service providers should consider whether their customers are bound by compliance and industry regulations as they approach choosing technology for UCaaS solutions.
"Locating a UCaaS provider that takes security seriously is important," Rubin said. "While some UCaaS providers are over the top and unencrypted, others can provide voice package encryption and a secure tunnel to a company's headquarters while security is handled at the core," Rubin said.
He added that the availability of lower-cost security technology allows clients using UCaaS technology with cloud solutions to deploy better security policies, such as two-factor authentication and single sign-on.
"Businesses that leverage a hybrid- or full-cloud strategy can deploy cloud solutions with a heightened level of security," Rubin said.
John Graham, senior director of software, collaboration and new routes in the Global Partner Organization at Cisco, added UCaaS security solutions are often customized to fit the use case.
"For teaming and messaging, Cisco will let the customer keep a key server at the customer's site while the data is hosted in the cloud," Graham said.
AI and workflow
New technology is also influencing the direction of unified communications as a service. One area gaining more attention is artificial intelligence, which Rubin believes will increasingly be incorporated into the next generation of UCaaS offerings.
What to expect in the enterprise, small business markets
As resellers, systems integrators, MSPs and other IT service companies tackle the UCaaS market, they should know that in the midmarket and large enterprise segment they'll find a lot of existing investments that are not all amortized.
"At large and midmarket companies the equipment has not reached its end of life so the IT service provider's role is to see how they can take that company on a path to consolidate and harmonize their technologies and solutions while moving various solutions to the cloud," Popova said.
Companies at the other end of the business spectrum, however, may have fewer restrictions with regard to previous infrastructure investment.
"Smaller businesses want simplicity and are likely to buy plug-and-play and all-inclusive types of solutions, which creates different opportunities for channel partners hosting or reselling UCaaS solutions," she said.
"You will see UCaaS companies improving their stance on analytics, but they'll most likely do so for an additional cost for the service," Rubin said. "For example, Office 365 has a UCaaS solution and a BI module with [Enterprise] E5 that allows you to incorporate more business analytics into a single panel to see what your users searched for, their habits, who they called, trends, common topics, internal search, external search. ... Future UCaaS companies will stand out by focusing on metrics."
Selecting the right technology, forming the right partnerships and finding the right solutions for customers, however, could prove to be a complex task for IT service providers that have a number of issues to consider before they embark on a UCaaS engagement. But that challenge can also be the catalyst for business growth.
"The big opportunity is actually trying to figure out how to change the customer's workflow and their process with the technology," Graham said.
Four must-haves for partners selling UCaaS
Graham at Cisco said channel partners need the following elements to make their UCaaS engagements successful:
the ability to sell and build a subscription model;
skilled IT staff that can integrate multiple applications from different vendors;
lifecycle capabilities that include not only securing the contract but the ability to effectively implement, expand and renew contracts; and
IT employees that possess application development and coding skills.
UCaaS solutions: The competitive landscape
As channel partners anticipate the next market trends, Popova predicts that the relatively untapped unified-communications-as-a-service market will attract highly diversified telecommunications companies and SaaS providers that are poised to disrupt the market as customers gravitate toward known brands that have the technology and resources to support unified communications services.
"Companies like Amazon and Google have huge data centers that can host the communications software and that give them a cost advantage," Popova said.
She added that Amazon has a well-developed e-commerce platform through which the company could sell unified communications products to small and medium-sized businesses that conduct research online and prefer a less consultative approach. Google, Popova said, has experimented with communications technologies, and has penetrated businesses with their Gmail and G Suite offerings.
"Both companies have some experience selling in the business market and they can leverage their existing customer base and existing channels to start cross-selling communication services," Popova said. "As the market matures, this is a trend that IT service providers in the UCaaS market should think about."