Fotolia
Dell EMC Global Partner Summit: Tighter integration in the works
Dell EMC partner companies can expect the IT vendor to work toward tighter partner-product portfolio alignment and faster deal registration over the course of 2018.
LAS VEGAS -- At the Dell EMC Global Partner Summit, the $78.7 billion IT vendor mapped out the future look of its channel strategy, which will involve tighter integration with the broader Dell Technologies portfolio of companies.
After marking the first year of the Dell EMC Partner Program in February, Joyce Mullen, Dell EMC's new global channel chief, said the company would focus on refining the program instead of making any dramatic changes to its general structure. At the Dell EMC Global Partner Summit, held this week in conjunction with Dell Technologies World, the vendor did just that -- upgraded the program -- while discussing plans for further improvements.
Mullen also outlined a future framework that would tie the Dell Technologies family of companies closer together. Dell's companies include VMware, Virtustream, Pivotal, RSA and Secureworks.
"Our partners are an incredibly important part of our go-to-market [strategy]," said Michael Dell, chairman and CEO of Dell Technologies, while onstage with Mullen at the Dell EMC Global Partner Summit.
"We continue to listen and learn to build out what we can do collectively for all the customers out there. There is a lot of opportunity," Dell said.
Dell Technologies channel strategy in development
During the Dell EMC Global Partner Summit, Mullen told attendees about how Dell Technologies planned to more closely align partners with its wide-ranging portfolio. This included a Cross-selling scheme, dubbed the Dell Technologies Advantage framework, aimed to help partners tap into the technology branches under the Dell Technologies brand and pursue cross-selling opportunities.
Our partners are an incredibly important part of our go-to-market [strategy].

Michael Dellchairman and CEO, Dell Technologies
Under the new framework, Mullen said, each of the Dell Technologies companies will continue to maintain their independent partner programs. The Advantage framework, however, will add new partner benefits.
For example, she said the Advantage framework will align competencies and credentials, so partners only have to do relevant trainings once. Partners will also be rewarded for cross-selling across the Dell Technologies portfolio.
Mullen also noted that the future framework will let Dell EMC partner companies that have achieved its elite Titanium Black status carry the status across the various Dell Technologies partner programs.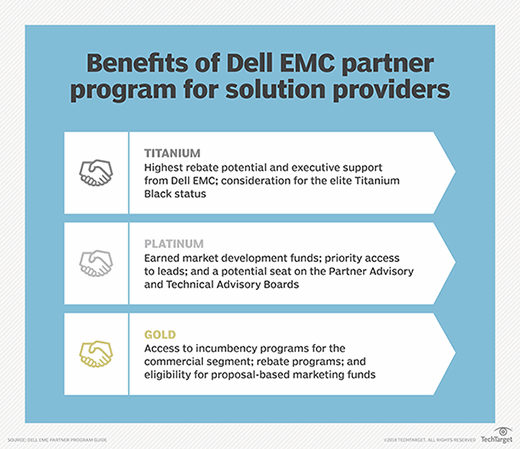 Improving the Dell EMC Partner Program
Mullen also went into several aspects of the partner experience that the company is in the midst of enhancing.
She revealed that partners can expect the deal registration process to become faster and more accurate by the end of 2018 -- an announcement met with applause from Dell EMC Global Partner Summit attendees.
"We are accelerating our deal registration response time to four hours for most deals, 48 hours for storage, and we are going to make sure it is right the first time, at least 95% of the time," Mullen said.
Other forthcoming improvements included speeding up the quoting and rebate payment processes for partners.
Additionally, Dell EMC will make a continued effort to reduce channel conflict. At previous partner conferences, the vendor looked to address a trust gap in its partner community, instituting what the company's former global channel chief, John Byrne, called a "zero-tolerance" approach to partner deal protection.
"Some of you feel like you are competing with Dell. Isn't that the elephant in the room?" Mullen said to attendees at Dell EMC Global Partner Summit 2018.
She said the company has started doing joint account planning with numerous Dell EMC partner firms and is also "looking to build a very clear educational campaign so all of our Dell sellers understand the value [partners] can bring."
"Let me assure you," she told attendees, "if you have an approved deal, we will protect you. And on the flip side, if there is a problem, let us know and we will make it right."
Five trends for Dell EMC partner companies
At the Dell EMC Global Partner Summit 2018, Jeff Clarke, vice chairman of products and operations at Dell EMC, pointed to five key trends that he said create a collective opportunity for Dell EMC and its partners.
Immersive and collaborative computing. Dell EMC thinks technologies such as augmented reality, virtual reality, mixed reality and voice recognition will "change the way we collaborate and work together," he said.
Internet of things. "We are going to see the most massive decentralization of information created that you have ever seen in the history of this industry. And it's going to happen, literally, overnight."
Multi-cloud. "We undoubtedly live in a multi-cloud world." The information created on the edge can't go to a handful of public clouds, but demands the use of hybrid and private clouds, as well, he said.
Software-defined everything. "We had built this industry on specialized hardware. We are going to build this industry for the next couple of decades on specialized software."
AI and machine learning. AI and machine learning explore the questions of how to handle the information created on the edge and turn it into better business outcomes.
"We clearly are in the middle of each and every one of those trends and [are], in many cases, driving it. So, we are very excited about the prospects in front of you," Clarke told partners.
Dell EMC introduces competencies, resources
Although much of the Dell EMC Global Partner Summit was forward-looking, the vendor also revealed new tools and rewards for partners.
On the competencies front, partners can expect Dell EMC's Solutions Competencies to expand this year, beginning this week with a new internet-of-things competency. Additional Solutions Competencies -- high-performance computing, data analytics, business applications and security -- as well as enhanced services deployment competencies, will roll out later in 2018.
Dell EMC also launched Ready Stack, a channel-exclusive certified reference system to build converged infrastructure (CI) offerings. Ready Stack is based on current and future Dell EMC technologies and supports multiple hypervisors, bare metal and containers, the company said.
Dell EMC noted that Ready Stack presents customers with an alternative to buying turnkey CI or hyper-converged infrastructure (HCI) products. In addition, partners that use Ready Stack will receive rewards that increase as they incorporate more elements of the Dell EMC portfolio in a converged offering, the vendor said.
Additionally, Dell EMC launched new demo and proof-of-concept (POC) program. The demo program lets partners use the market development funds they earn to purchase storage, CI, HCI and data protection technologies at a discount. The new POC program simplifies partner-led POCs and enables Titanium-level partners to lead POCs independently at end-user locations with free hardware, software, support and shipping, Dell EMC said.