Klemsy - Fotolia
Dell EMC Partner Program sets $50B channel business target
On the first anniversary of the Dell EMC Partner Program's launch, the company's global channel chief said partners can expect fine-tuning but no major program overhauls in 2018.
Dell EMC's channel chief plans to stay the course with the vendor's global partner program this year -- save a few exceptions.
The Dell EMC Partner Program, launched last February, was designed to unify the best elements of Dell and EMC's respective channel programs. Although the integrated program experienced some glitches around accessing its training and education resources, the vendor saw a number of successes over the past year. Successes included a 9% increase in global channel revenues at the end of the third quarter, Dell EMC said. The company also boasted that, together with its partners, it added more than 33,000 new customers.
"This year is about refinements," said Joyce Mullen, president of global channels at Dell EMC, in a partner broadcast this week. Mullen replaced John Byrne in December as global channel chief, with Byrne now heading Dell EMC's North American channel sales.
"Together we are a $43 billion channel business in a $3 trillion industry. We want to continue [that] momentum [from last year], and we know exactly what it takes to get to $50 billion," she said.
Dell EMC revising rebates, MDF, rules of engagement
Moving forward, the Dell EMC 2018 Partner Program structure will remain virtually unchanged. The program has three tiers -- Gold, Platinum and Titanium -- and an elite Titanium Black designation for top-tier partners. Dell EMC revealed updates to its rebate structure, however.
Dell EMC said services rebates will now start at dollar one. The vendor also removed services gates so partners will be paid "on every single eligible services dollar and earn ... money faster," said Kimberley DeLeon, vice president of global channel programs at Dell EMC, in the partner broadcast.
Dell EMC updated partners' new business incentives, or NBI, for acquiring new customers or expanding existing lines of business. The vendor will now recognize data protection product sales separately from storage when calculating NBI. "This means when winning a [data protection] deal with an existing storage customer, [partners are] now eligible for lucrative NBI incentives," DeLeon said.
Partners can earn up to 1% when they attach ProSupport services to client and server sales and 1.5% for attaching ProSupport Plus. All other services attached, such as accidental damage, will earn partners 3.5%.
Partners can earn 3.5% on attaching deployment, consulting and education services to storage sales.
World Wide Technology (WWT), a technology solution provider and integrator, was named a Titanium Black partner soon after the unified Dell EMC program debuted. "The investment has allowed us the opportunity to surpass $1 billion in revenue with Dell EMC this past year," said Scott Miller, senior director of data center at WWT. Titanium Black status benefits "provide market differentiation for partners that have made investments across the entire Dell EMC portfolio," he said.
Miller added that WWT was "pleased to hear the fundamental structure" of rebates "remains in place for 2018." The rebate structure "was a lucrative benefit" that WWT took advantage of last year.
Dell EMC bolsters storage focus
Dell EMC ramped up its storage strategy in 2017, specifically around midrange storage, which it identified as a $14 billion opportunity. In conjunction with the launch of its SC all-flash array and enhanced Unity all-flash array, Dell EMC introduced sales performance incentive funds and support for partners that pursue midrange storage deals. Other 2017 storage releases included VMAX 950F, the second generation of XtremeIO all-flash arrays, VxRail on 14th-generation PowerEdge servers and the DD3000 data protection product.
Scott Millard, vice president of global channel specialty sales at Dell EMC, revealed that the company is increasing incentives for partner sales reps and sales engineers (SEs). Sales reps and SEs can earn 1% of deal size, up to $10,000 each, for selling "modern architectures," he said; 2%, up to $20,000 each, for Cross-selling any storage deal with data protection; and 3% of the deal size, up to $30,000, on any competitive swap on net-new accounts. Dell EMC will also reward reps and SEs with $250 for completing a valid deal registration on the vendor's Quick Proposal tool.
Millard added that partners can expect to see "a barrage of game-changing announcements, including storage offerings built for next-generation media, machine learning and cloud-based analytics" over the next 90 days.
In addition to the rebate enhancements, Dell EMC said it is refining processes for both earned and proposal-based market development funds (MDF). Improvements include reducing MDF administration work and removing front-end documentation and proof-of-execution requirements.
"We are significantly looking to decrease the overall administration burden that [partners] have been experiencing with MDF," said Cheryl Cook, senior vice president of global channel marketing at Dell EMC.
Mullen also noted that Dell EMC is further clarifying its rules-of-engagement framework for partners and the DellDirect sales team. Dell EMC's "zero tolerance" deal protection policies was a big hit with partners when it was first announced at the Global Partner Summit in October 2016, ahead of the unified Dell EMC program launch.
"We are taking infringements super-seriously, and we are proud to announce that in Q4 rules of engagement infraction escalations were down by over 80% quarter on quarter," she said.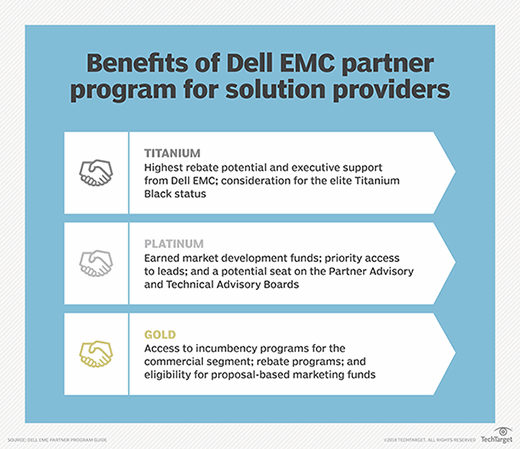 Enablement: New competencies, stronger reliance on distributors
Dell EMC revealed several changes to its training program, including the introduction of new partner competencies. Dell EMC said it will launch eight Solutions Competencies through the year. The first three -- software-defined infrastructure, hybrid cloud and connected workforce -- will roll out in the first quarter.
Together we are a $43 billion channel business in a $3 trillion industry. We want to continue [that] momentum [from last year], and we know exactly what it takes to get to $50 billion.

Joyce Mullenpresident of global channels, Dell EMC
Aiming for simplification, Dell EMC streamlined its training requirements for the three program tiers. Partners must now achieve one competency for Gold-level status, two for Platinum and three for Titanium. Product competencies will continue to be required for earning rebates on products. Dell EMC said it extended the deadline for training requirements to Feb. 1, 2019.
This year, Dell EMC also plans to rely more heavily on its distribution partners to train and enable channel firms -- as well as recruit more partners. "As we look at growth for this year, it is all around net-new partner growth. We really want our distributors to go out and acquire new partners for us. And as they acquire those partners, we want to make sure that those partners can sell [the full portfolio] from Dell EMC," said Jim DeFoe, the vendor's senior vice president of worldwide distribution.
DeFoe added that Dell EMC had more than 350 distributors globally at this time last year but will exit this year with about 150 distributors. "We are really focusing on working with distributors that are committed to Dell, understand our complete portfolio, [and] know how to train and educate those partners. So you will see us reward them. More investments going into those that are committed to us, as well," he said.