Microsoft Azure platform sparks partner offerings
Microsoft Inspire 2018: Channel partners are rolling out products and services to take advantage of Azure's market momentum and its status as a pivotal Microsoft platform.
With Microsoft Azure platform revenue doubling, channel partners are rolling out services and products to spark further adoption and consumption of the public cloud environment.
A number of Azure-oriented partner offerings were unveiled at Microsoft Inspire 2018, the company's annual partner conference, which concludes today, July 19, in Las Vegas. The launches run the gamut from hybrid cloud bundles to workspace products, but all aim to take advantage of Azure's market momentum and its status as a pivotal Microsoft platform.
Jason Zander, executive vice president of the Microsoft Azure team in the company's cloud and AI group, said Azure experienced 100% year-over-year consumed revenue growth. That growth, he said, translates into partner momentum, noting that every dollar of Azure cloud consumption drives $5 of partner services business.
In addition, the Microsoft Azure platform lies at the heart of the company's vision of a ubiquitous computing fabric that extends from the edge to the cloud.
"The core of the intelligent cloud and the intelligent edge is Microsoft Azure," Zander said.
Partners build on the Microsoft Azure platform
Partners showcasing offerings for the Microsoft Azure platform at Inspire included Dell EMC, which expanded its Azure Stack hardware bundle debuted in 2017. Azure Stack extends the Azure public cloud to private settings, such as service provider or end customer data centers.
NetEnrich helps service provider with Azure move
Service providers may specialize in getting clients onboard with the Microsoft Azure platform. But some need help getting there themselves.
A case in point: NetEnrich, a company that provides cloud and IT operations services, is working with MB Solutions, a cloud services provider in Denmark, to help that company transition from a traditional hosting firm to a Microsoft Azure managed service provider.
NetEnrich provides services and support to MB Solutions, which specializes in Microsoft solutions, to assist in its transformation.
NetEnrich examined MB Solutions' IT environment and concluded that moving the service provider from an on-premises data center to Azure would make the most economic sense. NetEnrich said its migration plan for MB Solutions and its customers includes deploying NetEnrich's cloud IT operations platform and using the agile scrum methodology to optimize customer environments for the public cloud. NetEnrich will also offer ongoing support to MB Solutions when the Azure migration concludes.
Dell EMC's new Azure Stack additions include an all-flash VxRack Azure Stack configuration option, an automated hyper-converged infrastructure (HCI) patch and updated orchestration tool, and SecureVM integration available via Azure Marketplace. In addition, Dell EMC now lets customers and partners acquire Azure Stack through its Cloud Flex pay-as-you-go consumption model, which the company offers to encourage adoption of its HCI product line. Dell EMC treats its Azure Stack hardware bundles as an HCI offering.
The upshot for Dell EMC's channel partners is the ability to rapidly roll out Azure Stack to customers, said Paul Galjan, senior director of product management and engineering for Azure Stack at Dell EMC.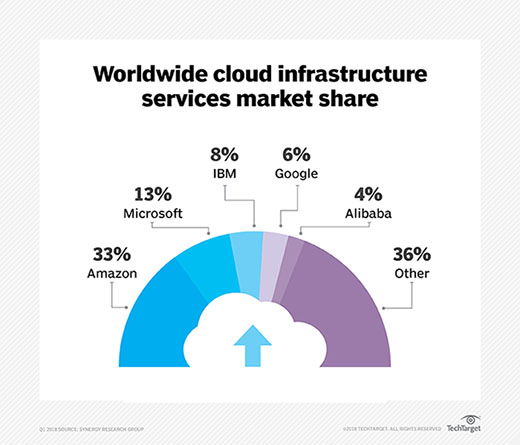 "From a channel partner perspective this is something their customers are interested in," Galjan said. "Any customer that has a Microsoft cloud strategy will be talking to them about Azure Stack."
Azure-based offerings on the rise
One of the clear takeaways from Inspire is the rise in Azure-based solutions.

Max PrugerChief revenue officer, CloudJumper
Meanwhile, CloudJumper, a workspace-as-a-service platform provider, launched Cloud Workspace for Azure at Microsoft Inspire 2018. The platform links together CloudJumper's Cloud Workspace Management Suite with Microsoft's Remote Desktop modern infrastructure (RDmi). The integration provides increased visibility into users' Azure, Office 365 and Cloud Workspace experiences, according to the company.
Max Pruger, chief revenue officer at CloudJumper, cited the uptick in offerings around the Microsoft Azure platform as a key development at the partner conference.
"One of the clear takeaways from Inspire is the rise in Azure-based solutions, as organizations further integrate their cloud-forward IT initiatives," he said. "Microsoft is capitalizing on this, and the conference is relaying their vision to build out the modern workspace with the integration of [Office] 365, Azure Active Directory Sync and RDmi -- all built on top of the Azure stack."
Other partners showcasing Microsoft Azure platform offerings include Atmosera, a managed Azure solutions provider based in Beaverton, Ore. The company featured its Three-Tier Azure Management Suite at Microsoft Inspire 2018. The suite delivers managed, comanaged and self-managed Azure solutions.
"There's a tremendous opportunity -- and an equal amount of pressure to do so -- for Microsoft partners to innovate, embrace new capabilities and leverage Azure for business outcomes," said Jon Thomsen, CEO at Atmosera.