pixstock - Fotolia
Accenture: How to tackle cloud service management issues
An Accenture study found that many organizations have yet to reach their cloud computing objectives. Here are tips for tackling cloud sprawl and other management challenges.
Editor's note: To take full advantage of the cloud's potential benefits, many customers must adopt new approaches to cloud service management. Here, executives from Accenture Technology Services share insight into how organizations can better support and run cloud estates.
Most businesses today seek to use cloud computing to drive value in their organizations. However, for too many, the benefits of the cloud remain unrealized.
At Accenture, we recently surveyed 200 senior IT executives from companies around the world about their experiences with cloud implementations. We discovered that just 35% of respondents had fully achieved desired outcomes. One key area businesses seemed to struggle with is cost. Here, only around a third of executives felt they had fully met their objectives.
To address these challenges, IT organizations need to rethink their operations. They need to "run different," which means shifting from traditional operations to an agile and cloud-based operating model. That model should support multispeed delivery across legacy IT and multi-cloud landscapes. Accenture's view is that the cloud era demands a new approach to cloud service management and optimization. If companies want to maximize the potential innovation of the cloud, they must rethink how they support and run their cloud estates.
Combine cloud managed services to tackle the cost conundrum
For as long as the cloud has been available to enterprises, cost reduction and simplification have been cited as a core benefit. Businesses only pay for what they need. IT teams often aren't ready for the complexities of the cloud, however. As a company increases its cloud footprint and the consumption of cloud services goes up, the associated bills can quickly get out of hand -- from both a cost and complexity standpoint.
Traditionally, IT only had to settle a few bills with a handful of line items. Today's cloud invoices can spread like a wildfire, though, quickly adding up to hundreds of thousands of line items every single month. Each line item needs to be reconciled to the appropriate budget. Given this complexity, it's understandable why some businesses struggle to understand their costs at any given moment, making bill shock all but inevitable.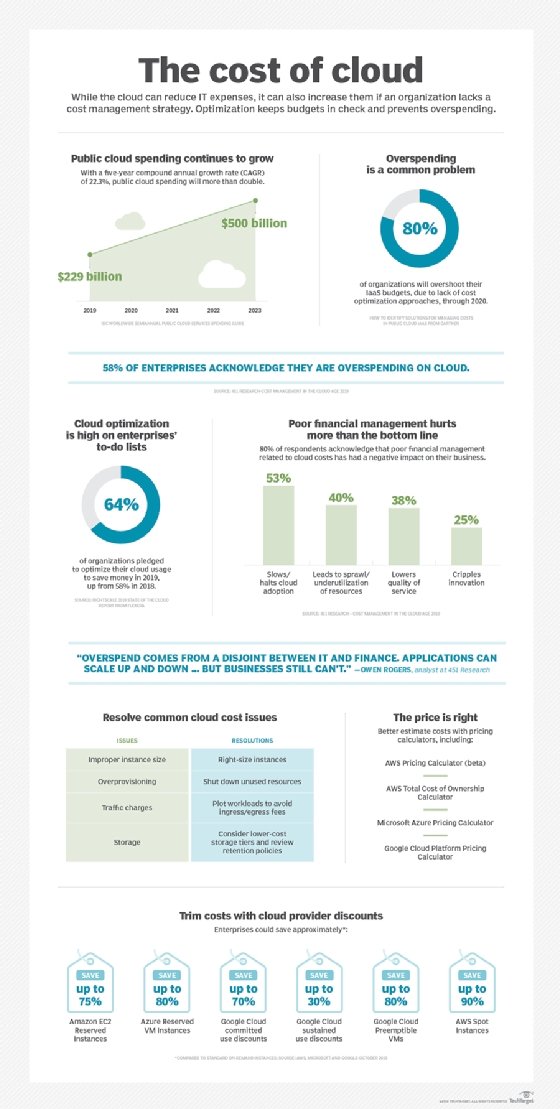 Organizations require cloud service management to maintain the health of applications and end-user services that use the cloud, in addition to supporting changes within that environment on an ongoing basis. One of the key success factors of cloud managed services is a cloud operating model. This operating model must handle the challenges of the cloud and provide agility, ease of use, unencumbered scalability and full independence of how the infrastructure is used. It must also simultaneously handle more traditional applications that want control of the estate, predictability of performance and stability of the environment.
Most large enterprises have complex application portfolios with hundreds or thousands of applications. So, even as they move more of their applications to agile and cloud-native development, they will still have many legacy applications to support. In fact, as digital decoupling and microservices gain traction, many applications will have components that live in both worlds. For this reason, the cloud operating model must simultaneously support multi-cloud and legacy environments while enabling multispeed delivery.
Move toward a new consumption model
To avoid cloud bill shock, good consumption management practices are required. Businesses must find a way to deal with billing complexity, while ensuring there's no unwanted cloud sprawl eating into budgets. To achieve this, they need to rethink how they manage and consume IT services.
There are three key areas to run consumption services differently:
Buying strategy. IT teams must become experts in understanding when and how to buy cloud assets for applications on an ongoing basis. That requires in-depth knowledge of the cloud service landscape, as well as the ability to plan purchases to meet business needs.
Discounts and credits. Organizations need to track and reconcile discounts and credits back to their relevant business users. In a world where a bill of $250,000 can have up to 85,000 line items, this is a complex task. IT teams must transform into internal clearing houses for credits, while also streamlining discrepancy resolution and payment.
Bills management. IT teams need to effectively manage complex bills. Cloud bills are, by nature, based on ongoing and short-term purchases, which drive complexity. In multi-cloud environments, this complexity is even more pronounced. It can be next to impossible to track constantly changing prices, service offerings and invoicing complexities across multiple cloud providers.
New tools, smarter management
These challenges may seem daunting, but they can be tackled relatively easily.
The first thing to do is put in place the right tools. The market has already responded to many of the challenges outlined above by providing a wide range of intelligent, data-driven and automated tools. These can address requirements such as reserved capacity purchase planning (buying strategy), invoice management (discounts and credits), and cloud usage charge-back (billing services) -- to name but three. These tools can help ensure IT stays on top of cloud invoicing complexity and enable seamless reconciliation and easy payment processes.
When it comes to keeping costs in check, there are other steps organizations can take. For instance, some commercial agreements for cloud services tie portions of support costs to cloud provider utilization through percent-of-spend consumption models. Organizations can, therefore, mitigate the risk of cost increases by using gainshare models for ongoing optimization activities.
Educating the business
Education is also important. IT can help reduce cloud sprawl by taking the time to teach developers and app owners that the cost-efficient use of the cloud requires constant vigilance. It should be the duty of service consumers -- not just IT -- to inspect their usage regularly and ensure they're only consuming what they require. By creating awareness and accountability based on actual consumption, the business can take advantage of innovation while also helping IT control its cloud provider spending.
By pivoting to new consumption models, adopting the right tools and educating the business, IT departments can avoid bill shock and drive cost-efficiency. And by combining cloud service management, optimization capabilities and consumption management, organizations can move toward "running different." They can drive an improved business case across their infrastructure estate if they reduce the cost of managing the environment and of the estate itself while unleashing the full business potential of cloud.
About the authors
Kishore Durg is senior managing director of Accenture Cloud and growth and strategy lead for Accenture Technology Services. Durg leads Accenture's cloud business globally and drives investments, ventures and acquisitions. Before joining Accenture, Durg spent 10 years in the U.S. working on system integration and consulting assignments around the world. He is currently based in Bangalore, India.
Tristan Morel L'Horset is the North American cloud and infrastructure growth lead for Accenture Technology Services. L'Horset has more than 20 years of experience helping clients maximize the business value of their cloud and infrastructure investments. He uses his industry expertise, technology capabilities and innovation to help optimize his clients' digital journeys.