Alibaba Cloud taps channel partners for growth
Alibaba Cloud is outpacing AWS, Azure and Google Cloud Platform when it comes to worldwide revenue growth. And it has its eye on MSPs and other channel partners.
Quick, name the fastest growing cloud vendor: Amazon Web Services? No. Microsoft? Nope. How about Google? Wrong again. Alibaba Cloud, China's dominant supplier, is outpacing all of them. Gartner pegged Alibaba Cloud's 2018 growth rate at 92.6% in its worldwide IaaS rankings, published earlier this year.
While Alibaba Cloud has kept a low profile in the U.S., its tentacles are slowly reaching outside its primary domain, so it has the potential to reshape the channel dramatically. In fact, the question is not "Will that change happen?" but rather "When will it occur?"
Alibaba Group Holding Ltd., Alibaba Cloud's parent organization, traces its roots back to the company's entry in the e-commerce market at the turn of the millennium. The vendor became the Amazon for the emerging Chinese consumer market. The supplier has not looked back since: Alibaba Group has a mind-boggling product array that spans more than 2 billion items, according to Gartner.
Like Amazon, Alibaba extended its reach into cloud services. Alibaba Cloud, its IaaS platform, reached $4 billion in revenue in 2018, according to Gartner. The vendor placed third overall in Gartner's ranking, behind AWS and Microsoft, but ahead of Google and IBM.
The supplier has ambitious growth plans. In the second quarter of 2019, the company added more than 300 new products and features to its core cloud offerings, which include security, data intelligence and AI applications, according to Alibaba.
A reliance on partners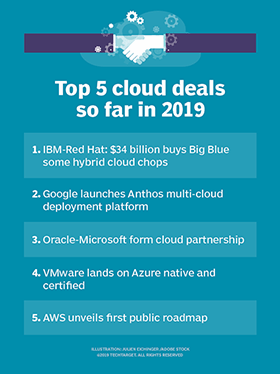 One factor in Alibaba Cloud's growth is a comprehensive ecosystem of MSPs and independent software vendors (ISVs). Its partners include SAP, Chef, Fortinet and Arrow Electronics, an electronics distributor that markets Alibaba Cloud in Europe.
In a recent channel move, Alibaba Cloud, on Oct. 28, entered a partnership in which distributor Synnex Corp. will integrate Alibaba's offerings into its Synnex Cloud marketplace. The arrangement lets Synnex's 6,000-plus channel partners in Australia and New Zealand access Alibaba Cloud's public and hybrid cloud offerings, according to Synnex.
Conversely, the Alibaba Cloud Marketplace provides partners with a platform to promote their products and reach potential customers around the world.
Sandy Shen, a Gartner senior research director, noted that the partners play a variety of roles in the Alibaba Cloud:
implementation, helping businesses deploy e-commerce, payment and cloud services;
managed services, delivering fully outsourced services such as hosting applications on Alibaba Cloud;
providing or developing solutions and services for the Alibaba ecosystem -- building extensions for e-commerce and providing ancillary solutions for cloud; and
co-developing new solutions -- for instance, retail software that uses digital technologies to improve efficiency and customer experience or smart transportation using Alibaba's AI capabilities.
An opening U.S. act?
While the vendor has moved aggressively, its U.S. profile has been quite low. "They have been deploying services overseas, but mostly to serve Chinese travelers," Shen noted.
But the company is not complacent. Alibaba, which has 576 million active users, wants to be in more than 200 countries. It is still exploring new opportunities, as overseas markets have different conditions and ecosystems than China, according to Shen.
Additional reporting by John Moore.