James Thew - Fotolia
Remote work fuels identity and access management market
Channel partners have an opportunity to help customers adopt and implement identity and access management programs across their organizations. Learn more about IAM offerings.
Editor's note: The rise of remote workforces is bringing increased attention to the identity and access management market. Here, InterVision's Michael Mahar makes the case for how channel partners have an opportunity to provide IAM offerings.
The pandemic-caused transition to remote workforces has pressured organizations of all sizes to adapt to new models of business, embracing IT transformation at a rapid pace. Streamlined accessibility of critical applications is more top of mind for executive leadership than ever before, as the operational livelihood of companies now depends upon employees having the ability to conduct work from anywhere.
However, a company's IT security posture and administrative governance remain vital, as cybercriminals see unsecured home offices as attack vectors to exploit for personal gain. The rapid evolution of work-from-home technologies highlights a need to validate full coverage and completeness of an organization's IT ecosystem, operational impacts and cybersecurity foundation. Additionally, a comprehensive approach to cybersecurity helps emphasize end-user productivity and remove roadblocks for further IT transformation.
For these reasons, identity and access management (IAM) has grown more critical to IT departments and organizations overall.
IAM supports all IT activities, including securing critical IP assets while employees shift to remote work environments.
IAM supports all IT activities, including securing critical IP assets while employees shift to remote work environments. IAM can also reduce common end-user frustrations during an unprecedented, stressful time. Constantly logging into applications to conduct tasks wastes precious employee time when an option exists to resolve this inefficiency.
Identity and access management acts as a foundation to build an improved cybersecurity posture. It allows IT departments to implement multifactor authentication and single sign-on access across an IT-approved suite of applications, which can be adjusted according to each employee role and managed on a single platform.
From an end-user perspective, IAM enables an employee to log into a critical application as they normally would, but their sign-on would also apply to a whole suite of commonly used and IT-approved applications. No need to sign in again for the duration of their activity. On the back end, IT teams gain transparency, which increases security while reducing complexity associated with compliance and governance. IT staff can monitor who accesses what application when, add or remove approved applications for sign-on, and adjust security controls across the IT ecosystem in one platform.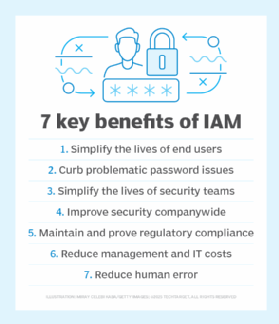 The identity and access management market has captured a growing share of the overall IT budget in recent months, because business leaders want to verify that administrative capabilities don't suffer during times of uncertainty and evolving cyberthreats. Executive leaders have made it their utmost goal to continue operations and increase productivity across the organization. IAM is one area where IT teams can reduce bottlenecks in daily employee processes and remove hurdles for the adoption of other IT innovations as they become needed.
A mature IAM program can do the following for a business:
Reduce operational expenditure through automation
Reduce cyber-risk and secure the business against cyberthreats
Increase employee satisfaction through decreased sign-ins
Ensure ongoing security during staffing changes
Maintain compliance with external regulations and internal governance policies
Drive down IT service desk demand
IAM offerings are complex and critical to business operations, but making even small changes can be difficult because all aspects of the enterprise are touched by those changes. Not to mention, IAM demands a specific cybersecurity expertise, which is difficult to staff with a tight IT talent market.
It can be hard to know where to start when provisioning IAM for an organization, because in-house expertise may be needed to address other pressing objectives and developing new expertise takes time. For this reason, a third-party provider is a great option to both ensure the effective adoption of an identity and access management strategy and cover the ongoing maintenance requirements that come along with any new technologies.
About the author
Michael Mahar is a senior enterprise architect at InterVision, a strategic services provider based in Santa Clara, Calif.