Definition
Apple watchOS (Apple Watch operating system)
What is Apple watchOS (Apple Watch operating system)?
Apple watchOS is the operating system (OS) designed specifically for the Apple Watch wearable device, with features that take advantage of the smaller screen and location of the device on the user's wrist. Apple watchOS is based on Apple iOS, the operating system used for its iPhones and iPads, sharing many of the same capabilities.
WatchOS is responsible for the general functionality of Apple Watches. It enables the smartwatches to be paired with iPhones and other devices, including Apple competitors' smartphones. It runs on all Apple Watch models and includes features such as messaging, health and fitness tracking, a medications app, customizable homescreens known as faces and the use of third-party applications.
Apple releases updates of the watch operating system periodically, usually alongside the release of a new Apple Watch model. WatchOS 9 is the latest version of the OS. WatchOS 10 was announced in June 2023 and is expected to be released in September 2023. The first watchOS was released on April 24, 2015, alongside the first model of the Apple Watch.
WatchOS is one of the most popular internet of things (IoT) OSes. Apple Watches are commonly used in the enterprise and should be protected against cyber attacks.
How does Apple watchOS work?
WatchOS is based on the same technology as Apple iOS, but it's customized for the watch hardware. This approach lets the watch run the same applications as other Apple devices. To work, an Apple Watch must first be paired with a user's iPhone. Users make changes to their watch in the Apple Watch app on their iPhone.
The Apple Watch's processor is integrated into the watch's system-on-a-chip architecture. This lets watchOS run apps and processes, as well as communicate with different sensors, such as the watch's accelerometer and heart rate reader. In this way, watchOS can monitor a user's heart rate, steps taken, distance traveled, calories burned and other functions.
Popular watchOS features
WatchOS is known for several of its features. Each new version of watchOS has updated these features and added new ones. The latest version of watchOS includes the following features:
Accessibility. Users perform tasks and open apps with simple actions. They start a workout activity or a take a photo simply by double-pinching their thumb and index finger on the hand wearing the watch. They also can mirror the Apple Watch to their iPhone and control many actions with Siri's voice recognition.
AFib History. The Apple Watch's atrial fibrillation feature tracks arrhythmic heartbeats. The watch also tracks other data related to heart health, such as sleep, exercise and weight, which the watch can combine with the AFib data.

WatchOS includes atrial fibrillation tracking among other heart monitoring features.

Carousel. The Apple watchOS homescreen, or Carousel, arranges icons in a circle on the screen, and from there, users can access specific features and apps, such as Apple TV.
Compass. This feature provides analog, orienting and hybrid compass views. Users can mark their location with Compass Waypoints, which help them backtrack to places they've been on a walk.
Customization. Apple watchOS offers several custom options. For example, users can pick personal or time lapse photos for their watch face and personalize what shows up on their homescreen. This information, also known as complications, can include weather forecasts, the user's schedule and data from third-party apps. The OS also lets users send messages to other Apple Watch users, including their heartbeat or a sketch from the Digital Touch feature.
Faces. With these customizable screens, users can pick watch faces with different visualizations of time, such as metropolitan, more classic or analog. Astronomy settings show users the time, as well as the cloud coverage, around the world. Users can also choose faces that use lunar phases of the moon to keep time in the Chinese, Hebrew and Islamic calendars. All faces are customizable, so users can put favorite contacts, battery life and heart rate zones on their watch face.

WatchOS includes several faces for users to choose from and customize.

Family Setup. This feature lets families give watches to kids and older relatives who don't have iPhones. It provides a way to stay in contact with family members and keep track of them using Global Positioning System tracking. The feature comes with content restriction settings, helping families protect children from harmful content, as well as a Home app to control thermostats, lights and other appliances in a home. Digital house keys can also be added with this feature.
Fitness+. This health app records metrics like heart rate and calories burned, while providing personalized, custom workouts and trainer interactions. Apple Fitness+ users can set fitness goals and view their workout metrics on other compatible displays using AirPlay.
Force Touch. Apple watchOS includes features from iOS, such as iOS 9's Force Touch, which lets users perform different actions depending on how much pressure they exert when using the touchscreen.
Heart Rate. WatchOS uses sensors to measure a user's electrocardiogram readings, heart rate and blood oxygen levels. It has been found to be effective at assessing heart health.

WatchOS uses multiple sensors on the underside of the watch to monitor heart rate and blood oxygen levels.

Reminders. This feature provides timed notifications for users to take their medicine, vitamin or other supplement. Notifications are discreet for user privacy and let users log what they've taken that day. Users can also receive unobtrusive notifications for texts or upcoming events when using the watch, as well as normal full-screen notifications when their wrist is down.
Siri. The virtual assistant is integrated into the OS, so users can ask Siri to start a workout for them or activate other applications, such as Apple Music.
Sleep. Sensors work with the watch's sleep app to track user sleep stages and wake time. It also tracks heart and respiratory rates during sleep, giving users insights into their sleep health.
WatchKit. For developers, WatchKit offers a host of application programming interfaces to help them create apps with functions designed for Apple Watches.
Workout Views. In the Workout app, users can see their training zones, which use health data and workout metrics to grade the intensity of an activity. Workout Views let users customize their workouts and get updates on their pace, heart rate, cadence and power. Users can race against their best times and view their stride length, ground contact time and vertical oscillation.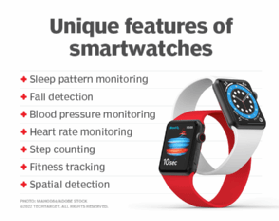 How watchOS evolved
Each software update of WatchOS has added new features and functions. Important developments in the evolution of watchOS include the following:
WatchOS 1 was released on April 24, 2015, based on iOS 8.2.
WatchOS 2 was released on Sept. 21, 2015; it added new features, such as the ability to reply to emails.
WatchOS 3 was released Sept. 13, 2016, with improved performance and new watch faces.
WatchOS 5 was released Sept. 17, 2018; it added more third-party support, new fitness apps and the always-on feature.
WatchOS 7 was released Sept. 16, 2020, with support for sleep tracking and handwashing.
WatchOS 8 was released Sept. 20, 2021; it updated health monitoring and visuals.
WatchOS 9 was released Sept. 12, 2022, with updated support for temperature tracking and women's health apps.
WatchOS 10 has an expected release date of Sept. 8, 2023. It will include several new features including a mindfulness app, features for hikers that logs the last time the watch had cellular reception, and enterprise features like fall detection for worker safety and mobile device management capabilities.
Device and software compatibilities
All Apple Watch apps run natively on watchOS instead of through an iPhone. Apple Watches can be paired with other Apple devices, including iPhones and Mac laptops. Users can unlock their Mac laptops by having their watch in range of it.
The latest version of the OS, watchOS 9, requires an iPhone 8 or later running iOS 16. It also requires Apple Watch Series 4 through 8 or Apple Watch Ultra. To run watchOS 10, users will need an iPhone capable of running iOS 17.
Users can pair Apple Watches with Android phones, such as the Samsung Galaxy. They first pair the watch with an iPhone 13 or earlier, which still requires a physical SIM card. Once paired, the user turns off the devices and transfers the iPhone SIM card to the Android phone. Then, they connect the Android phone to a cellular network and turn the watch back on. There is some loss of functionality on an Apple Watch paired with an Android phone, but the user can send messages from their watch without the need of an iPhone.
WatchOS is one of the most popular IoT OSes. Learn about the benefits and management challenges of wearables in the enterprise.
This was last updated in
May 2023
Continue Reading About Apple watchOS (Apple Watch operating system)
Dig Deeper on Mobile operating systems and devices