putilov_denis - stock.adobe.com
Why should I consider an AIOps platform for my network?
AIOps can take various tasks -- such as data collection and analysis -- off the plates of network teams. This can provide organizations with better insight into network visibility.
AI for IT operations, or AIOps, refers to technologies that collect and analyze network and device monitoring and health information to provide deep visibility, intelligent problem identification and root cause analysis of performance-related issues.
Many AIOps platforms provide contextual remediation steps to fix identified problems. As reliance on enterprise networks grows due to the adoption of technologies such as IoT and digitized manual processes through digital transformation (DX), these advancements place network professionals under increasing pressure to quickly perform tasks, including the following:
Figure out whether a problem is network-related, device-related or related to an application, server or service.
Determine the cause of the problem.
Formulate a way to fix the problem.
With legacy Simple Network Management Protocol, ping, logging and flow-tracking monitoring tools, network administrators no longer have the necessary visibility into networks to identify problems at a granular level. The added devices, applications and cloud services can create such complex networks that, even if teams gained the proper visibility level, they would still find it too time-consuming to identify a problem's root cause and a quick fix for it.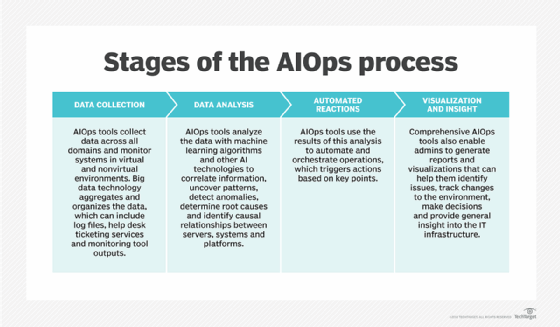 What an AIOps platform can do for network teams
Below is a breakdown of how AIOps can handle all three of the above tasks on behalf of the network team.
Figure out the source. An AIOps platform not only uses monitoring data from legacy tools, but also pulls in more detailed network health information with techniques such as deep packet inspection and wired or wireless streaming network telemetry that help find the problem's source.
Determine the cause. AIOps platforms use AI to baseline end-to-end network activities across corporate networks and send alerts when behaviors veer outside of statistical norms. Deep analytics can sift through relevant network and device health information to determine the affected devices and networks, as well as the problem's cause.
Formulate a resolution. The AIOps platform can present contextual information to the administrator that suggests how to fix the issue and bring the network back to its original working state. Potential drawbacks include increased costs of AIOps platforms compared to traditional monitoring, as well as added implementation complexities in data collection. Also, multiple sources must continuously feed sufficient data into the AIOps system to ensure accurate analysis and actionable items.
That said, if your business wants to implement IoT or DX or requires steady application and service performance, an AIOps platform is your best bet to successfully run everything smoothly across the infrastructure. The benefits will far outweigh any drawbacks.
This was last published in
December 2019
Dig Deeper on Network management and monitoring
Prevention is the only line of defense against an extortionware attack. Learn how extortionware works and why it can be more damaging than ransomware. Continue Reading
SMS is being supplanted by RCS to let carriers compete against WhatsApp and Messenger and open new avenues to business messaging. Learn the ... Continue Reading
Networking describes how devices interconnect to share resources with each other. Telecom, which includes networking, broadly refers to the exchange ... Continue Reading