olly - Fotolia
SDN training priorities for enterprises
SDN promises to change how networking pros work. Analyst Shamus McGillicuddy shares the top priorities of enterprises tackling SDN retraining.
The software-centric nature of software-defined networking will fundamentally alter network engineering and management practices, which have evolved over the years to support a more hardware-centric paradigm. Consequently, enterprise IT organizations will need to retrain their networking teams when they implement SDN.
Many networking professionals believe they will need to become software developers in an SDN world, given the proliferation of application program interfaces (APIs) in the SDN product ecosystem. They assume they will be writing applications that use these APIs in order to add functionality and manageability to SDN networks. While these skills will be in demand, they aren't the top priority for early adopters of SDN.
Enterprise Management Associates (EMA) has identified several SDN training priorities that enterprises should pursue if they are going to adopt the technology. Based on a survey of 150 early adopters of enterprise SDN technology, EMA's newly published research report "Managing Tomorrow's Networks: The Impacts of SDN and Network Virtualization on Network Management" offers guidance on how enterprises will manage SDN in general, not just in terms of training priorities, but also in terms of the readiness of their existing network engineering and management tools.
Cloud management systems expertise
The number one training priority for early SDN adopters is the development of cloud management systems expertise. Of early SDN adopters, 47% said their networking teams were learning how to use these systems, which include OpenStack, CloudStack and commercial products like VMware vCloud Air.
As many networking pros have suspected for years now, SDN will require them to learn how to program and develop software.
Many data center SDN projects are aimed at supporting private and hybrid cloud initiatives. This trend is obvious from the vast number of data center SDN vendors who have integrated their products with multiple commercial OpenStack distributions. Many enterprises establish cross-domain and cloud operations teams to support their private and hybrid clouds. As networking teams implement SDN and get pulled into these cross-domain teams, cloud management systems expertise will enable them to collaborate more effectively.
New protocol knowledge
The second highest SDN training priority for early adopters -- 39% of them -- is knowledge of SDN protocols. Which protocols a networking team trains on will depend on the SDN solutions they implement. For instance, if an enterprise adopts a data center SDN overlay, the networking team will need to understand the encapsulation protocol the overlay uses to tunnel traffic over the physical network. These protocols include NVGRE, VXLAN and an emerging standard called GENEVE. Networking pros will need to know how to configure the physical network to forward this encapsulated traffic, and they will need to know how to monitor and troubleshoot traffic that uses the protocol.
Adopters of OpenFlow-based SDN will need to understand the OpenFlow protocol, of course. And there are many other protocols emerging as well. Cisco, for instance, has invented OpFlex for communicating group-based policy between an SDN controller and a switch. The protocol is integral to Cisco's solution, but the company has also offered OpFlex to the IEEE as an industry standard. The IETF and its research arm, the IRTF, are working on several other potential SDN protocols.
Meanwhile, other SDN technologies rely on existing protocols. Juniper, for instance, uses BGP to scale out clustered instances of its Contrail controller. BGP is a well-understood WAN protocol in the industry, but low-skilled administrators who spend most of their time managing local networks might have very little experience with it.
Many networking pros will become developers
As many networking pros have suspected for years now, SDN will require them to learn how to program and develop software. Programming skills -- 37% of early adopters -- and software development skills -- 36% -- are the third and fourth training priorities for SDN. These contrast with the simpler scripting skills that many network engineers already use to automate certain tasks in legacy networking. Programming skills will be a more formalized approach to writing code to support and manage SDN. And software development skills will be a step even higher for networking pros, allowing them to write software that enables manageability and functionality on their SDN networks.
It's worth mentioning that EMA also surveyed communications service providers -- mobile network operators, telecoms and others -- about their SDN priorities. Service providers identified programming skills and software development skills as their top two training priorities for SDN, which suggests service providers have higher expectations in this area. Programming and software development skills are more of a secondary priority in the enterprise, however. The other training priorities discussed so far are more important.
Process and service delivery skills
The number five priority for SDN training among early adopters -- 35% of the companies surveyed -- is the integration of SDN skills with broader network and service delivery skills. This priority is a process issue. IT organizations recognize the need to integrate SDN engineering and management processes at two levels. First, because SDN will coexist with legacy networks in many enterprises, networking teams will need to figure out how to manage SDN and legacy networks together to provide end-to-end network services.
Second, they will need to integrate their SDN skills and processes into the IT organization's overall service delivery processes. As most readers know, many IT organizations are highly process-oriented to ensure effective delivery of applications and services to the business. SDN is a transformative technology, so networking teams will need to integrate their SDN skills and workflows into these processes.
Some readers may think this process issue is extremely abstract, but it is nonetheless critical. When EMA asked SDN adopters to identify their biggest barrier to success with the technology, "lack of defined processes" was number three on the list, behind "organizational risk aversion" and "lack of resources."
SDN certifications have limited value -- for now
SDN adopters placed a low priority on SDN certifications. Just 28% are seeking vendor SDN certifications, and 24% are pursuing vendor-neutral certifications. This low interest in certifications is partially an issue of timing.
SDN is still a new technology, and the certifications that have emerged to support it are even younger. Some vendors, such as Cisco and VMware, have introduced certifications to support their products, but the value of these certifications hasn't been established yet. That's no surprise, given that Cisco and VMware have fewer than 2,000 combined customers of their SDN solutions so far.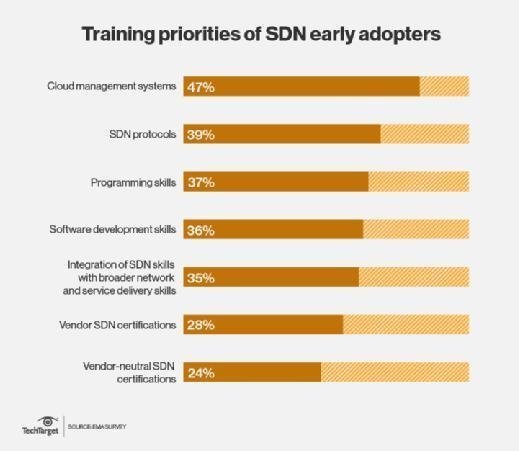 Meanwhile, the vendor-neutral SDN certification market is still emerging. The Open Networking Foundation, which is best known as the steward of the OpenFlow protocol, is developing a certification program, but the first two certifications in its program are still in beta.
Cloud, network protocols and skills integration
In conclusion, programming and software development skills will be secondary priorities for SDN training. Instead, IT organizations should be focused on training their networking teams on the cloud management systems they have adopted, because SDN will be essential to the successful implementation of private and hybrid clouds. In other words, SDN teams will need to understand OpenStack, CloudStack and more.
Second, networking pros must get trained on the new protocols that their chosen SDN architectures use, whether those are encapsulation protocols, protocols for controller-to-switch communication or something else.
And finally, don't neglect the more process-oriented aspects of network engineering and operations. Networking pros must integrate their SDN skills into their overall network and service delivery skills. This will ensure the formal processes that IT organizations rely upon for successful service delivery can adapt the transformational effects of SDN.
Next Steps
SDN skills for the traditional network engineer
SDN means changes for network teams. Find out how you could be affected.
SD-WAN will lead to new organizational needs
This was last published in
February 2016
Dig Deeper on Networking careers and certifications