SAP leadership gets good grade, but has room to improve
SAP CEO Christian Klein has performed well under tough conditions, observers said, but he still must deal with challenges like improving product strategy and S/4HANA migrations.
It's been almost three years since Christian Klein assumed the role as sole leader of SAP.
Klein, formerly SAP's chief operating officer, first took the reins of SAP as co-CEO with former SAP executive Jennifer Morgan in October 2019 after the unexpected departure of Bill McDermott. But sharing the chief executive role was short lived, and Morgan stepped away from the company in April 2020, leaving Klein in the top SAP leadership position.
At 40, Klein was one of the youngest CEOs in the enterprise software industry and faced the daunting challenge of not only managing SAP's technology and business challenges -- such as the ongoing S/4HANA migration struggles -- but also doing this in the midst of the unprecedented COVID-19 pandemic.
Some questioned if Klein was up to the task of guiding the German enterprise behemoth on his own through the toughest business conditions the company has ever faced. But almost three years later, he remains at the helm, and many industry watchers who have followed SAP for years give Klein and SAP leadership good grades overall.
Still, they also caution that Klein and his executive leadership team have much work ahead in leading SAP, given the continuing challenges of S/4HANA migrations and the overall move to the cloud.
Good grade, but more to do
Under German laws, SAP is governed by its executive board, meaning Klein as CEO does not have the same power to make decisions as that a CEO for an American company has, said Liz Herbert, vice president and analyst at Forrester Research.
Given this, however, Klein has done a good job overall in his role as CEO, she said, although there are some significant issues to resolve.
On the positive side, Klein has modernized SAP's culture and made it more sustainability oriented, Herbert said. He also built on the Rise with SAP program, which was aimed at simplifying customer migrations to the cloud.
Klein also gets credited for the strategic acquisition of process mining firm Signavio, while shedding some non-core businesses like experience management firm Qualtrics, a high-profile acquisition by the McDermott regime, and the Litmos learning and training business. He also divested some digital banking applications in a partnership with the European investment firm Dediq to form the partnership SAP Fioneer.
On the downside, customers still remain frustrated by the challenges of S/4HANA migrations, citing confusion about cloud and product options, costs and the lack of compelling business cases, Herbert said.
"Those are not issues created by Klein, but they remain major problems that need to progress faster to align with customer needs and compelling customer value proposition," she said.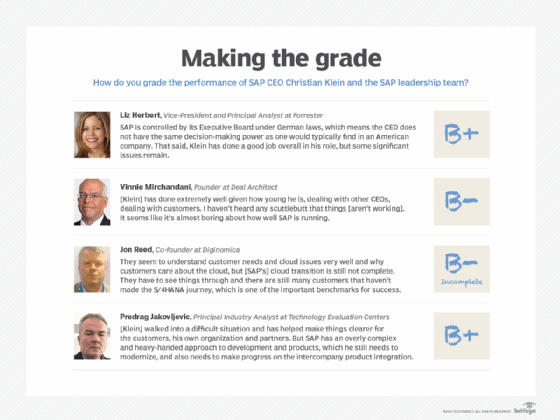 Dealing well with challenging environment
Klein has managed SAP well, given his relatively young age and the challenges he faced when he assumed the sole CEO role, said Vinnie Mirchandani, founder and CEO of Deal Architect, an enterprise industry analysis blog.
When he first took the job, Klein had to navigate the COVID-19 pandemic, an issue with which even seasoned executives struggled.
"Klein is young so people didn't expect much from him, which is unfair," he said. "He's done extremely well in dealing with other CEOs and customers. I haven't heard any scuttlebutt that things [aren't working], and it seems that it's almost boring about how well SAP is running."
Mirchandani noted that SAP's financial performance has done well lately under Klein's leadership, particularly in a tough economy this past year. After dropping throughout most of 2022, hitting an all-time low of $80 per share in September, SAP's stock price has risen steadily since then to a current value of around $115 per share.
"I would give him a B-, but I would give the other CEOs a C at this point," he said. "They haven't navigated the last few months very well, haven't delivered as much functionality, haven't kept customers happy."
SAP needs to simplify and modernize
Klein came into a difficult situation and has clarified issues for the company, customers and partners, agreed Predrag Jakovljevic, principal industry analyst at Technology Evaluation Centers, who graded Klein's performance as a B+.
However, SAP has an overly complex and heavy-handed approach to development and products, which Klein needs to modernize, he said.
"SAP still needs to make progress on the intercompany product integration," Jakovljevic said. "For example, SAP markets SuccessFactors as being integrated into ERP, but I've heard from numerous customers that it is not the case at all."
Klein and SAP leadership need to focus less on products and more on what its portfolio can provide for businesses, he said.
SAP has hurt themselves by being so focused on HANA and S/4HANA. They should be far more outside-in driven.

Predrag JakovljevicPrincipal industry analyst, Technology Evaluation Centers
"SAP has hurt themselves by being so focused on HANA and S/4HANA. They should be far more outside-in driven," Jakovljevic said. "[Nobody] really cares about ECC or HANA if the solution works well and continues to work well from a business perspective, with a modicum -- not an infinite amount -- of flexibility."
SAP has created this problem themselves, he said, and should now focus on better organizing and clarifying its portfolio, replacing or winding down products that aren't working, and focusing more on solving customer problems, he said.
"SAP talks at the market and its customers, it doesn't talk with them -- and its marketing model is incredibly outdated," Jakovljevic said. "[Klein] is doing a good job, but mainly he still misses the bigger point."
New blood and fresh thinking
Klein and the SAP leadership team have done well, as seen by the company consistently turning in decent earnings reports in a tough economic environment, and receiving relatively good customer satisfaction reports, said Jon Reed, co-founder at Diginomica, an enterprise industry analysis site.
In the second quarter of 2022, for example, SAP reported a revenue increase of about 13% year over year, despite a hit of an estimated €300 million attributable to the Russian invasion of Ukraine.
The new leadership team -- including Klein; Juergen Mueller, CTO; and Thomas Saueressig, head of product engineering -- has provided fresh energy and fresh thinking, Reed said. This is an important distinction compared with old leaders like McDermott and Jim Hagemann Snabe, who served as co-CEO with McDermott, and were experienced but had been with SAP for a long time.
"They appear to understand customer needs and cloud issues very well and why customers care about the cloud," he said of Klein and his leadership team. "But that transition is still not complete, so I would give him a B- or an incomplete grade because they have to see things through and there are still many customers that haven't made the S/4HANA journey which is one of the important benchmarks for success."
Klein needs to take advantage of his role as the leader of a global software vendor to drive issues that can be a differentiator, like sustainability, according to Reed.
"SAP needs to assert itself as a globalist company that's passionately committed to diversity and global economic peace and tranquility," Reed said. "What better company than SAP to deliver that message because they provide a lot of that to their employees, so it would carry weight if they brought that out more to the world."
Jim O'Donnell is a TechTarget senior news writer who covers ERP and other enterprise applications for TechTarget Editorial.