carloscastilla - Fotolia
Upgrades to on-premises Avaya products will be released in bits
Feature upgrades for on-premises Avaya products will roll out in 'very small, manageable' chunks moving forward, the company said. Avaya is looking to more closely align its on-premises and cloud portfolios.
Avaya Inc. plans to make new unified communications and contact center features available to on-premises customers through a series of smaller releases, eschewing the traditional model of bundling several significant upgrades into batch releases.
The company hopes breaking the updates into wieldy chunks will give users of on-premises Avaya products more flexibility in deploying the features that make sense for them, at their own pace.
Avaya is gearing up to release this summer a new routing platform for contact centers that will make it possible to direct incoming customer calls to agents based on the attributes of the caller and available support representatives.
The company is taking a similar approach for planned upgrades to agent desktops and analytics technologies, letting customers deploy new features without changing other aspects of their contact center.
"We've really allowed our customers to take the roadmap in very small, manageable components going forward, only upgrading a portion of the environment, if you will, at a pace that makes sense for them," said Chris McGugan, Avaya's senior vice president for solutions and technology.
Avaya has been focused on rebranding itself as a cloud-first company over the last couple of years, seeking to keep pace with the increasing desire by businesses to consume UC and contact center from the cloud.
However, the vast majority of its customers are still using on-premises Avaya products: just 3.7 million of Avaya's roughly 145 million seats are in the cloud. Moreover, the company continues to sign new on-premises customers.
Behind the public-facing bluster about cloud, 80% of the money Avaya invested in research and development (R&D) last fiscal year went toward its on-premises portfolio. In fiscal 2019, McGugan expects on-premises investments to remain well above $150 million, or around 70% of the total.
Harmonizing cloud, on-premises Avaya products
Avaya is spending much of its R&D money on modernizing on-premises architectures to give customers more flexibility to run hybrid and private clouds, McGugan said. Avaya wants to be able to deliver the same experience to users regardless of where they deploy its software.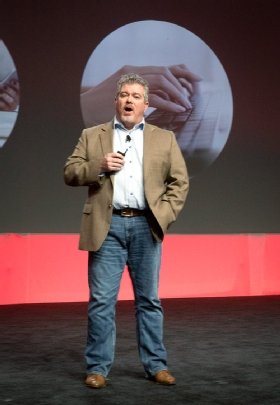 To that end, Avaya has invested in a relatively quick way to deliver single-tenant UC and contact center clouds. Those clouds provide a level of customization and security akin to a private cloud in a company's data center.
Avaya also recently unveiled an online storefront for selling public cloud services. However, most of the company's cloud seats are in private clouds, which its customer base of predominately large businesses seems to prefer.
"What we're really seeing is our customers are coming to us and saying, 'We really like the resiliency, the functionality, the feature base that we have in our premise kit. We'd like to move it into a managed service; we'd like to move it into a private cloud infrastructure,'" McGugan said.
At Avaya's annual Engage user conference last month, the company did not talk specifically about new features planned for on-premises Avaya products, said Irwin Lazar, an analyst at Nemertes Research.
Similar to Mitel, another legacy vendor now pivoting to the cloud, Avaya is focused on integrating its on-premises and cloud platforms.
Lazar said one target in that campaign would likely be addressing the growing overlap between Aura, Avaya's enterprise UC offering, and IP Office, a UC offering targeted initially at small businesses that have now matured enough to support many midsized businesses.
Avaya needs to clarify the size cutoffs between Aura and IP Office, or consider merging them into a single solution.
"[Avaya's] plan is to do what everybody else is doing and harmonize on-prem and cloud, so you create an easy migration opportunity for on-prem customers to be able to take advantage of cloud features," Lazar said.