Tanusha - Fotolia
Slack-Zoom partnership could include joint pricing
Slack and Zoom may eventually bundle their products to provide discounts to customers considering or already using all-in-one suites such as Office 365, analysts predict.
Analysts expect Slack and Zoom to eventually bundle pricing for their cloud software to undercut the appeal of all-in-one collaboration suites from Microsoft and Cisco.
Team messaging vendor Slack and online meetings provider Zoom signed a contract earlier this year to align their product roadmaps and marketing strategies. So far, the companies have focused on making it easier for businesses to use their products side by side.
A logical next step would be for the upstarts to offer bundled pricing deals to woo businesses already paying for Office 365, which includes the competing app Microsoft Teams, analysts said. It could also help the vendors counter competitors such as Cisco and Google, which sell both messaging and meetings apps.
"Neither of them can own a customer the way Microsoft or Cisco can," said Jon Arnold, principal analyst at J Arnold and Associates. "So I think for them to get into the enterprise market, where the real dollars are, it's just got to be a stronger offering."
Companies have been willing to pay for Slack and Zoom up to this point because their products have offered more features and have been easier to use than many competing apps, said Irwin Lazar, analyst at Nemertes Research.
"That's not a sustainable advantage. The other vendors are getting better," Lazar said. "So I think, at some point, they are going to have to figure out how to have combined go-to-market offers that bundle pricing to provide discounts."
A Zoom representative acknowledged a pricing bundle with Slack wasn't outside the realm of possibility. The companies are already working together on joint billboards and other marketing initiatives, said Laura Padilla, who directs Zoom's business development and channel program.
"Around bundling or packaging with pricing, that's not something we're willing to discuss right now, but they are considered a strategic partner, so there may be something like that in the future," Padilla said.
Slack declined to comment.
Slack features coming to Zoom
In the meantime, businesses can expect tighter integrations between the two apps -- including ways to access Slack from the Zoom interface.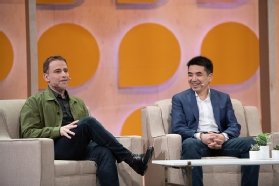 The pair's integrations to date have focused on making it possible for users to join Zoom meetings from Slack. But the companies have a multi-year roadmap that includes a commitment to build integrations in the opposite direction.
"We're going to be bringing in a lot more of the Slack features into Zoom," Padilla said.
The Slack-Zoom partnership bore its first fruit late last month with an update to the Zoom app for Slack. In Slack, users can now view the participants in an ongoing Zoom meeting. They can also set up notifications that let them join Zoom meetings by clicking a button rather than typing a command.
In the future, users will be able to make phone calls in Slack using Zoom Phone, a new cloud calling service.
The partnership sets the stage for a showdown between two models for selling software.
Vendors such as Microsoft offer a cloud-based suite of productivity and collaboration apps able to meet virtually all of a customer's needs. Vendors such as Slack and Zoom specialize in one type of app to make better software than anyone else in their niche.
Slack and Zoom both began trading stock publicly early this year and must now report financial results to Wall Street every quarter. To achieve long-term profitability, they each need to sell to larger businesses, a huge chunk of which already uses Office 365.
More than 15,000 teams have installed Slack's integration with Zoom, which lets users launch Zoom meetings from Slack. That's up from more than 10,000 teams in April and roughly 5,000 teams a year ago, showing that companies are increasingly using the two apps in tandem.
"Slack doesn't have the meetings and Zoom doesn't have the workstream collaboration," said Mike Fasciani, analyst at Gartner. "So it really requires a paring of these two to be able to stand up and compete against Microsoft."